This post may contain affiliate links that, at no additional cost to you, I may earn a small commission. Read our Disclosure Policy.

Summer Camp Fun
Yard Yahtzee
Hi everyone, it's Jessica from Everyday Party Magazine. I have 4 boys that stay home with my husband and I all summer long. My husband and I are fortunate enough to be able to work from home 90% of the time, but, my kids want to be kids and play! So, this spring, we all got to work making a few fun new games for the back yard.
One of the kids' favorite games is Yahtzee. I recently saw giant foam dice at Target in the Dollar Spot and knew right away they would be perfect for a backyard version of Yahtzee! You can make your own wooden ones (but I was afraid my sweet angels would shake the bucket too vigorously and injure someone). I saw the foam dice at Target again as recently as last week, but if they aren't there, Amazon sells them for less than $10 for a dozen.
For your own Yard Yahtzee, you will need:
Foam (or wood 4×4) Dice
(1) 5 Gallon Bucket with lid
Chalkboard
Chalk (pens and sidewalk)
Active kids or adults
Optional:
Spray Paint
The first thing I did for this project was grab a 5 gallon bucket. We buy them from Firehouse Subs for $2 with a lid, they smell like pickles at first, but the money goes to their Firefighter Fund, and we can wash the pickle smell out. I lightly sanded the bucket and then I spray painted it blue. That is totally optional, but, I wanted to cover the writing on the bucket and have it match the house a little better. Next, I repurposed a chalkboard I had from my son's train birthday party. (If you look closely, you can still see the text on the chalkboard.) If you need your own, a can of spray chalk paint and a piece of scrap wood will do the trick. I looked at a scorecard to make ours, and used the chalk pen to write a semi-permenant version on the chalkboard.
That's it! My kids have spent hours playing Yard Yahtzee, and I love it! I can work in the backyard while they play.
The bucket gave us an added bonus, it is the perfect place to store our corn hole bean bags when we aren't using them too! The kids have really enjoyed the new games out back this summer.
Thank you for checking out our Summer Camp Fun project! Be sure to check out our blog for lots more fun party inspiration, DIY, and recipes!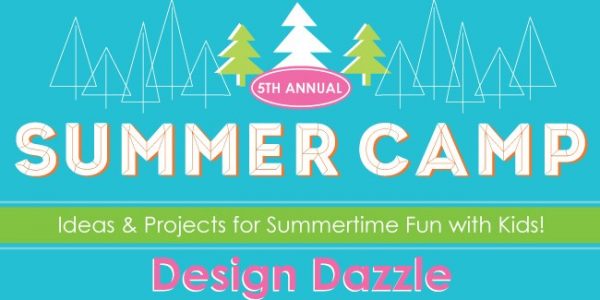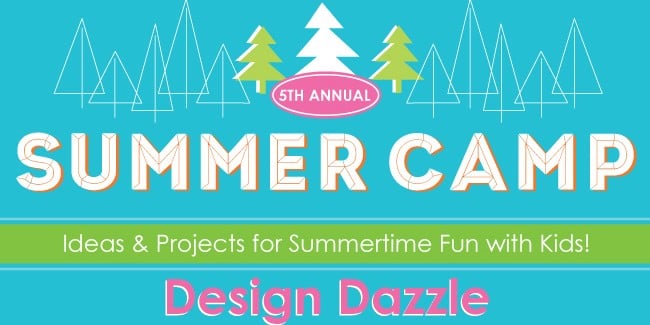 Oh my word, Jessica! What a great idea! Thanks for sharing. This is so easy and so fun!
Want to see more summertime fun ideas? Check out the Summer Camp Archives!