I don't know about you, but watermelon screams summer to me and s'mores are one of my favorites. So, combining the two into one adorable treat, awesome! Whip up a batch of these easy microwave s'mores with your kids. It's a fun way to spend time together in the kitchen.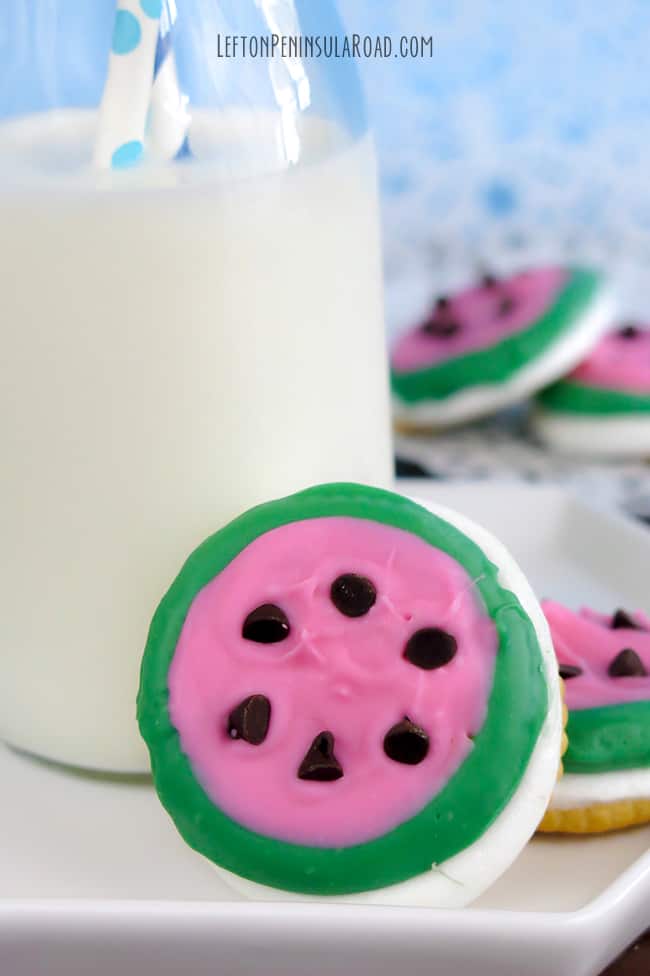 I'm Laura from Left on Peninsula Road and I'm excited to be here for Summer Camp 2016. S'mores are a fun summer treat, and this microwave version is so fun for summer parties.
Supplies for Watermelon Microwave S'mores
Ritz Crackers for a Sweet & Salty S'more (or try Vanilla Wafers if you prefer)
Large Marshmallows (cut in half)
Mini Chocolate Chips (6 per s'more)
Pink Candy Melts (approximately 3 per s'more)
Green Candy Melts (I melted about 1-2 per s'more)
Optional for Pineapple: Yellow Candy Melts, pretzel sticks, Town House (or other oval crackers or cookies)
How To Assemble Your Watermelon S'mores Treats
This sweet and salty Watermelon-shaped S'more goes together a lot like my Back to School Apple S'mores.
Start by creating your candy-coated s'mores tops. Melt green candy melts according to package directions. Roll edges of half of the crackers in green candy coating. Set aside to harden. (I used a wire cooling rack.) Next, melt pink candy melts. Spread in a circle on the top of each green-edged cracker. Add chocolate chip seeds.
Let the candy-coated tops cool before the next step. If you're in a hurry, they harden faster in the refrigerator.
Once the the candy coating has hardened, place half of a large marshmallow, cut-side-down, on a plain cracker. Heat in microwave on a microwave safe plate until the marshmallow puffs. (Note: Microwaves vary so watch carefully. Mine puffed in 11-12 seconds in a 1200 watt oven. Fresh marshmallows puff the fastest.)
Top with a watermelon-decorated Ritz cracker.
If you're not planning to serve immediately, set aside to cool.
I have to tell you that these s'mores were inspired by the Fruitilicious Party Decor Toni posted earlier this summer. Did you see it? I loved it so much, I decided to try a pineapple s'more too. If you'd like to try to make some pineapple s'mores, you'll need some oval crackers, pretzel pieces, and more green candy-coating. Dip the cracker tops and pretzels and let cool. Follow the steps above to heat and assemble.
What do you think? Fun right?
If you enjoyed this fun summer food craft, you might like to try my Frosted Flip-Flops Cookie Treats or my Beach Party Microwave S'mores too.
Until next time, stop by Left on Peninsula Road or connect with me on Instagram. I'd love to see you there!
Happy summer!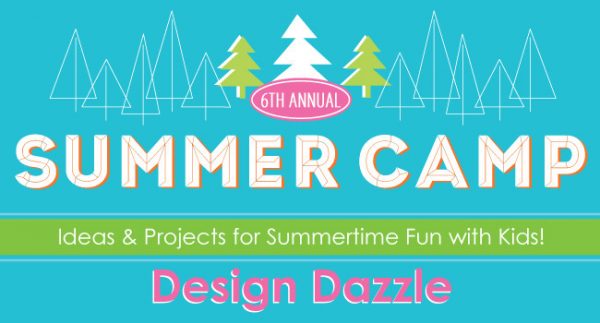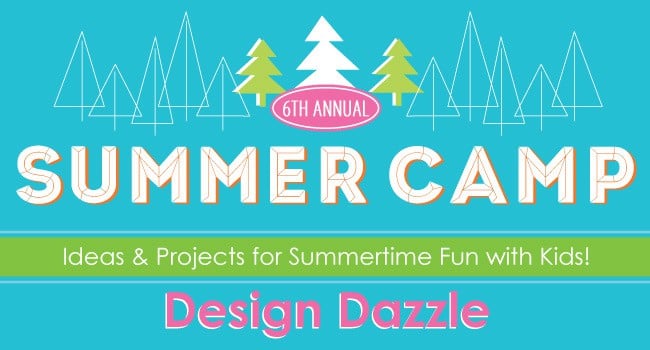 Welcome to Summer Camp, Laura! So glad you could join us and share such a fun idea.
Stay tuned for more summertime fun ideas! Our Kids' Summer Camp Season will last until mid-July. Want to see more? Check out the full collection (including the archives!) of
Summer Camp ideas
.
Save
Title:
Watermelon-Shaped Summer S'mores Treat
Mentions:
smores, summer camp, summer treatn, watermelon
Last Updated:
February 16, 2018