This post may contain affiliate links that, at no additional cost to you, I may earn a small commission. Read our Disclosure Policy.
What is one of the first things you think of about Colorado? For me it is the Rocky Mountains. Hubby and I road-tripped to the Rocky Mountains in Colorado recently. During our drive we even played John Denver's song, Rocky Mountain High. Fun to listen to while in the rockies!
Visiting the towns of Ouray and Silverton Colorado was on the top of our list and was a highlight during this COVID pandemic. It's been so nice to get out of town.
We felt very safe while visiting Colorado during this unprecedented time. We traveled responsibly! When stopping at a gas station and shopping – we wore masks, used hand sanitizer, and washed our hands. I'm hoping in some small way to help the economy by visiting/traveling to places and supporting their communities too!
We drove from Utah to Colorado. So no need for a flight but we will be flying to Memphis and Nashville soon. I'm excited to get back to flying!
So why Ouray and Silverton? We visited a dog breeder (to see their puppies) in a nearby town in southwest Colorado and decided to make a trip out of it. My husband has been to both of these towns – Ouray and Silverton – before on a motorcycle trip and really enjoyed himself. We decided to come back and spend 3 nights in Ouray and drove the Million Dollar Highway on our way to Silverton.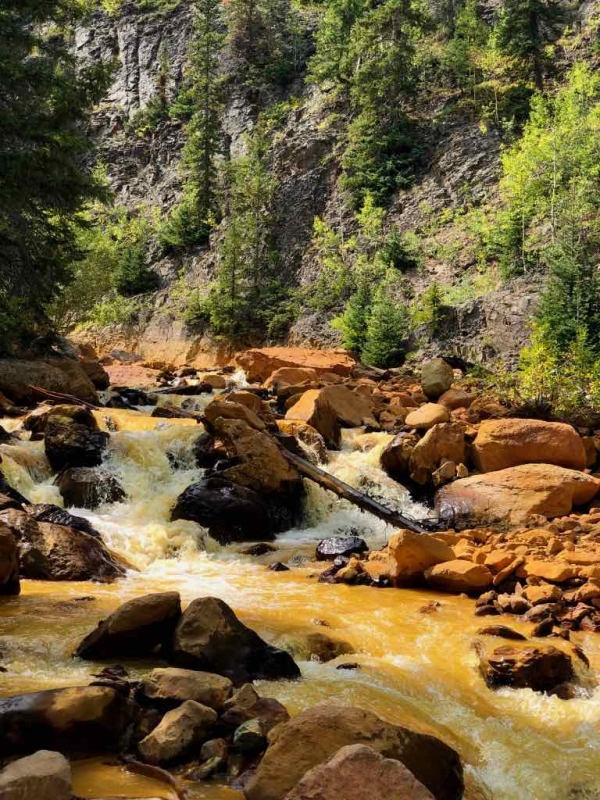 Yellow streams – A shop owner told me the river water was yellow due to the iron content of the surrounding stream beds and hills. I'm not sure how accurate that is. I'm hoping it's not due to toxic mining chemicals. It sure looks pretty though!
I first share about Ouray and visiting both towns during the COVID pandemic and how it affected or didn't affect our trip. Scroll down to read about Silverton. All pictures below are from Ouray and our drive to Silverton with part of the Million Dollar Highway.
Ouray
Ouray is known as the Switzerland of America. The whole town is registered as a Historic District and includes many buildings on the National Register of Historic Places. In the winter, Ouray is the Ice-Climbing Capital of Colorado. Outside of town is the Million Dollar Highway – several miles of the San Juan Skyway with incredible views on the way to Silverton. Lack of guard rails in certain areas make for a pay close attention while driving. They are plenty of places to pull over and take photos.
Some of the top attractions to visit in Ouray are:
Box Canyon Waterfall & Park – Waterfalls cascade down through the canyon walls. Well worth the $5 each adult to hike up to the falls – takes about 15 minutes one way. There is also a higher elevation hike up to the bridge which takes about 20 minutes with some gravel/rock trails
Bachelor Syracuse Mine Tour – The Bachelor-Syracuse Mine Tour walks you 1,500 feet horizontally into Gold Hill, rich in gold, silver, and other precious metals. Pan for gold for an enjoyable end to a mine tour.
Ouray Alchemist Museum – This museum tells the story of alchemy, drugs, and snake oil salesmen and why so many pharmacies had a soda fountain.
Perimeter Trail is a six-mile hiking experience that features varied terrain, four waterfalls, five bridges, a hidden troll. Hiking it will take about 4-5 hours to complete. It also involves approximately 1,600 feet of elevation gain and loss.
Yankee Boy Basin – is surrounded by several mountain peaks and is a popular scenic area visited by hikers, photographers, four-wheelers and nature lovers
How the pandemic affected our trip to Ouray and Silverton Colorado
Actually, the pandemic didn't affect us too much. Masks were required everywhere we went. However, we didn't wear masks during our hikes. We were able to eat at restaurants, eat dessert, walk the streets window shop, go inside stores, etc. Visiting the Ouray Hot Springs was enjoyable. We were able to sit on the grass near the pool without masks (we were social distancing). And swim and relax in the hot springs. Of course, we were careful to social distance. The whole town was wearing masks which helped. This trip made me realize we can live during a pandemic and still help others survive financially (especially small towns).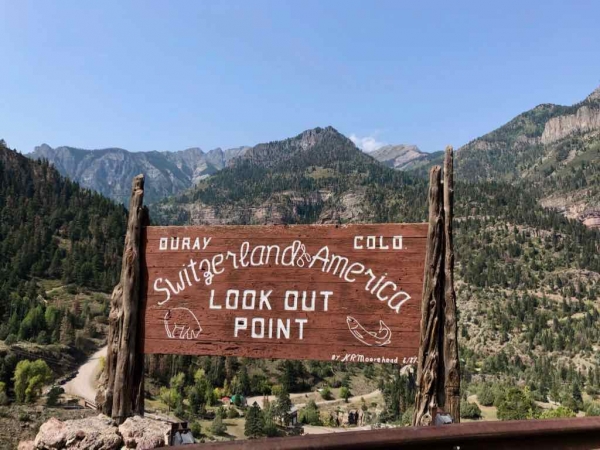 Views from out hotel.
We hit up the hot springs to enjoy on a sunny beautiful day. There are different levels of warm water – cool, warm and hot. You choose which pool you want to swim in. Masks were not required in the water.
Silverton Colorado
Is a cute, quirky historical town. There isn't too much to do in downtown – although tourist shops were open. Most of the restaurants were open with social distancing. Lots going on outside of town but downtown was worth a visit and to eat (one of my favorite things to do). Rentals of four-wheelers to drive up on the mountain trails are a great way to see the scenery.
Ride the Durango & Silverton Narrow Gauge Railroad – over 100 years ago cowboys and miners hopped aboard a coal-fired, steam-powered locomotive. This same locomotive travels along the same railroad tracks the early settlers of the Old West used and now you can ride it too. The trains to Silverton Colorado and all adventure packages are cancelled for the rest of the 2020 season. However, they are OPEN and currently RUNNING from Rockwood Station to Cascade Canyon Tuesdays-Saturdays. Check current conditions.
Mayflower Gold Mill – A National Historic Landmark, this wonderful piece of mining history is open to the public. But is currently closed due to COVID-19
Go Jeeping on the Alpine Loop – there are jeeps everywhere. Jeep rentals are easy to acquire.
Ice Lakes Trail – a breathtaking hike with steep switchbacks, waterfalls, and clear views. The hike can be done in a few hours: 3.5 miles one way that takes hikers from 9,900 feet to over 12,200 feet.
All photos below are from the town of Silverton Colorado.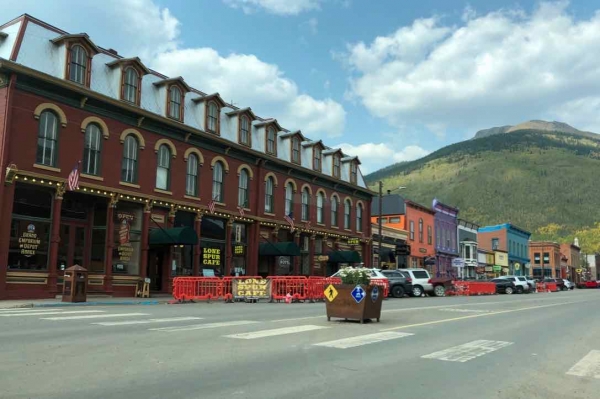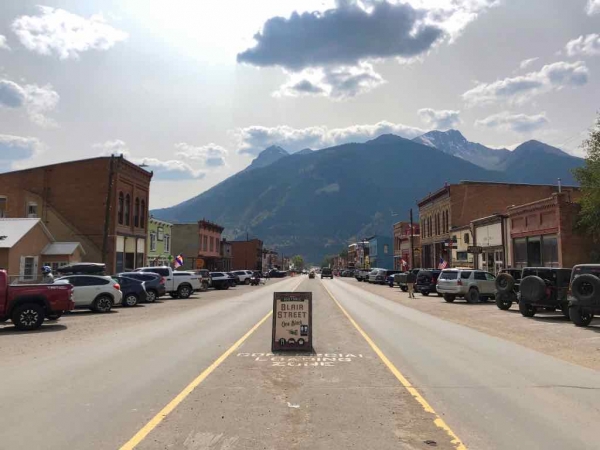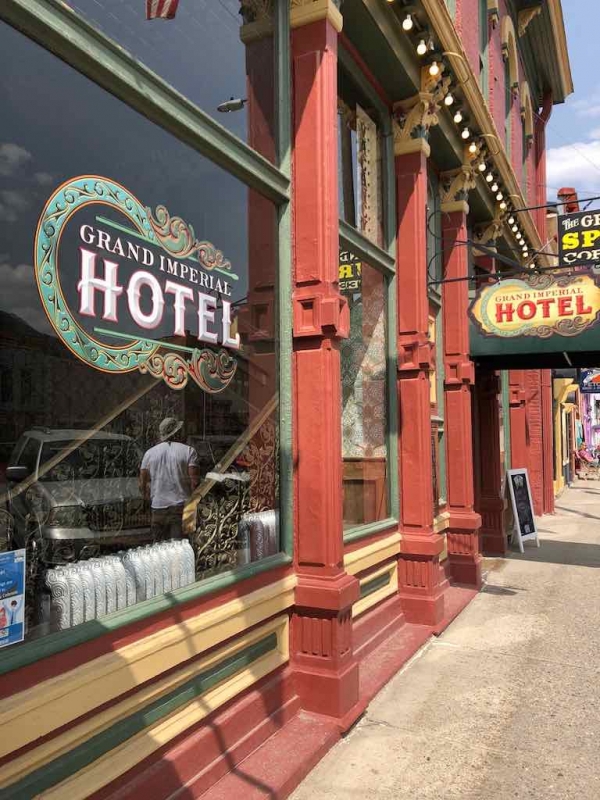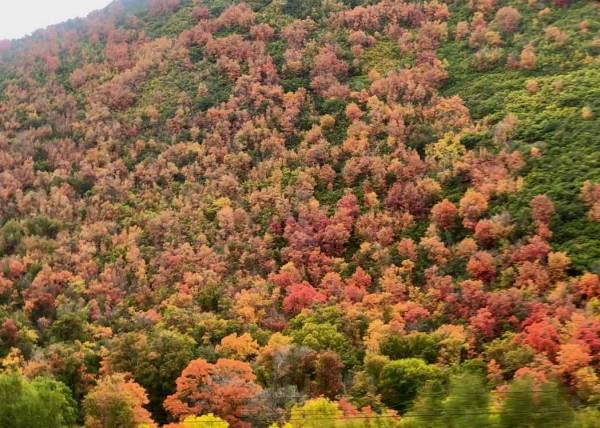 I took this image in Utah when driving back home. Beautiful fall leaves changing colors.
Are you planning any getaways, road trips, flights to help support our economy? I've been doing my part locally and now have decided to get out of dodge (a couple more times this year) and see our wonderful world. The USA has so many beautiful places.
Do you have any suggestions for this great area of Colorado? Please leave a comment below.