This post may contain affiliate links that, at no additional cost to you, I may earn a small commission. Read our Disclosure Policy.
Visiting Nashville for the first time did not disappoint! Music City as it's known – has much history, a bustling downtown, one-of-a-kind music scene with some incredible and delicious food. If you're into history, music, food and fun, it's a given to spend time there and check out all Nashville and the surrounding areas offer.
A tractor pulling a party bus.
Try a Good Bar-b-que!
Edley's was our favorite bar-b-que place to eat. You are in for a treat with delicious, moist and tender meat and some yummy sides. With several locations and delivery, it's an easy pick for dinner or lunch.
There is always Nashville Taco Bell if you need quick fast food meal. How about the most unique Taco Bell sign you've ever seen?
Shop at Marathon Village
A former automobile plant has been re-purposed into a small shopping center called Marathon Village. There are home decor, gift shops, art studios and the building has an industrial vibe. Antique Archaology shop is located there. My husband is a huge fan of the History Channel show American Pickers. Prices are high but for sure a fun visit to look around.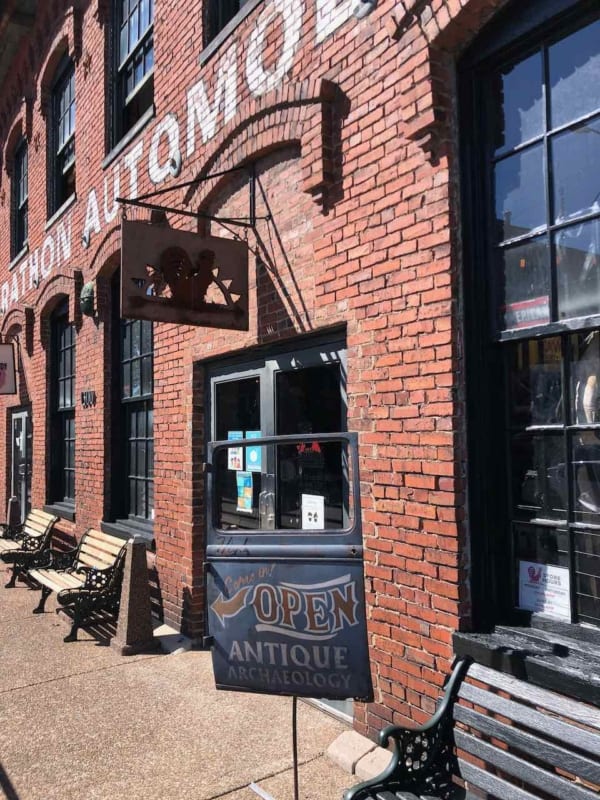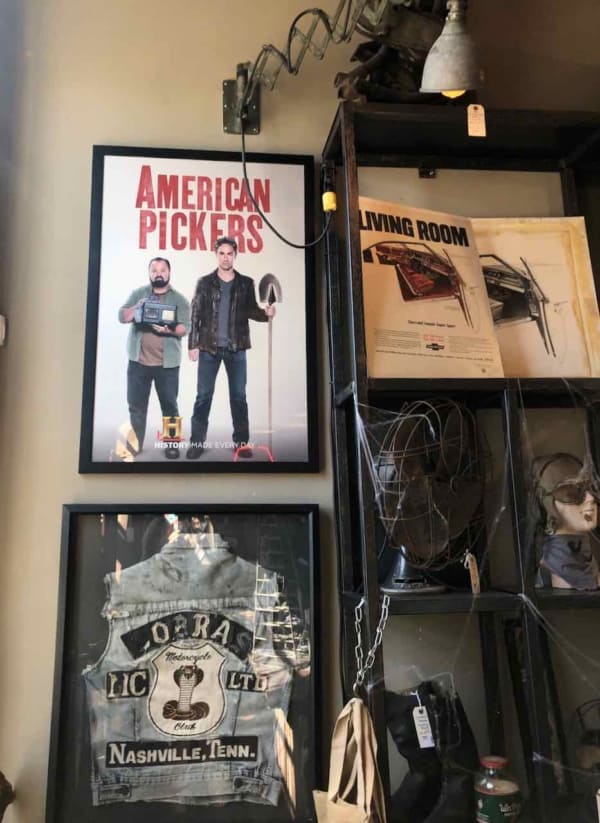 Check Out The Ryman
No visit to Nashville is complete without visiting the #1 attraction The Ryman Theater. It is nestled downtown and only three short blocks from the Country Music Hall of Fame and Museum. The distinctive red building stands out amongst the current architecture. As you gaze upon it, you can't help but think you're looking at a church. Well, in fact, you are. The Ryman originally opened as the Union Gospel Tabernacle in 1892 by none other than Thomas Ryman. The church has pew seating and stained glass windows.
Before you take the stage and memorialize your place in country music's hollowed ground with a photograph, you must watch the introductory film. It's 10 minutes dedicated to the history of the Ryman and a wealth of information. The film was entertaining, informative and of high quality. It was a favorite of mine and free with paid admission!
Next, take the 45 minute guided tour. The Ryman is best know as the center stage of country music and the Grand Ole Opry from 1943-1974, it also hosted some of Hollywood's legendary entertainers like Charlie Chaplin and Bob Hope. And who was the first speaker to take the stage to a sold out ticketed audience, Helen Keller. As you can see, the Ryman cements itself as a very important place in American culture and history. If you visit Nashville and miss the Ryman, it's like eating biscuits without the gravy.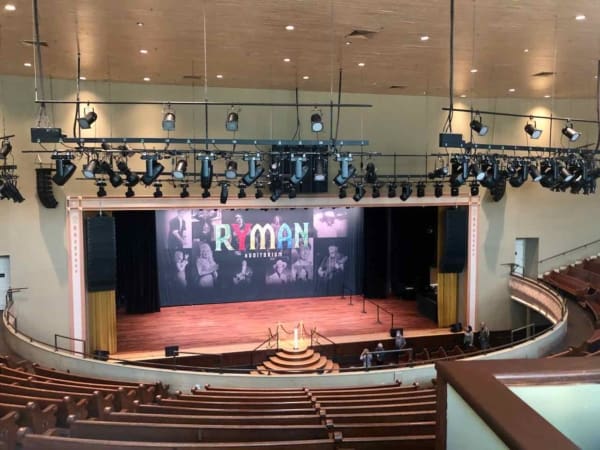 Walk The Grounds of the State Capitol
A National Historic Landmark, the Tennessee State Capitol sits on the highest hill in the central city. Such pretty grounds with old large trees great for walking and seeing the scenery.
The Military Branch Museum is located in the historic War Memorial Building. The entrance is on the left side of the building near the Vietnam War Memorial. The museum exhibits America's overseas conflicts, beginning with the Spanish-American War in 1898 and ending with the Global War on Terror. It's a small museum and doesn't take much time to walk through. We were in the area and decided to stop and visit. There is no admission charge to the Military Branch Museum.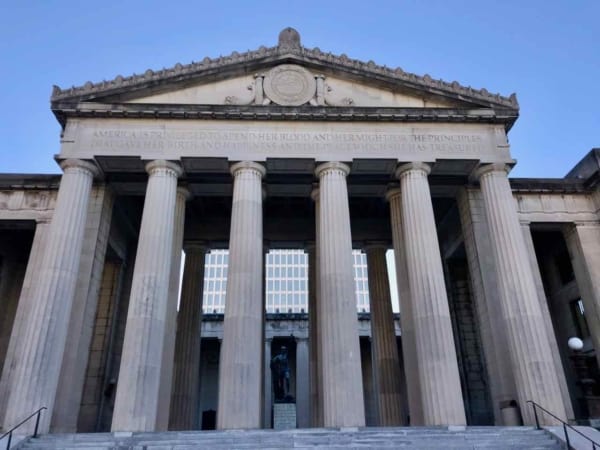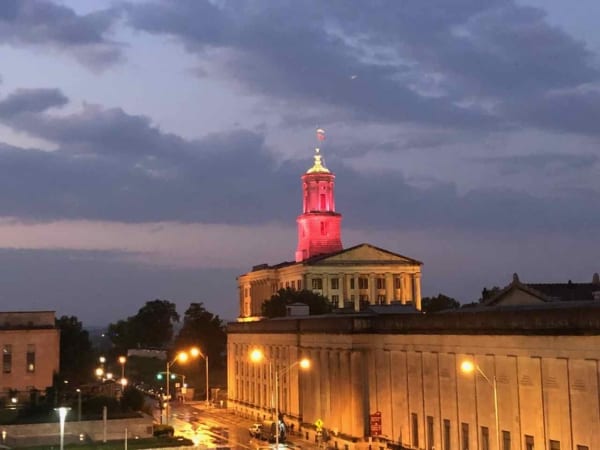 Country Music Hall of Fame
You don't have to be country music fan to love the Country Music Hall of Fame. It is the centerpiece for everything country. The 90 minute to two hour self guided tour, steps you from the birth of country music to it's current state. The displays are all original to the artists. From Hank Williams in 1961 to Hank Williams Jr in 2020, 142 artists are enshrined in the Hall of Fame Rotunda. The CMHOF is located two blocks from all the Honky Tonks on Broadway and three blocks from the Ryman. You can definitely visit all three areas on the same day and without having to repark your car. Our hotel was less than a 5-7 minute walk to the CMHOF. Purchase tickets at countrymusichalloffame.org.
Where to Stay
Margaritaville Hotel is located in the heart of historic Nashville just 2 blocks from the Music City Convention Center and the famous Broadway Street (which is the main street and thoroughfare in downtown Nashville). Broadway Street is where the entertainment district, honky tonks, live music, shopping and restaurants are located.
The vibrant Margaritaville Hotel is nestled near popular restaurants, attractions, nightclubs and bars. It was a fabulous location!
I loved the beach vibe and coastal decor. It was top notch styling, decorating, and tastefully done without being "theme-y" Cleanliness was a top priority for this hotel and they didn't disappoint.
Our room was very large with floor to ceiling windows and great views of downtown. The bed was very comfortable. We also had a separate area with a couch and coffee table to watch a bit of TV.
Comfortable bed with living area on the other side of the TV.
Check out this floor to ceiling view from our hotel living room area. My hubby is checking out the scene.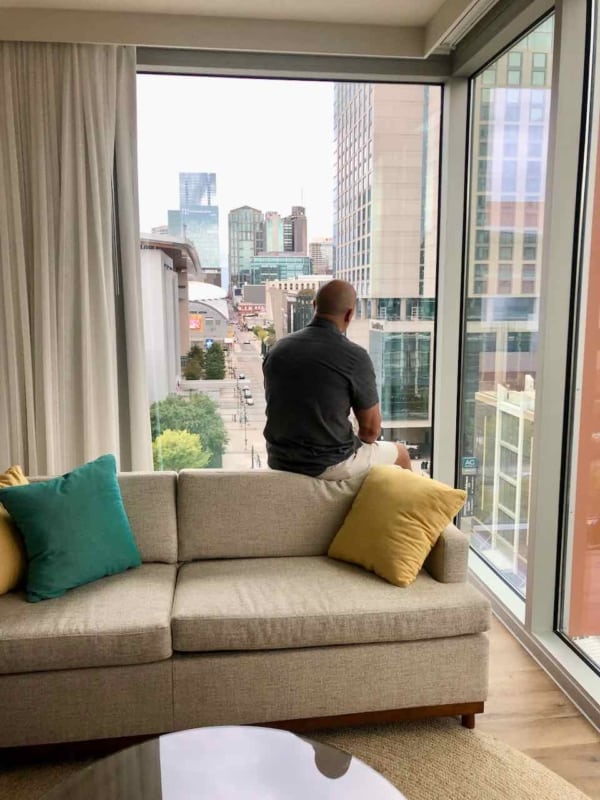 And what it looks like at night with all the lights…
Enjoy the view of a rooftop bar! You will definitely want to drop by Fins Bar, a hip rooftop beach-vibe bar located on the 4th floor next to the pool! It overlooks the Nashville skyline, pool and fire pit area. Great for lunch, happy hour, or fun by the fire pit. The Fins Bar & Rooftop are open to the public.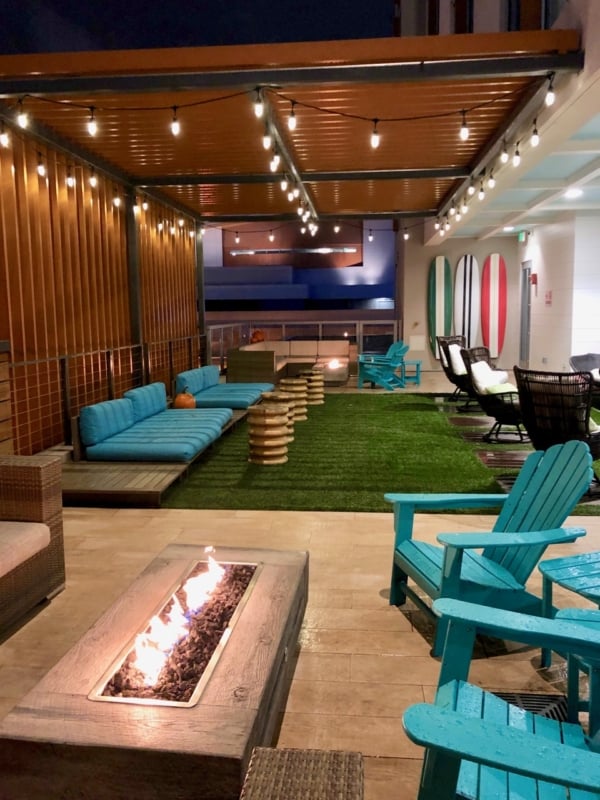 The property is very secure. You will need your room key to enter off of the street. 24-hour fitness is very important to some guests like my hubby. The fitness area was smaller but clean and just what you need for a workout while traveling. Additional amenities at this hotel include complimentary wireless Internet access, concierge services, and wedding services.
If you need to bring your dog, this place is very pet friendly. Pet guests are welcome up to 25 pounds. The pet fee is $50.00 per pet, per stay. Only Dogs Are Allowed.
I highly recommend staying at Margaritaville Hotel in Nashville. This was my first visit to a Margaritaville hotel and I plan to travel to many more. I know when we visit Nashville again, this will be where we will stay.
Check out Margaritaville Hotel website