This post may contain affiliate links that, at no additional cost to you, I may earn a small commission. Read our Disclosure Policy.
A vintage fire truck party will have you traveling back in time to relive the golden days of heroic firefighters and classic elegance! This unique and captivating theme will set your event apart and ignite the spark of nostalgia in all your guests.
Vintage Fire Truck Boys Party:
This awesome Vintage Fire Truck party was created by Amaris for her little boy using some of Modern Moments Designs Vintage Firetruck Party printables.
As told by Amaris …
"Party favors included a fire truck picture book with wheels, a Matchbox fire truck, a flashlight (which every firefighter needs) and Lifesavers. We also had a candy station, which was so much fun! I filled four candy jars with Bradley's favorite treats and used a red scooper that his Grandmother made in high school. The drink station featured the picture of Bradley's great-great grandfather driving the fire engine, his antique fire chief badge and a vintage fire extinguisher. The pretzel matches were a huge hit, too! I think they were everyone's favorite!"
Isn't this the most awesome vintage firetruck party? To see more images and find out more about the party visit Modern Moments Design post vintage firetruck party.
Modern Moments sells this vintage birthday banner and the printables below. Check out Modern Moments Etsy site to order.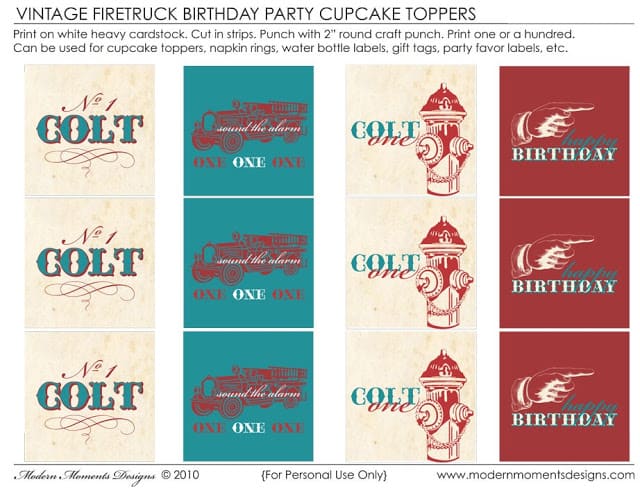 Setting the Scene:
To create an authentic ambiance, transform your party space into a vintage fire station. Utilize red and black color schemes, reminiscent of classic fire trucks, for your decorations. Hang banners with fire department insignias, antique firefighting equipment, and old firefighter helmets on the walls to set the mood. You can also place fire hydrant replicas around the venue to add a touch of authenticity.
Invitations:
The invitations should reflect the theme while intriguing guests to join in the fun. Consider sending out invitations in the shape of fire hydrants, or use vintage postcards featuring fire truck illustrations. Don't forget to add a personalized touch with fire-related puns, like "Join us for a blazing good time!"
Attire:
Encourage guests to don outfits reminiscent of firefighters from the past. Guests can dress up as classic firefighters with suspenders, vintage helmets, and firefighter jackets. For a touch of whimsy, provide firefighter hats and red scarves as party favors upon arrival.
Entertainment:
Engage your guests with fire truck-themed games and activities. Set up a hose relay race, where teams race to spray targets with water from a vintage-style hose nozzle. You can also organize a scavenger hunt where participants search for hidden "fire" gems or miniature fire trucks around the venue.
Food and Drinks:
Incorporate fire-themed treats into your menu. Fire engine-shaped cookies, cupcakes with red and yellow frosting, and "flaming" cocktails or mocktails will delight your guests' taste buds. Set up a "firehouse grill" station with classic BBQ favorites, harking back to the camaraderie of firefighters sharing a meal.
Fire Truck Cake:
The centerpiece of any celebration is the cake. Opt for a show-stopping fire truck-shaped cake with intricate details that will leave guests in awe. Alternatively, a classic red velvet cake adorned with edible firefighting symbols will be just as delightful.
Photo Booth:
Create a photo booth area with a backdrop resembling a vintage fire truck. Include various firefighter props such as helmets, hoses, and axes. Guests can take fun and memorable snapshots, capturing the essence of the event.
Music:
Set the mood with a playlist featuring classic songs from the past. Look for old-timey tunes and upbeat numbers to keep the energy high throughout the party.
Favors:
Thank your guests for joining in the vintage fire truck fun by offering them personalized keepsakes. Miniature vintage fire truck replicas, keychains, or customized fire-themed memorabilia make fantastic party favors.
A vintage fire truck themed party promises a unique and nostalgic experience for both hosts and guests. From the decor and attire to the entertainment and delicious treats, every aspect will remind everyone of the bravery and valor of the past. So, ignite the engines of excitement and create lasting memories at your very own vintage fire truck extravaganza!