This post may contain affiliate links that, at no additional cost to you, I may earn a small commission. Read our Disclosure Policy.
With a little more than a foot of precipitation annually, Utah ranks as the third driest state in the country, behind Nevada (1 st ) and Arizona. You'd think a state known for the Great Salt Lake would receive more rainfall, but that's not the case. However, with water flowing through the state's rivers, creeks and man-made projects like Lake Powell, Utah residents can enjoy several water adventures. From fishing, swimming to kayaking to river rafting, Utah's water scene has something for everyone. I enjoyed sharing the ideas here for Utah water adventures for families. Hopefully, you will find something that works for your family.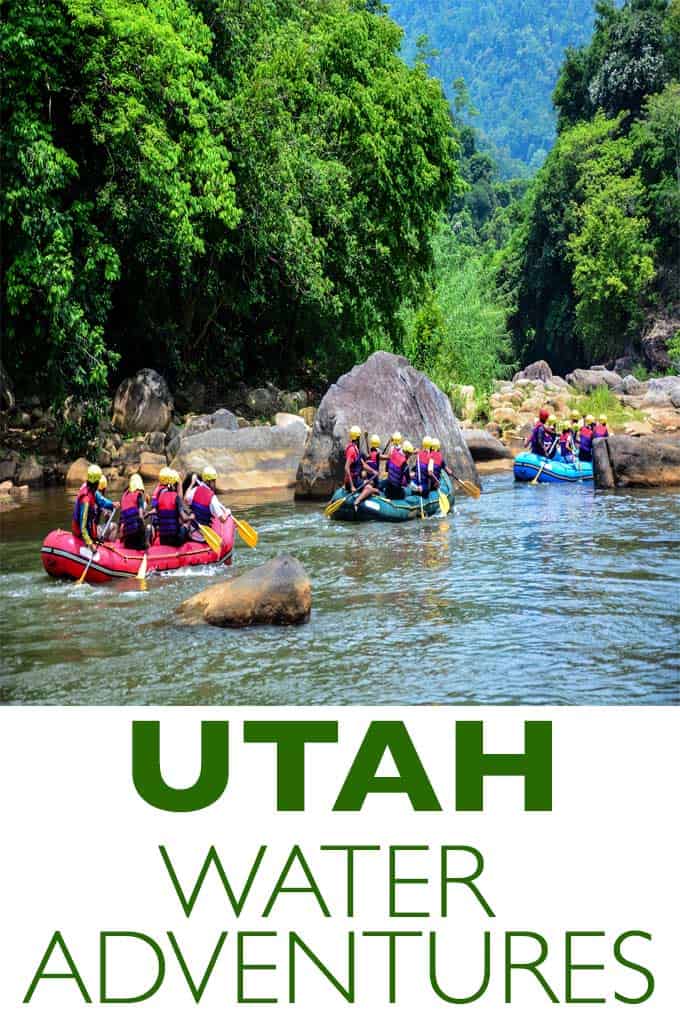 Tubing the Provo River
The Provo River is a popular spot to do some free tubing or hire outfitters to get you down the river with the equipment and pick-up at the end. Tubing can be strenuous and requires good swimming skills. The float length is 4.5 – 5 miles and takes about 1.5 – 2 hours. The season is late May til end of September.  If you choose to bring your own tube, be sure it is heavy-duty and will resist popping on the brush as the tube moves against the riverbanks. Before leaving on the float down the river, ensure you have a shuttle vehicle (for pick-up) and that everyone wears a Type V whitewater PFD (life jacket). The Provo River feeds from the bottom of Deer Creek Reservoir and is a COLD. Water temperature is frigid 52° to 55° year-round. Remember to look out for debris and fallen branches. The Provo River has a railroad trestle halfway down river – you need to watch out for this.
Utah State Law requires a Type V whitewater PFD be used on any body of water with a current. Local outfitters rent single size and monster size tubes.
Rafting the Colorado River
Families looking for a fun water adventure together will definitely find it rafting a 13-mile section of the Colorado River. Beginning at Hittle Bottom Recreation Area, the run can include Class I-III rapids. While the river can be negotiated privately without permits, there are professional outfitter companies that
will provide a guide for an adventure down river. Some trips can even include overnight campsites. A river rafting adventure includes scenic views of bluffs standing like giants over the water, as well as stellar shorelines with rocky beaches and trees hugging the water.
Lake Powell
Enjoy Lake Powell via a speed boat or maybe ride a jet ski. However you choose, the nation's second- largest manmade lake is perfect for a family water adventure. The reservoir along the Colorado River serves several roles, including as a water sports attraction. Explore Glen Canyon National Recreation area in a kayak. Imagine taking in the scenic views of the canyon and its colorful rock formations from water level. Paddling next to centuries-old rock formations is a once-in-a-lifetime event. Lake Powell is also perfect for swimming and fishing. The water adventures seem endless. Houseboats are popular to use at Lake Powell.
Fishing trips
Fishing in Utah isn't like the scene from "The Andy Griffith Show" where father and son sit by a watering hole sticking their fishing lines into the water in hopes of catching the day's dinner. Instead, Utah is home to some of the best fishing spots in the world. Beyond local fishing spots, Utah has scenic fishing locations, such as Bear Lake and Uinta Mountain Lake in the north and Kolob Reservoir in the south.
With several fish species available in the state, more popular fish include cutthroat trout, rainbow trout, northern pike and walleye. Lake fishing, as well as fly fishing, are popular in Utah. Fly fishing along the state's rivers like Blacksmith Fork River and Duchesne River.
Kayaking and Rafting
From fast-flowing rivers to tranquil lakes, Utah has excellent spots for kayaking. The Green River in eastern Utah offers great kayaking opportunities, including low-class rapids. While the river is also known for Class IV rapids, you'll want to keep your family at the Class I-II white water rapids, as they're better to negotiate. If you prefer a more peaceful environment, drop your kayaks in Lake Powell or Bear Lake, where you can explore the scenic views without facing rapids.
Provo River – Class I -II rapids takes about 90 minutes to get down the river. The Weber River is in the Park City area and has Class I – III rapids. Trips are 90 minutes or longer based on river flow. The season is open Late April thru October 2018.
To go tubing, rafting or kayaking, this company does it all.
Swimming
Much like its fishing and boating options, Utah's waterways offer excellent spots for wading and swimming. In fact, if you visit Antelope Island State Park, you can float in the water without trying. Home to the Great Salt Lake, swimmers can float or actually enjoy a swim. For more freshwater experience, Lake Powell would be a good choice, as would Pineview Reservoir. Lake Powell is a manmade reservoir on the Colorado River, offering dynamic views as you swim. Pineview Reservoir, located in the Ogden Valley, has a restricted area at the west end designated for swimming.
Water adventures for families in Utah are abundant. With options from kayaking and boating to fishing and swimming, Utah offers some of the most beautiful scenery you'll ever enjoy as you partake in the activities. Once you're in the water, it may be impossible to get you out of the water!
Have you tried any of these already? I would love to hear in the comments!