What to do with old shutters or louver doors? Turn a wood shutter into a window valance! I've been working on this guest room for a little while now and have wanted to create a cute valance. Yes, this room is a guest room. The white shabby chic furniture use to be my daughters and I wanted to create a cute room using all the furniture. We moved out of state several months back and have company occasionally come stay. This room is more for my friends and our college student guests who are girls! We have another guest room not so girly ; )
You won't believe how easy it is to make this wood shutter window valance.
SUPPLIES:
wood shutter or wood louver door (purchased at Home Depot)
metal brackets
non-mortise hinges
drywall anchors/screws
paint (if needed)
TOOLS:
drill
screwdriver
So, I decided to make a wood shutter valance from a white louver door (we painted red). The hinges that came with the door were removed. Iron brackets were purchased at Hobby Lobby. As you can see, I spray painted them an off-white. The non-mortise hinges were added to hang the shutter on the wall above the window.
Use drywall anchors/screws in the wall to secure the hinges and metal brackets. Attach metal brackets to the wall. Screw metal hinges into the wall and it's done! NOTE TO SELF: make sure to spray paint the bottom of the brackets next time! The wood shutter is raised in the picture so you can see how it is hung.
Here is the side view of the window valance. The pennant banner was made with fabric scraps and rick rack. No sewing required – the hot glue gun works great!
Here is the BEFORE picture.
Check out the before picture of this chandelier. I so love the red!! All it took was 2 cans of red spray paint
. I'm hoping to get the mini lampshades soon!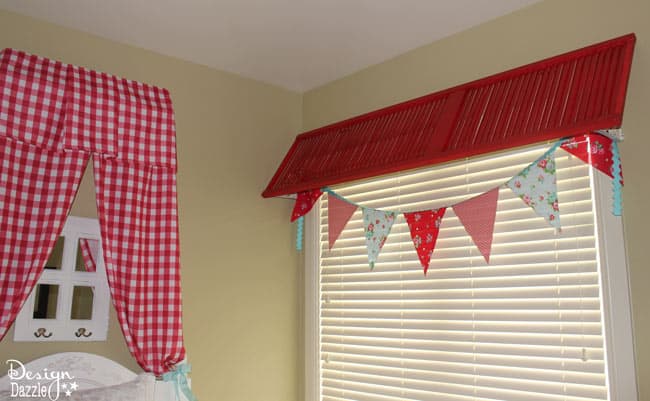 I love this room. There is also a tutorial coming up soon on how to make the no-sew fabric bed crown.
This project was made possible by the representatives of  YP – Local Search & Gas Prices app . This wonderful app can provide you with information on many  different businesses in your local area, including  movie theaters, restaurants, gas station, retail shops, contractors, etc. And it's a FREE app!
I found a handyman Todd from A Job Well Done from the YP app. He is very efficient and did a great job figuring out how to hang the shutter with non-mortise hinges. He also fixed (and hung) my chandelier that had broken during our move.
 Thanks to YP for the gift card to help with this project!
Title:
Turn a Wood Shutter into a Window Valance
Mentions:
DIY wood shutter project, Turn a wood shutter into a window valance
Keywords:
Tutorial wood shutter valance
Last Updated:
May 25, 2022