Have you ever enjoyed a bowl of Tortellini soup? If not, you will want to try this satisfying, delicious soup!
This easy Tortellini Soup recipe is loaded with flavor! 
Italian sausage, veggies, and cheese tortellini is served in a savory broth.
This soup embodies Italian cooking! Italian sausage, garlic, veggies, tomatoes and more.
Serve with salad and warm bread for a delicious meal!
We even share the stove top recipe and the slow cooker recipe. Yahoo!!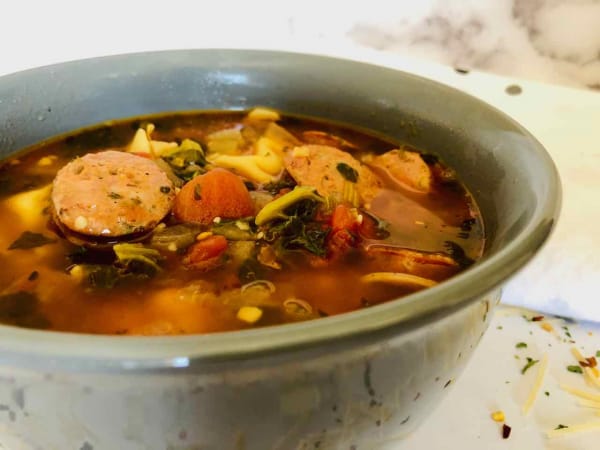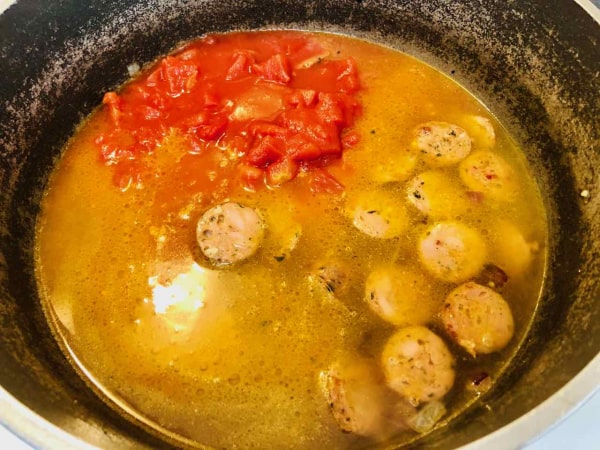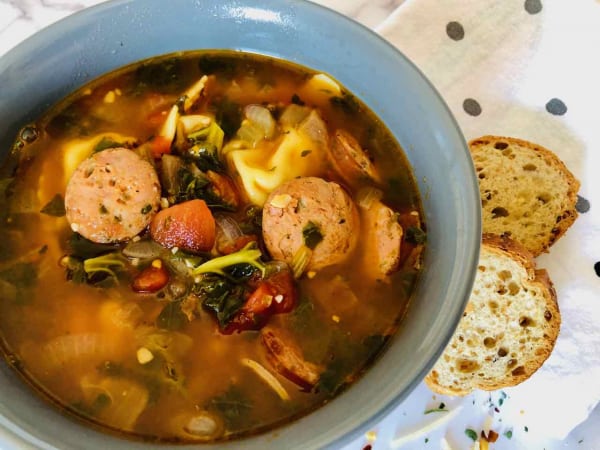 Tuscan Tortellini Soup
Ingredients:
1 lb cooked italian sausage links cut into ½ inch rounds
2 – 9 oz packages refrigerated cheese tortellini
1 can white beans, drained
2 cups baby spinach
1 yellow onion, chopped
6 cups chicken broth
1 teaspoon crushed red pepper flakes
1 can diced tomatoes
3 cloves garlic, minced
1 tablespoon olive oil
Salt & pepper to taste
Parmesan cheese & fresh parsley, for garnish
Preparation Instructions:
Slow Cooker
Combine all ingredients except olive oil, tortellini, and garnish in a 6 quart slow cooker
Cook on low for 4 hours, then add tortellini and cook for another hour
Serve immediately, garnish with a drizzle of olive oil, Parmesan cheese, and parsley.  Enjoy!  
Stove top
In a large pot, saute onion in olive oil until soft
Add sausage and cook until golden brown
Add garlic and cook for 1 minute
Stir in tomatoes, broth, red pepper flakes, and salt & pepper
Bring to a boil and add tortellini, simmer on medium low heat until flavors are well combined – about 20 minutes
Stir in beans and spinach and cook about 2 minutes, until spinach has wilted
Garnish with a drizzle of olive oil, Parmesan, and serve immediately. Enjoy this hearty soup!  
Check out another favorite hearty meal, White Chicken Chili – it even won a chili cook-off!