This post may contain affiliate links that, at no additional cost to you, I may earn a small commission. Read our Disclosure Policy.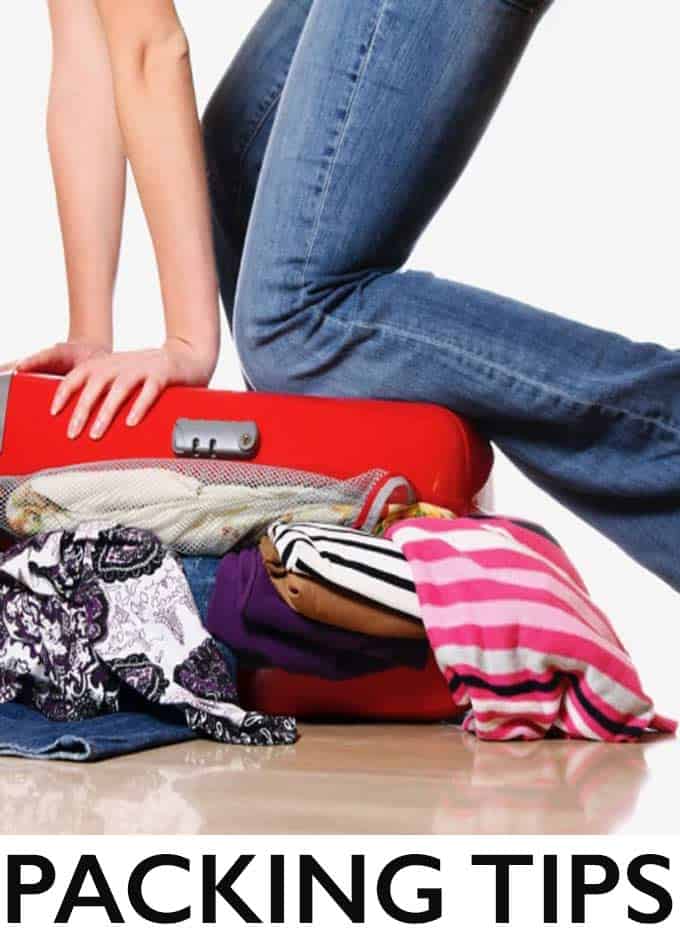 Have any of you ever felt like this when trying to close a suitcase?
Over the years of my travels, I've learned what to do and what not to do when packing a suitcase.
I have definitely been guilty of overpacking.
It's a learning curve of how to pack well and efficiently.
I feel I've mastered packing much better than when I first started traveling.
Suitcase Packing Tips:
First thing check your airline's baggage policy for size and weight restrictions. You can fly with one airline and be ok with your size suitcase and weight. But you catch another flight with another airline and be charged baggage fees. If your traveling with your family and have several suitcases, this can create hefty fees by not paying attention. Flying internationally our suitcases have been the typical size and weight. But arriving in other countries and using budget airlines. They have very strict baggage guidelines. So just be careful and plan ahead.
Now that you've checked what size baggage you can bring. Begin with a packing checklist of essentials or use a packing app. A packing checklist helps prevent leaving important items behind.
Try on complete outfits before you pack – this ensures you have all that is needed — shoes, jewelry, undergarments, belts, etc. Have you ever put on an outfit while out of town and you realize the special slip or belt needed you forgot to bring?
Organize and maximize space by using packing aids, I am a BIG believer in packing aids. Some of my favorites are shared below.
Spread out all that you want to pack on your bed. It's easy to see everything you want to bring and is a good time to begin the process of elimination.
Pack efficiently. Do you really need that big blow dryer (check your hotel/Airbnb if they have blow dryers – most do occasionally some do not ). Do you need to bring that LARGE beach towel? What about purchasing some items when you arrive at your destination. You can always leave items behind.
Roll your clothes. Rolling your clothes versus folding will save space in your suitcase.
Stuff underwear, accessories, and socks inside of shoes. Leave no space unused.
Place shoes along the sides and bottom of the suitcase – toe to heel
Heavy items go on the bottom of the suitcase.
Lightweight items that are prone to wrinkle go on top in the suitcase
Bring travel-size toiletries or purchase them when you arrive at your destination.
Don't pack valuable items in your CHECKED suitcase. Even with TSA approved locks on my suitcase – my locks go missing. Airlines will not reimburse you for valuables. Check the airlines for – items not covered by their baggage policy – cash, jewelry, electronics, computers, cameras, etc.
Don't bring lithium batteries or high wattage power banks in your CHECKED luggage. Check with the airlines on their rules. You can bring them in your CARRY-ON luggage. A power bank (portable battery used to power up mobile devices) is a must if you use your smartphone when traveling. I would never travel without a power bank.
Leave extra room in your suitcase for travel souvenirs that you will want to bring home.
Pack a foldable tote, beach bag, or duffel in your luggage for day trips, beach, pool or picnics.
Make your suitcase stand out to you. I have a colored ribbon tied to my black suitcase.
This helps me and others from grabbing the wrong black suitcase since there are so many out there.
When you get to the baggage carousel you can find your suitcase easier with a luggage tag, ribbon or ??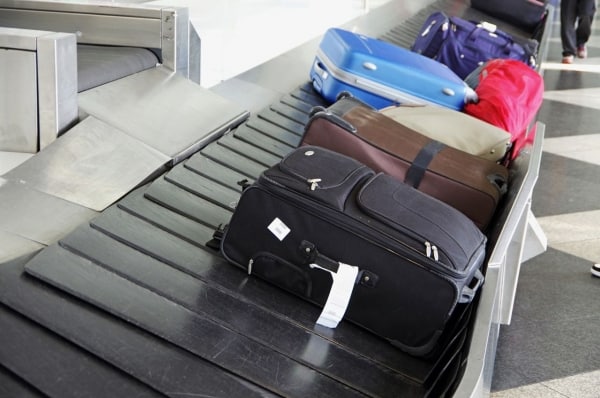 Packing Aids That Are Awesome!
To see my ALL-TIME FAVORITE packing item that I always travel with, scroll to the very bottom of the post.
In the meantime see all of the packing aids that I use with the exception of one that I personally don't find useful.
I had purchased a toiletry bag a few years ago that just wasn't working for me -way too small.
I had to find one that was the right size and fit ALL that I needed it to. I found it in this toiletry bag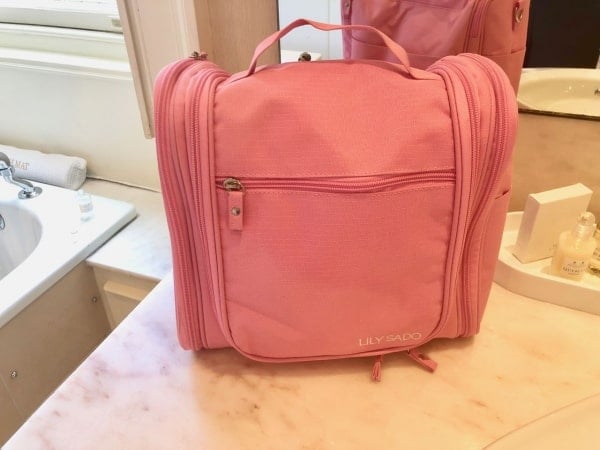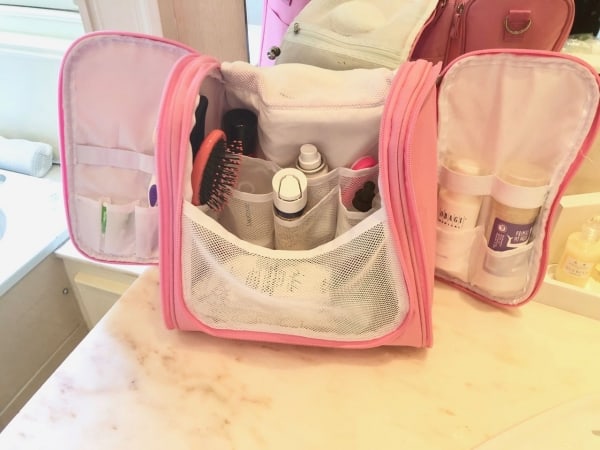 The sides that open up are genius. I can also fit my makeup bag in here and a curling iron!
Most sinks and counters in hotels in Europe have very little counterspace.
Since this has a hook for hanging it's worked out great while traveling in Europe.
Have you seen a packing folder?
These folders help keep you organized and wrinkle free!
Every packing sleeve includes a folding board with instructions on how to fold your clothes properly.
They are great for packing men's dress shirts, pants, women's dresses, skirts, etc.
They help keep clothing from shifting in transit so they stay wrinkle-free.
Do you have bulky items that you need to pack?
On my last trip, I needed to bring my winter jacket due to cold weather!
This jacket goes to mid-thigh so it was bulky. I used travel space saver bags and love them.
Check out the images below that show my bulky winter jacket placed inside the travel space saver and the next image that shows it rolled up.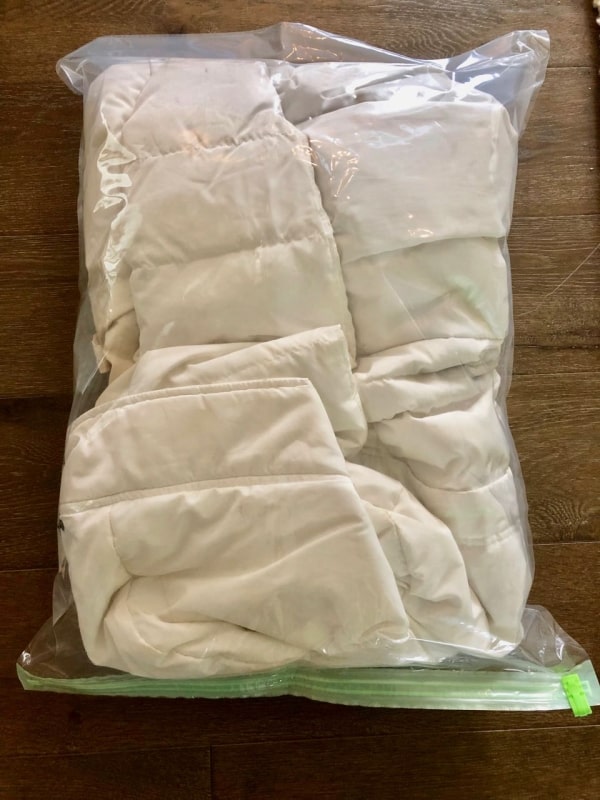 Clever Suitcase Packing Tips:
Yes, it saves a lot of space! I also bring an empty space-saver bag to use for my laundry.
When it gets full I just roll it up and save space!
I really dislike electrical cables that become a tangled mess in my suitcase.
I found this cable organizer that keeps my computer cable organized and protected.
I especially love it when I bring it in my travel purse if I have a layover somewhere and will be using my computer.
Best invention for keeping cords organized. I use it ALL the time!
Compression packing cubes. I'm not sure if I'm sold on these.
I did an experiment with my hubby's t-shirts.
I took two stacks of t-shirts that were the same height and about the same weight.
I placed the t-shirts inside the packing cube and used the two zippers that help "compress" the packing cube.
The size didn't go down enough for me to see that they are really helping size wise.
I then rolled the t-shirts and the same thing. It didn't help that much.
It is a way to keep your clothes organized but I find that I won't be using them. I took them on a trip and Ihated having to unzip them to see what what inside. I LOVED my portable travel shelves much more.
Let me know in the comments if you like these packing cubes and why. I know a lot of people do use them.
Shoe bags – These are inexpensive and a great way to keep bathroom and floor germs (yuck) off of your clothing inside your luggage.
Organize your jewelry! In the past I have used drawstring little bags and my jewelry would become a jumbled mess.
This travel jewelry organizer helps keep my jewlery organized and in one spot.
My FAVORITE travel aid:
A portable travel closet also known as a hanging shelf organizer for the suitcase.
This portable travel closet pulls out of the suitcase and hangs up in the closet.
I love it because I don't have to unpack and pack at every hotel.
I just remove it from the suitcase and hang up – it takes all of 10 seconds – literally!!
Recently I stayed at a hotel in Palm Springs with 2 girlfriends and surprisingly, there was NO chest of drawers.
I had my portable travel closet and pulled it out of the suitcase and hung it up.
No living out of my suitcase for 6 days.
The bottom shelf has an area for dirty laundry.
I collect it all in the bottom and then when packing up to leave – I place my dirty laundry in the travel space saver bag (shown several images above) and roll up.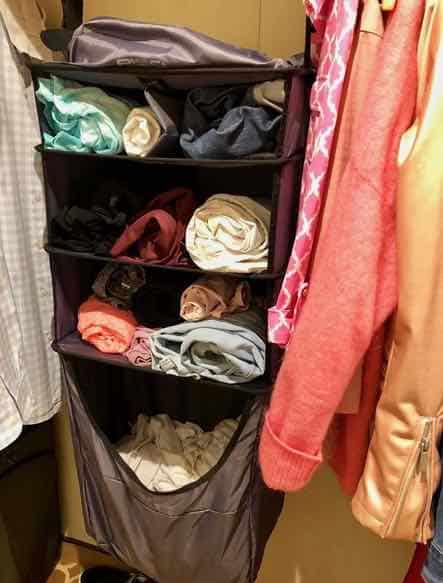 More on Suitcase Packing Tips:
This is the exact portable travel shelf I purchased several years ago.
But there are others to choose from. This travel shelf works with carry-on luggage.
The portable travel shelf is my FAVORITE travel aid for sure.
It's shown here in our closet on the cruise ship.
There was limited shelf space on the ship and this worked out great!
I've shared links to different travel shelves.
Choose which one works best for your luggage and style.
So there you go all the ultimate suitcase packing tips!
Let me know in the comments below what your favorite packing tips are and what you do to pack efficient?
If you need a great travel purse, I love this one shown below. It is actually a diaper bag but it works fabulously for travel. It's under $50 – such a deal!
It's inexpensive and has held up well in my travels.
Need to survive a long-haul flight ? Check out my post to learn some tips.