This post may contain affiliate links that, at no additional cost to you, I may earn a small commission. Read our Disclosure Policy.
A bridge faucet is a type of kitchen faucet that has a classic and elegant design. In searching for the best bridge faucet for the kitchen, I found the one for my kitchen design that I love!
It is a beautiful faucet with a traditional look that is perfect for my farmhouse sink.
This post is sponsored by Pfister Faucets. All opinions and words are 100% my own.
​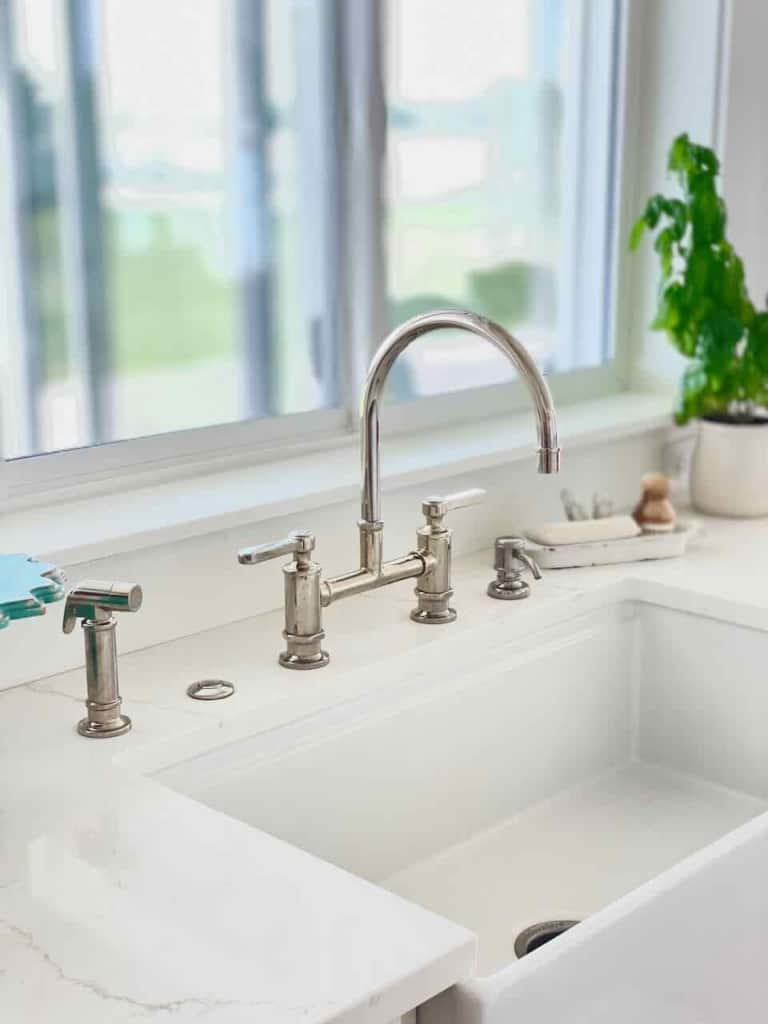 What is a Bridge Faucet?
A bridge faucet for the kitchen consists of two separate handles mounted on a central base, with a high arching spout that connects them. The handles control the hot and cold water flow, and the spout can swivel to reach different areas of the sink.
Bridge faucets are often made of high-quality materials such as brass or stainless steel and can add a touch of sophistication to any kitchen decor. They are also known for their durability and reliability, making them a popular choice for many homeowners.
With the bridge faucet, it's easy to control the water temperature (hot or cold) with both handles.
​
Bridge Faucet Styles and Finishes
The bridge faucet comes in many different styles – vintage style, contemporary style, industrial style, and classic traditional styles. Although the bridge faucet is a classic design that dates back to the turn of the twentieth century, it is still popular today with a timeless quality.
Choosing the best bridge kitchen faucet took a bit of time trying to figure out. I knew I wanted more of a traditional bridge faucet for the farmhouse-style sink I chose for my new kitchen.
I've seen the bridge-style faucet in all types of finishes – stainless steel, chrome, satin nickel, polished nickel, Tuscan bronze, oil-rubbed bronze, unlacquered brass, black, and a brushed gold finish.
Which Bridge Design Faucet Did I Choose?
​There are several reasons why I chose the Port Haven Pfister faucet. Firstly, it is made with high-quality materials that ensure durability and longevity.
Secondly, it has traditional elegance that can complement any kitchen or bathroom decor with several finishes to choose from. I chose the polished nickel finish which I have mostly in my home.
Thirdly, it comes with convenient additional features such as a side pull-out sprayer, a matching soap dispenser, and easy-to-use handles.
Lastly, Pfister is a trusted brand with a reputation for producing reliable and efficient plumbing fixtures. I've had their fixtures in my home for many years.​
The configuration for the Port Haven is a 2-hole or 3-hole installation and that will depend on what you order. A total of five holes were cut in the quartz for the bridge faucet and the addition of – an optional side sprayer, disposal button, and soap dispenser.
I use the sprayer constantly while at the sink. I need a sprayer at all my sinks. So if your faucet doesn't have a pulldown sprayer. The separate side sprayer is a must. You'll find yourself using it all the time for washing dishes, cleaning the sink, large pots, and rinsing fruits and veggies.
​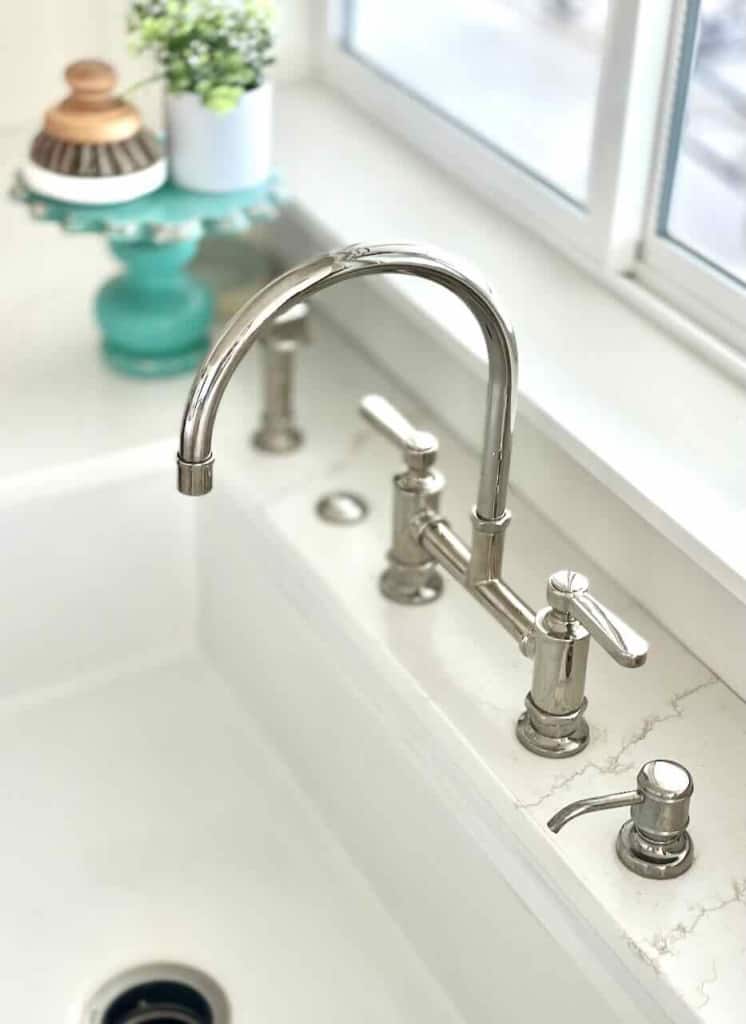 How do you like the polished nickel finish?
The Kitchen Faucet
I do love the classic look of Pfister's Port Haven faucet. It is a well-known brand that I've been extremely happy with. It is a great quality that fits in my kitchen perfectly. The affordable price makes this one at the top of my list. Depending on the finish it starts in the high $ 300s and goes up from there. The Pfister Port Haven faucet is sold in many different locations and online.
Benefits of a Bridge Faucet
The variety of bridge kitchen faucets is a plus! Because of the height of the faucet, there is extra clearance for those tall pots or pitchers. There is no deck plate which gives the counter a more sleek design. The faucet swivels which is a great feature.
If you want an in-spout sprayer in the faucet there are some bridge faucets with a pull-down sprayer. You can control the hot and cold water lines separately with the two handles. So that helps with temperature control.
I was at my home when the faucet was installed. It was an easy installation by the plumbers. I just wish I had them move the handheld sprayer further away from the right handle. The handle ended up being to the handheld sprayer so then we moved the sprayer over to the far left. Which is fine but we are right-handed and it would have been better on the right side.
I would say the one negative is two handles can be less functional. But it is fine for me.
​
I enjoy decorating around the sink which can also be functional. This pretty cake stand holds a scrub brush that sits on a marble dish to catch water.
I've been using Pfister Faucets for several years. Check out my last bathroom remodel with Pfister.
This was the design board I created for my kitchen. The vision I had for the design of my home is a lake house cottage-style feel. Most of the items in this design board were installed in my kitchen. I'm still waiting on the brick backsplash. I did go with another light fixture. A schoolhouse light was installed over the sink.
In my last home, I chose a bridge faucet also. You can check out my post on the farmhouse sink and the faucet.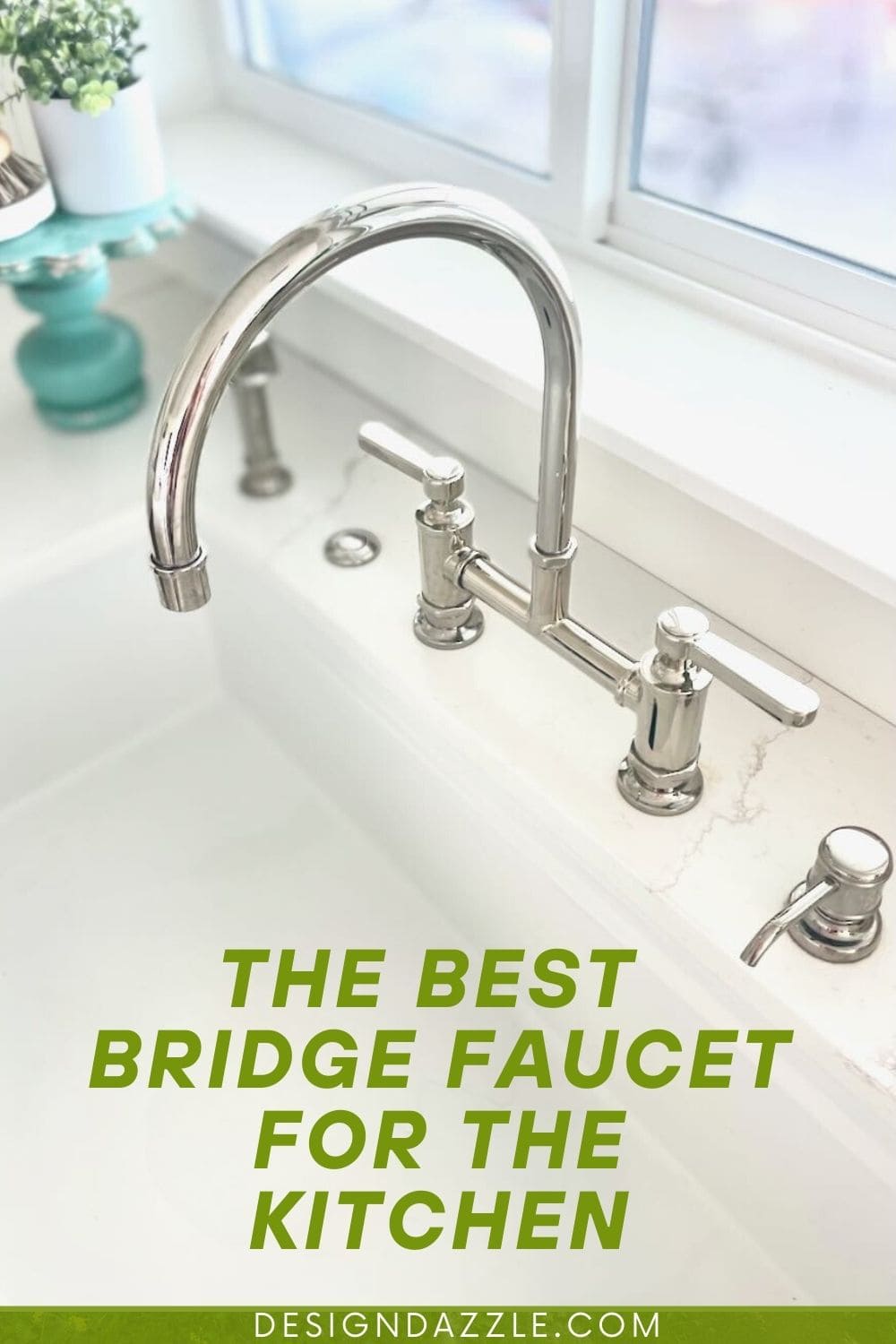 ​
​
​