This post may contain affiliate links that, at no additional cost to you, I may earn a small commission. Read our Disclosure Policy.
I shared our master bathroom remodel the before and afters in another post. This is part two of what we removed, what we added, tile, accessories, and faucets we used.
If you are planning on a bathroom remodel, read below for all the tips on what to do and what not to do.
The after:
I was the project manager on this remodel and it went fairly well. There is always a hiccup or two when remodeling. Here is a reminder of what the bathroom looked like before we remodeled…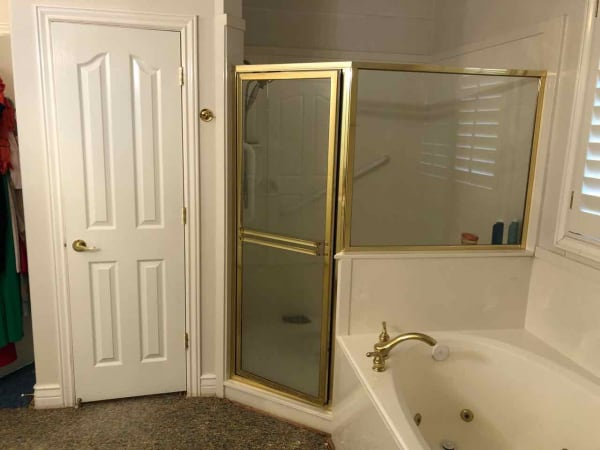 I interviewed several different licensed contractors to receive estimates and also if I wanted to work with them. We hired a licensed tile contractor, licensed plumber, licensed electrician and a painter.
After visiting various tile stores to find tile we wanted to install, I finally found it. I did know I wanted to use a subway tile for it's classic look. White was also important to me for a classic color.
Home Depot is where the tile was purchased. We chose 3 tiles that created a cohesive look.
White subway tile size 4″ x 16″
Bianco Dolomite mosiac marble 12″ x 12″ pattern
Gray rectangle 12″ x 24″ porcelain tile for the floor
Grout color for shower tile is Avalanche with Mapei brand
Grout color for flooring is Frost with Mapei brand
Our tile guy did the demolition of the shower, flooring and cultured marble surround.
Concrete Shower Pan
The concrete shower pan was poured by the tile guy. A few days after it had cured, he filled the shower pan with water to make sure there were no leaks. He left it filled overnight. When he came back the water was still all there. Cement board is used as a barrier and is ideal for a tile backer board. Once this was installed it was time to begin the tiling process.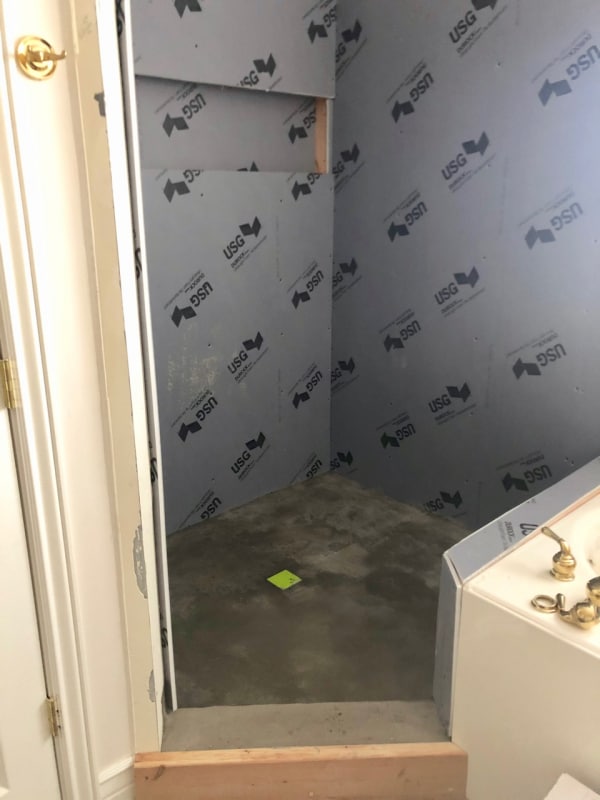 I needed to figure out the pattern and layout design. So I had the tile guy place the tiles in different configurations to see which one was more pleasing to the eye. I chose the running brick pattern (also known as offset/staggered) as you can see below. Once the pattern was decided the tile installation could begin.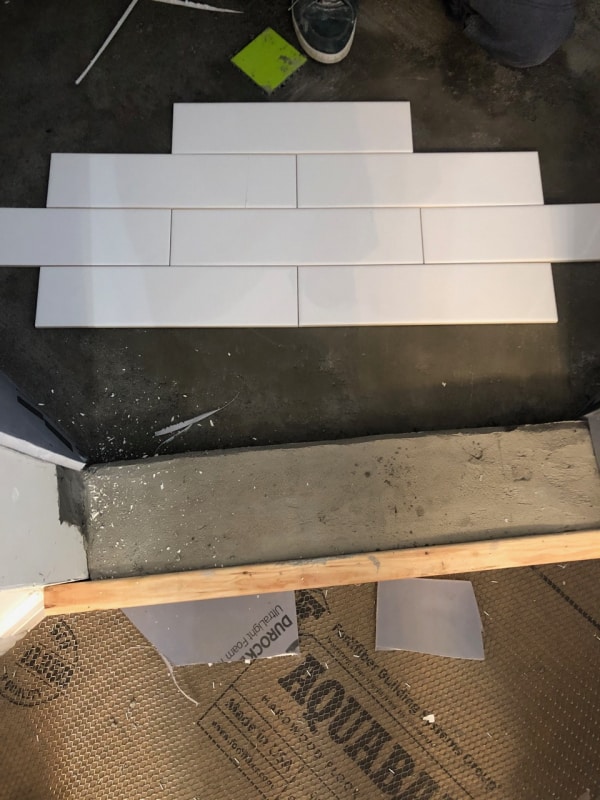 The mosaic tile was used for the shower floor, shower niche shelf and the shower foot rest for shaving the legs! ; )
I will have to say if I had to do it all over again, I would choose the white subway tile for the shower foot rest. If anyone ever wants to remodel the bathroom in the future, it would be easy to remove the mosaic tile on the shower floor and shelf. It would not be as easy for the foot rest due to the glass wall installed on top of it.

Something to think about for future planning.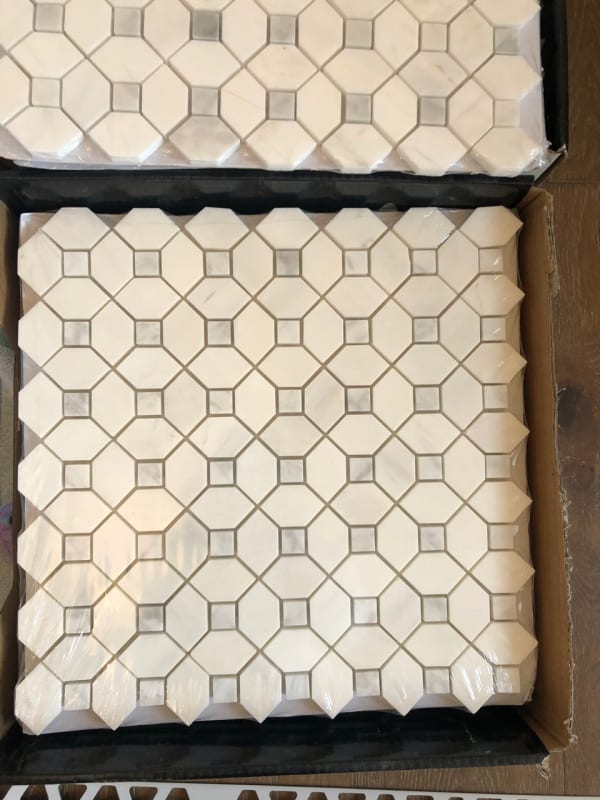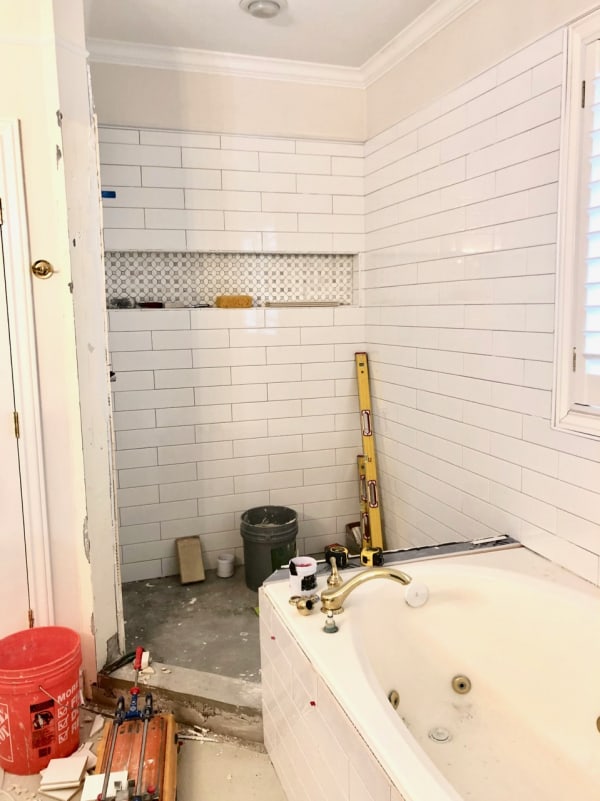 Here we are half way done. Once all the tile is laid, the grouting will be done next.
Bathroom Faucets
First thing I have to say is I am so glad I chose the Tisbury Pfister products and I absolutely am in love with all the bathroom faucets and accessories.
This faucet probably gets used the most in the bathroom. Between constantly washing hands, brushing teeth etc it's at the top of the list of most used Pfister product in our bathroom. It still looks brand new. I can't say that about other faucets I've installed.
Fixtures and Accessories
When opening the box of bathroom fixtures and accessories I realized these items were QUALITY. No lightweight junk that is for sure.
The finish is Polished Nickel. Which I absolutely adore!

Why I love the Pfister Tisbury:
All the accessories and faucets are made with all-brass construction.
Finishes will resist corrosion and tarnishing through everyday use.
Professional grade products
The Pfister products have a high-end look.
The products help create a look of a "spa retreat".
Heavy, shiny and fabulous quality!
Roman tub faucet looks stunning.
The double-towel bar is the ultimate in a class collection. It has a concealed screw installation.
The towel holders are classic styles and really add to the beauty and decor of the bathroom. The towel ring.
One of my favorite accessory items is the toilet paper holder. Why? Because of the way it opens and closes. The way it is engineered to replace an empty roll of toilet paper is brilliant!
The Tisbury shower head is such a classic style. It has a wonderful water flow which helps me rinse the shampoo out of my hair. I do have a lot of hair.
If you missed the first post with the before bathroom pictures and part of the process, read it here
I received Pfister products for my bathroom remodel. All words and opinions are my own. Thank you Pfister for such beautiful accessories and bathroom fixtures that made the perfect ending to my master bathroom remodel. Every day I am reminded of the quality and timeless beauty of Pfister products.