This post may contain affiliate links that, at no additional cost to you, I may earn a small commission. Read our Disclosure Policy.
Hello, campers! My name is Michele, and my creative corner of the universe is
The Scrap Shoppe
.
I am so excited to be a part of the Design Dazzle Summer Camp series.
How are you liking this fabulous series so far? I am loving it!
I'm always looking for fun creative ideas of things to do with my boys during the summer (and the rest of the year for that matter!) and I am getting so many good ideas from all of the great "Camp Counselors" so far!
Today I want to share a fun little project that will entertain your kids rain or shine.
A scavenger hunt with indoor and outdoor game boards!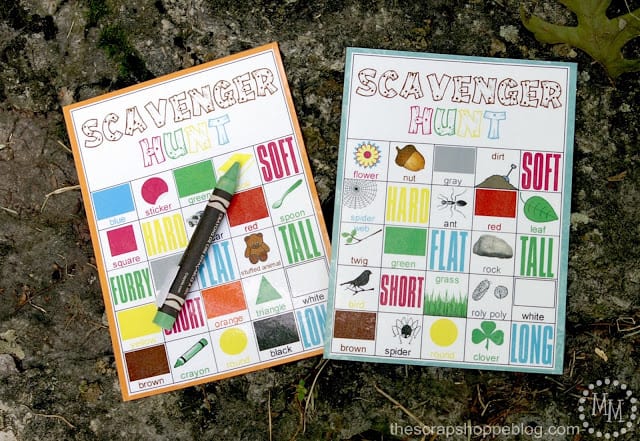 I created these game boards full of fun things for kids to find (free printable downloads are at the end of the post) whether they are stuck inside due to rainy weather or out in the sunshine. There are 25 items to find on each of the sheets. Some items to find are very specific while other will make them use their imaginations. I tried to include items that could be found in anyone's backyard or home.
Since my oldest is only 4, I included both words and images of almost all of the items so we can practice sight words.
After printing and cutting out the boards (they each measure 5×7), I mounted them on doubled-sided scrapbook paper that was also trimmed down to size. To make these boards reusable I laminated them and purchased some dry erase crayons for my kids to use to mark off the items as they found them.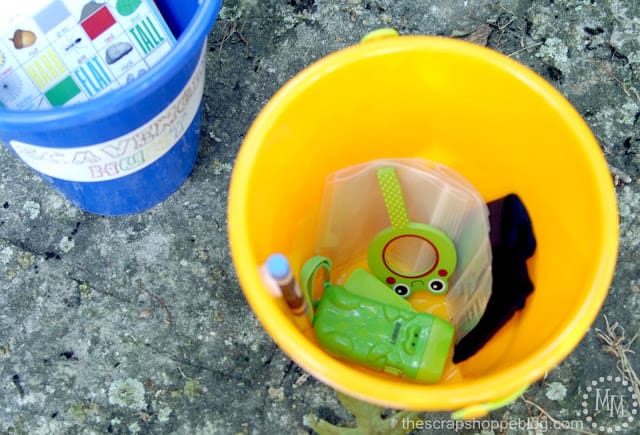 I purchased some $.99 sand buckets to keep the scavenger hunt "supplies" in.
It also doubles as a place to hold any of the scavenger hunt items they find along the way that they want to keep.
I also made a printable scavenger hunt sign to tape to the front of the bucket (also laminated).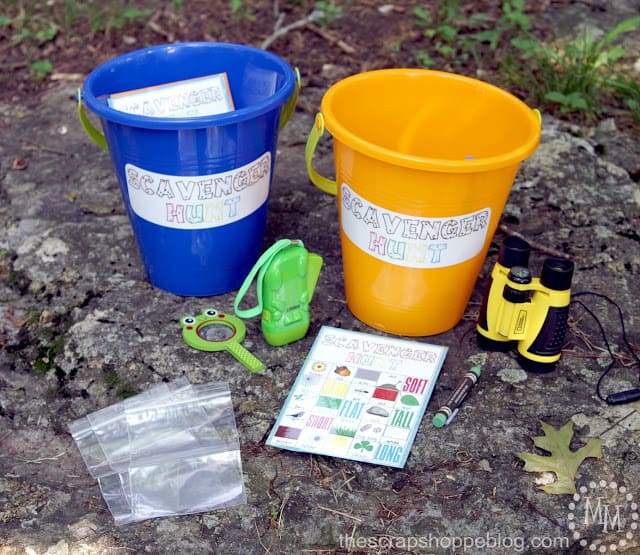 Use your imagination when it comes to gathering supplies for your little adventurers! I shopped the toys we already have to fill the buckets with things I thought my boys might need or find fun to have along during the hunt.
I included magnifying glasses (I have seen $.99 ones at both Target and Michaels), toy binoculars, flashlights (even in broad daylight my boys love to use flashlights), "sample" baggies which are jewelry bags from my own craft stash, and a cloth to remove the dry erase marks when we're done with the hunt.
Other items that could be included are bug catchers, safari hats/vests, and little shovels.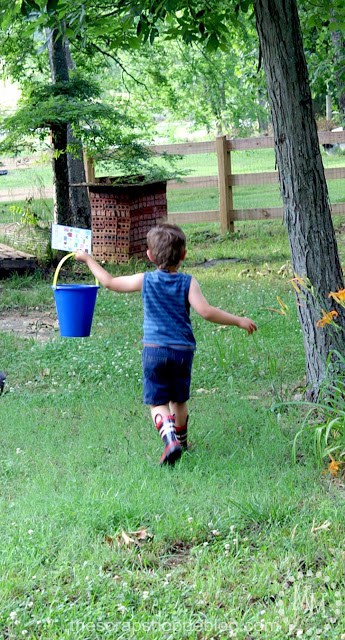 Once you have printed the scavenger hunt sheets and pieced together the buckets
it is time to send your little adventurers off to start hunting!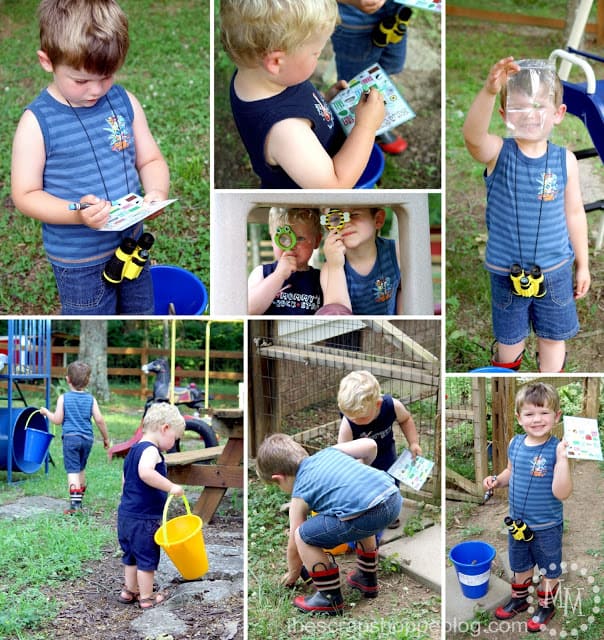 My boys had such a good time finding the things on the list and marking it off.
I helped them along sounding out words with my oldest and helping the youngest mark things off his sheet.
They collected samples are were ready to do it all over again as soon as the hunt was over!
We're actually looking forward to a rainy day so we can try out the indoor scavenger hunt!
To download the scavenger hunt sheets click the down arrow at the bottom of the above box.
The file will save directly to your computer.
The file will print on 8.5×11″ paper. Printing on cardstock is recommended.
To download the scavenger hunt signs click the down arrow at the bottom of the above box.
The file will save directly to your computer.
The file will print on 8.5×11″ paper. Printing on cardstock is recommended.
I hope you and your adventurers enjoy this scavenger hunt as much as we do!
We are hosting Summer Camp Mon- Fri June 3rd to July 3rd (weekends will be for our regular posts). We are featuring awesome "Camp Counselors" (blogging friends) who have created super fun ideas and activities to help you SURVIVE summer with the kids. Click on the Summer Camp banner to be taken to our Summer Camp series.