This post may contain affiliate links that, at no additional cost to you, I may earn a small commission. Read our Disclosure Policy.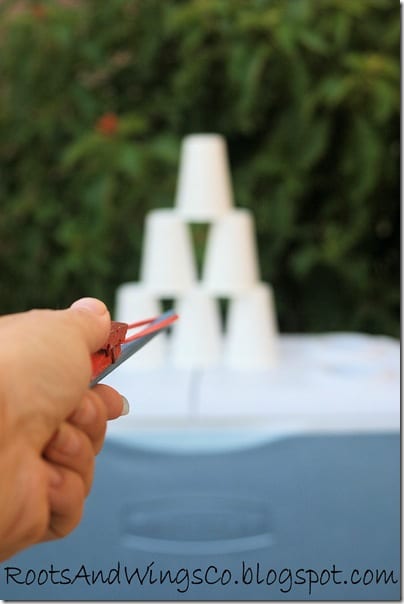 I was so excited when Toni asked me to be a Camp Counselor for her Summer Camp series! Last weekend I just took my kids camping to Lake Havasu (in Arizona…yes, it was ridiculously hot!) and I brought along our Rubber Band Guns. I thought they would be a great addition to summer camping fun, and would be perfect to share with Toni's readers!
A few years ago we, at Roots And Wings Co, had a
super fun carnival
. Who doesn't love carnival games?! One of the biggest hits of the carnival was
Katrina's homemade rubber band guns
! We still have ours and the kids love it whenever I bring the rubber band guns out to play with them.
I figured out a fun way to use these rubber band guns while camping. Just stack up your plastic cups (empty soda cans work as well). You could have various stacks around your campsite for different levels of difficulty! The rubber band guns work great on these plastic cups!
Other easy to find ideas:
-Targets to shoot through like hoops or paper with holes cut out.
-Targets that make noise when they are hit like your container of water, metal containers, and paper.
-Targets to hit into like circles on the ground (made out of rocks or twigs), Frisbees, and plates.
These rubber band guns are so easy to make. They are just made out of a dowel, clothespin, and E6000 glue. Ours were also painted up pretty, and decorative options are only limited by your creativity!
Don't forget to make a notch at the end of the gun for the rubber bands to sit in! Thanks, Toni, for letting me be a Camp Counselor at your fun Summer Camp! I can't wait to see what other fun you have planned!
Check here to view our Summer Camp Series. Our Summer Camp Counselors publish amazing activities and ideas for kids Monday – Friday.