This post may contain affiliate links that, at no additional cost to you, I may earn a small commission. Read our Disclosure Policy.
Hello Design Dazzle readers! My name is Jamie from Scattered Thoughts of a Crafty Mom. I am so happy to be able to share our Lemonade Stand for the Design Dazzle Summer Camp series!
If you've never visited my blog before, it's all about sewing, fun crafts, family-friendly recipes , and my love of (amateur) photography. I would love for you to stop by sometime and see some of my projects.
Today, I'm sharing a post about the Lemonade Stand my little guys operated last summer.
The best part about this particular lemonade stand was that you can put it together without any tools. (Unless you count a hot glue gun, duct tape, scissors, crayons and a printer as tools.)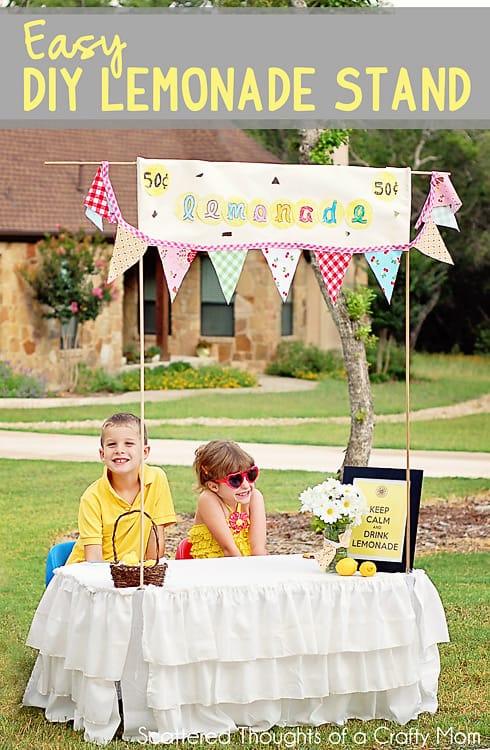 So cute, right? (You can tell who was doing the work and who was just there for a good time in the photo below…)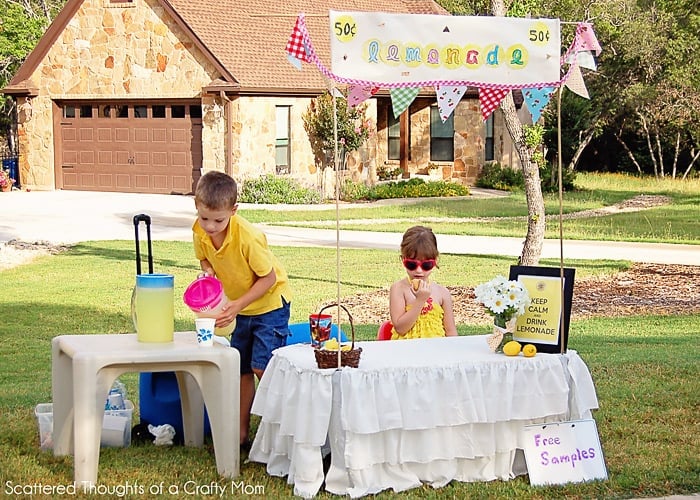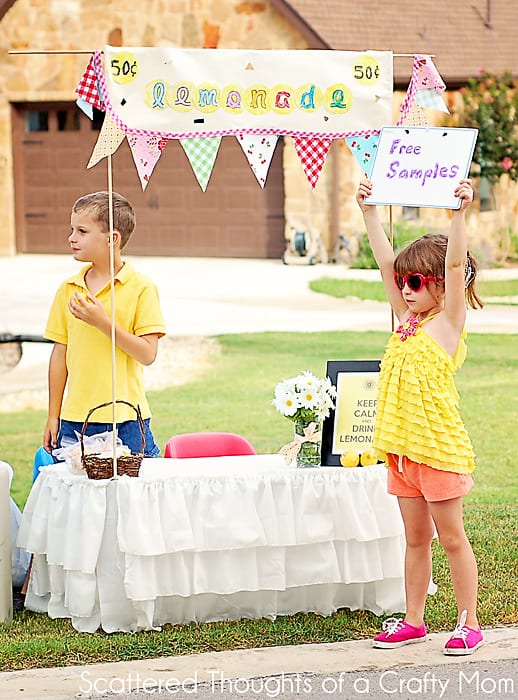 Here is how I made the lemonade stand: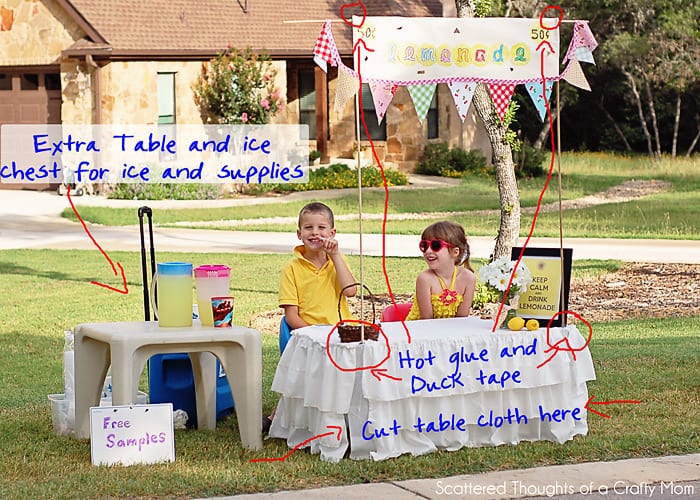 For the table: I used our outdoor coffee table. It was low and perfect for child size chairs. (Any size table and chairs would work.)
For the sign: I hot glued and Duck (duct?) taped three long round dowels I found at Lowes to the edges of the table. (Actually two to the table and one to the top for support ) I found the word lemonade here, printed it out in black and white, and had the kids color in the letters. We then cut out the letters and glued them to art paper and hot glued the art paper to the dowels.
For the tablecloth: (I sew, so I sewed ruffles on an Ikea sheet for out table cloth.) Cut a sheet or tablecloth into the shape shown below, using the measurements of your table.
For the flag bunting: I used fat quarters and fabric scraps, and cut triangle shapes. Then sewed the triangles into double fold bias tape. (Don't sew? Just use hot glue.)
Here are links to a free printable for the sign and other goodies that you can download and print here: Keep Calm Drink Lemonade Sign, here: Lemon image and here: Scallop Labels
That's pretty much it… I hope you have fun making your own Lemonade Stand!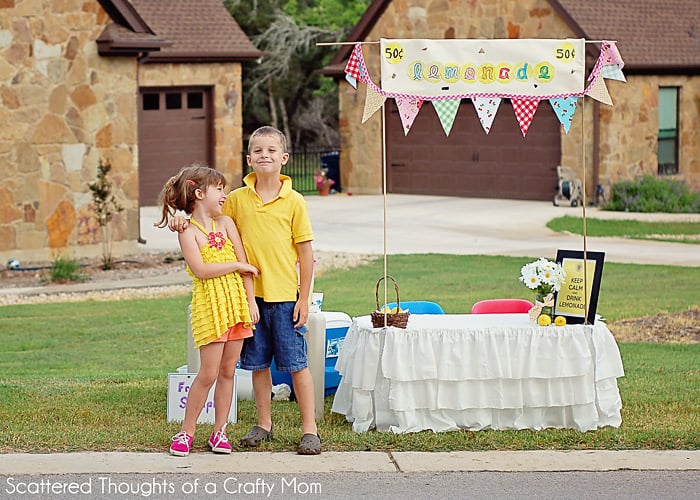 Thanks again Toni, for having me as a guest "Camp Counselor" at your Summer Camp!
Be sure to stop by and check out some of my
other fun projects!
You'll be glad you did, I promise!
Click on the Summer Camp banner to be taken to our Summer Camp series