This post may contain affiliate links that, at no additional cost to you, I may earn a small commission. Read our Disclosure Policy.
Hi Design Dazzle readers! I am Ashley from Simply Designing and I am so excited to be here on Toni's blog today sharing with you a fun and simple way to make this holiday season a little more bright! I have two kiddos that love to give gifts to their friends, and we also have a lot of neighbor and friend gifts to hand out this year, so I wanted to come up with a fun and simple idea, that didn't take more then a few minutes to throw together but would make a really fun and unique gift idea for the holidays. So I came up with this really fun Snowman Treat Cup! So today I am cuddling up with a warm cup of my Caramel Apple Spice Cider and creating these fun little treat cups to giveaway this year!
This is one of those great gifts that literally takes minutes to throw together, and is inexpensive too!
To create this Snowman Treat Cup, you will need:
White paper cups
Sharpie markers (black, orange, brown, red)
Candy, small gift or homemade goodies to put into the cup
Cello bag (optional)
I have almost zero artistic skills and honestly, my 8 year old could probably draw a snowman better then I can. So if I can do this, I promise you can too!
You will just grab your markers and start creating snowman face. I just did little black dots for the eyes, mouth and buttons. I used an orange sharpie for the carrot nose. A red sharpie for the scarf. And a brown sharpie for the arms.
It is really THAT simple!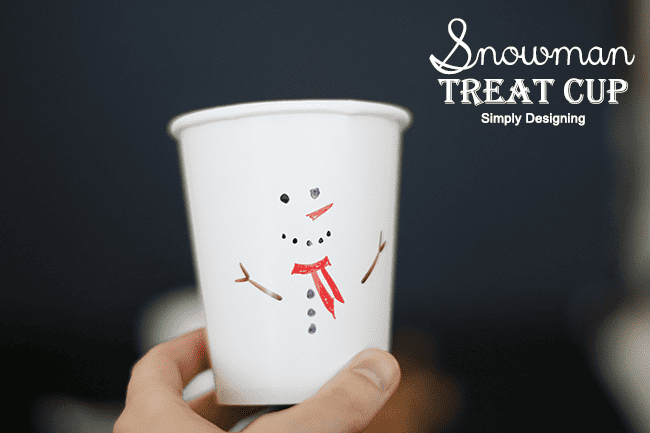 And then you can fill it with the treat of your choice! You can either fill it with candy, a small gift (like gloves or nail polish) or homemade goodies! The options are truly endless!
If you would like, you can even place it in a cello bag, tie with ribbon and hand out that way!
It is such a fun and unique way to package a gift that doesn't take too much time or effort!
If you love cute gifts that are simple and don't take much time or cost a lot of money, you should also check out my Nail Polish Gift Idea or my Succulent Gift Idea.
I'm Ashley from Simply Designing! I am an interior designer turned DIY and Craft Blogger located in the Indianapolis area. My passion for interior design grew into a love of creating and one day I simply knew I needed to blog about it! And it has changed my life in many amazing ways: I absolutely love it! I love power tools and my hot glue gun, and occasionally I love to bake too! I love life and I try my best to find joy in the simple things! I love my family and friends and I am a firm believer that a good cup of hot cocoa or bowl of ice cream can cure most things. I am grateful for all I have been blessed with every single day. Come join me on my blog!
Thank you so much for sharing, Ashley! This was a great start to our 5th annual Christmas Wonderful series.
Christmas Wonderful runs until mid-December. Check back tomorrow for more great ideas like this one. Can't wait that long? Take a look at our
Christmas Wonderful archives
.
Mentions:
christmas wonderful, gifts from kids, inexpensive gift, quick gift
Keywords:
snowman treat cup
Last Updated:
July 31, 2020