This post may contain affiliate links that, at no additional cost to you, I may earn a small commission. Read our Disclosure Policy.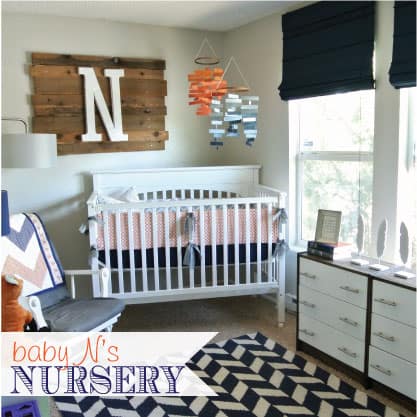 Isn't this quilt awesome? It even has a matching owl! They're both part of a wonderful Rustic Eclectic Modern Nursery (Whew. That's a mouthful!) put together by Erica of Team Turnbow. Erica says, "With this nursery I wanted more of an eclectic, rustic, modern feel. Unfortunately, the whole eclectic style isn't my strength and my instincts tend to gravitate towards more matchy-matchy…so this room is a little more "matchy-matchy", a little more orange and blue than I'd like but overall I'm pretty pleased. Not exactly what I envisioned but most of my projects rarely are." This nursery might not be exactly as Erica envisioned, but it turned out terrificly!
One of my favorite parts of this room are the mobiles. Erica made them from embroidery hoops that she stained and strips of card stock sewn together. The initial board behind the crib was made from fence posts that were stained to match.
The deer head
certainly completes the eclectic rustic look. It was painted white and orange to coordinate with the room.
And that great orange geometric print on the wall? It's just scrap fabric!
The adorable fox canvas painting was custom made by one of Erica's friends. You can get your own copy over at His Darlin Wife Etsy Shop.
Modern Changing Dresser