This post may contain affiliate links that, at no additional cost to you, I may earn a small commission. Read our Disclosure Policy.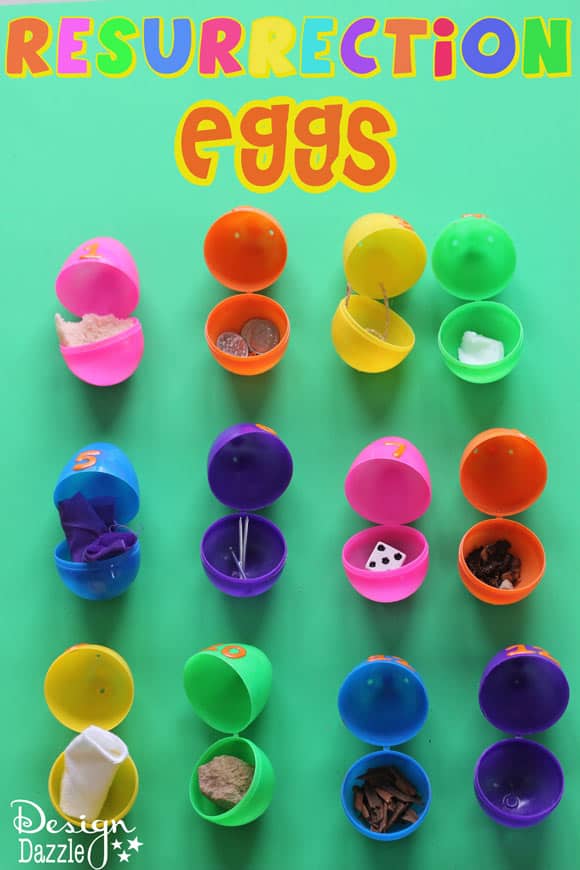 About 13 or 14 years ago a darling friend of ours gave us an egg carton full of Resurrection Eggs. Inside the egg carton were 1 dozen plastic Easter eggs each filled with a little surprise. They were also numbered 1-12 in order of how they needed to be opened. Inside were papers that told the story of Christ's crucifixion and resurrection along with some object representing part of the story. This has become a family favorite Easter tradition. We would sit around the table together and each take turns opening an egg and reading the story inside. For those of you who celebrate Easter this would be a great tradition to start with your family to remember what Easter is all about.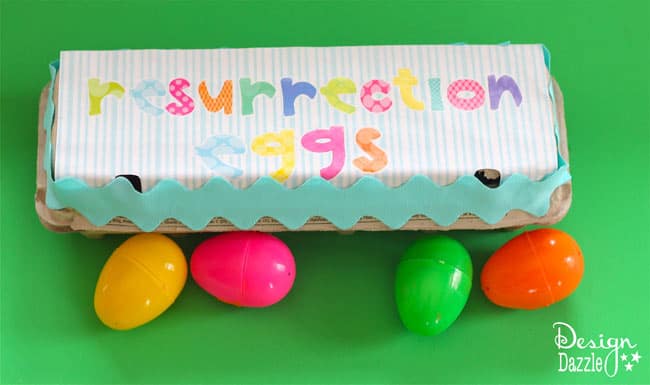 And guess what you are in luck! You can download the resurrection egg carton label and the resurrection script as a free printable. The egg carton printable will print 2 per page so you can make one for yourself and one for a friend.
To prepare the eggs we picked out the colors we wanted to use for the 12 eggs. There are many different color combinations that can be used we went with rainbow. Next is numbering the eggs. 3-d paint is what was used on the eggs but markers or stickers could be used as well. Place the objects in the eggs according to which number they fall under according to the script. For example a piece of bread in number 1 or a dice in number 7 or 12 is empty (representing the empty tomb). Reading the story will help with figuring all this out.
After putting the objects in the resurrection eggs its time to put the strips of story in the eggs. Cut the numbered stories into strips so they are ready to roll up and put in the eggs. Be sure to put the numbered story in the corresponding numbered egg.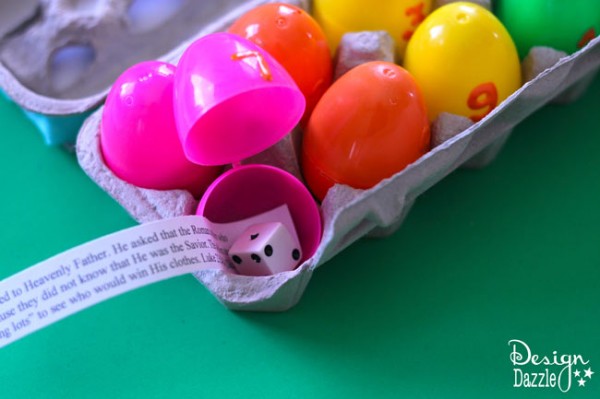 In this image you can see that each egg has a piece of the story and an object as a symbol for that part of the story.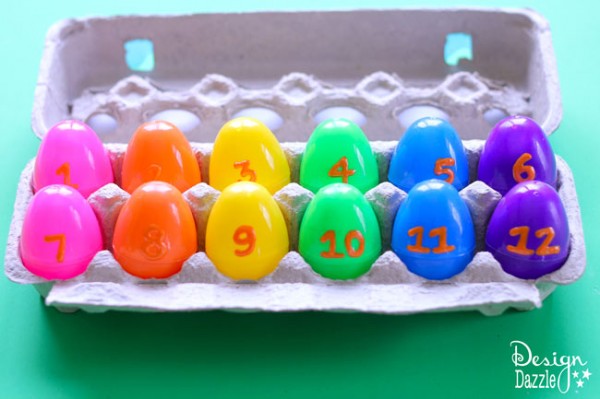 Last step is to glue the free printable on top of the egg carton. Add some dazzle to the carton by gluing a ribbon around it or sprinkling some glitter. There is a lot of fun that comes with making these resurrection eggs. Your individual style preferences will make these resurrection eggs fabulous.
These "Resurrection Egg" printables are FREE and available for immediate download by subscribing to Design Dazzle!
To receive this free pattern – enter your email address in the box below and click submit. Make sure to check your inbox for an email from Design Dazzle. You will have access to all of our FREE printables and also will receive an email newsletter filled with lots of great information. Don't worry your email address will never be sold.
The Resurrection Egg label and Resurrection story are on the same image under our free printables Easter category.
Printable files are for personal and Sunday School class room use only. They are not for commercial use.


Save
SaveSave
Title:
Resurrection Eggs The Story of Easter
Mentions:
Easter story, easter traditions, resurrection eggs
Keywords:
resurrection eggs
Last Updated:
April 13, 2022