This post may contain affiliate links that, at no additional cost to you, I may earn a small commission. Read our Disclosure Policy.
Do you like pumpkin soup? I actually don't – except for this recipe! Why? Because it has tomatoes and I love tomato soup. My recipe for pumpkin soup is a hearty old-fashioned favorite soup, with flavors of tomato – almost like a Pumpkin/Tomato Soup! Pumpkin Soup was not my favorite flavor until I tried this recipe many years ago. It has been my go-to when I have girlfriends over for a get together during the fall. This soup combines the goodness of a fall harvest and served with a crusty type of bread can make a great lunch or dinner.
The one suggestion with the pumpkin soup is you need salt and pepper. If you don't add enough seasoning it can be a plain flavor.
One of the best parts about this meal is it can be frozen! It's a great meal for around the holidays! It's cozy, warm, fast, easy, and delicious. Find the freezer guidelines below!
An immersion blender is a stick blender that works well to make soups, smoothies, salad dressings and more. It's easier to use than transferring items to a blender. I've had inexpensive ones I've used for years and it sure comes in handy. I recommend getting a cordless one – easier to use.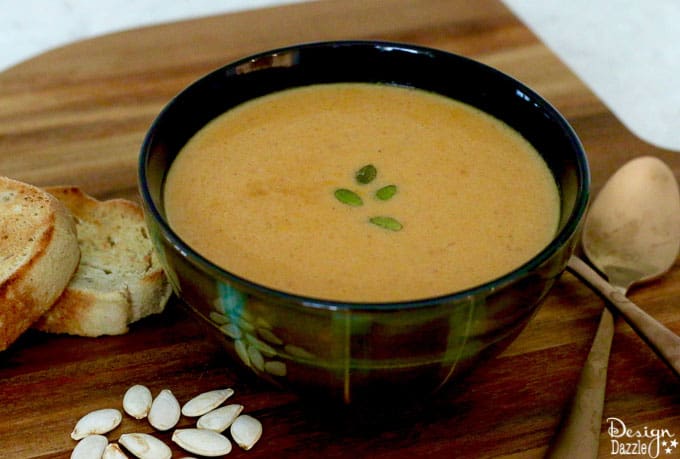 Pumpkin Soup
Ingredients
3

c.

chicken broth

or use vegetable broth

1

c. or 8 oz. can

tomatoes

peeled and chopped

1

onion

finely chopped

1

bay leaf

bay leaf

2

c.

mashed pumpkin

canned

salt to taste

1/4

tsp.

white pepper

1

pinch

ground cloves

1

tbsp.

lemon juice

1

c.

heavy cream

1

tbsp.

pepitas

optional
Recipe Notes
Place broth, tomatoes, onion, and bay leaf in pan and bring to boil. Cover and simmer for 10 minutes. Remove bay leaf and allow to cool. Place in blender and puree for a few minutes or use an immersion blender. Place back in pan- add pumpkin, salt, pepper, cloves, and lemon juice, simmer for a few minutes. Stir in cream. Serve. I've also experimented adding 1 teaspoon paprika. A couple drops of Tabasco adds a little kick.
Freezer Guidelines:
If you are freezing the pumpkin soup, I would recommend doubling the batch and eat one now and one later. Make sure when freezing to let cool and then place in high quality freezer bags and level the meal.
To cook: pull out of freezer and place in fridge the night before. It should be mostly thawed. Cook on the stove top until hot- stir well. Do not boil or overcook.
If you like this pumpkin soup recipe, then check out some of my other cozy fall and winter recipes!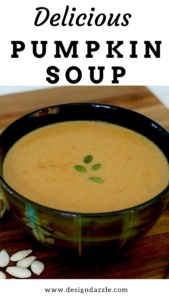 Save
Save