This post may contain affiliate links that, at no additional cost to you, I may earn a small commission. Read our Disclosure Policy.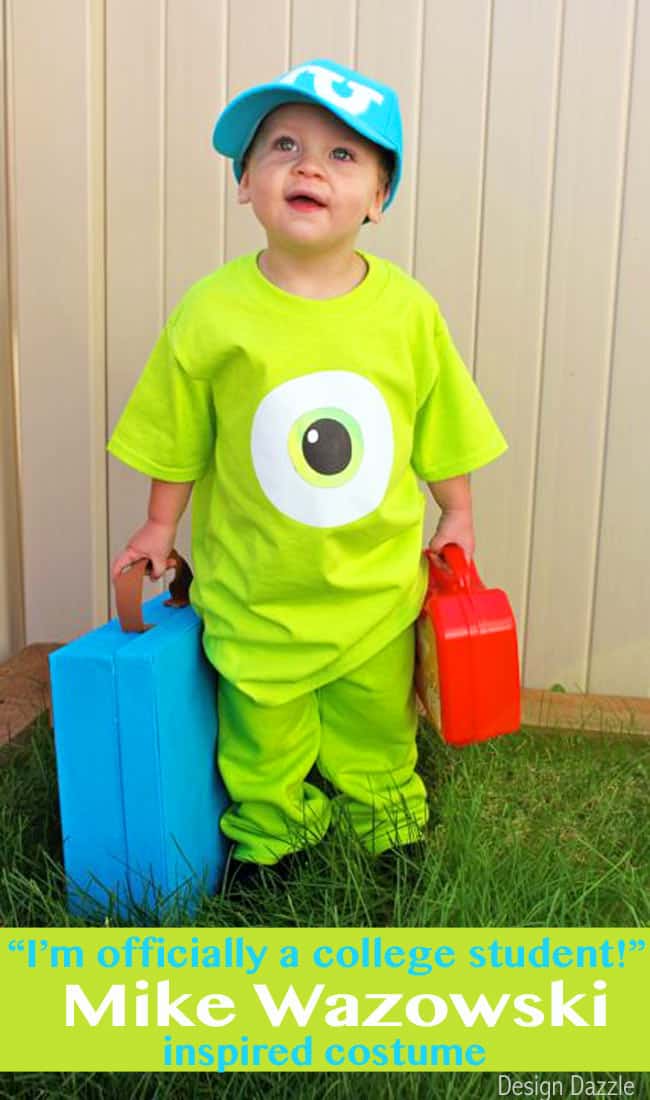 "I'm officially a college student!" said Mike Wazowski the beloved character of Monsters Inc. So, has Halloween snuck up too quickly on you, and there is not enough time to make an elaborate, perfect costume for your little one. No time? No problem. No need to buy an expensive, poor quality costume at the store- make a darling Mike Wazowski costume! In no time, with an iron and a bit of paint, your little monster will be the hit at the monster mash. This is the perfect "last minute" costume- very inexpensive, easy to make, and can even use items laying around the house. Don't forget to snap a few photos before your little Mike Wazowski heads off to Monsters University!
"Last Minute" Mike Wazowski Inspired Costume – with free printable!
Mike Wazowski costume supplies:
bright green t-shirt and sweatpants from Walmart
a bright blue baseball hat from Michaels
old suitcase from a thrift store (or something you have laying around!)
white paint and bright blue paint and paint brush
iron-on paper (+ printer, iron, pillowcase, scissors, parchment paper)
free eye printable!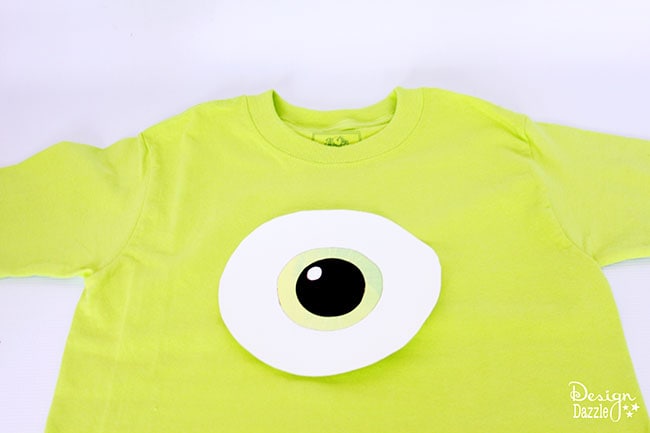 Step 1: Print out the free Mike Wazowski eye printable! Make sure you print it on the correct side of the iron-on paper. Follow the instructions given in your package of iron-on paper. (I used this brand, and found it extremely easy to use.) Cut out "the eye" and prepare the iron and other materials needed to iron it on to your t-shirt.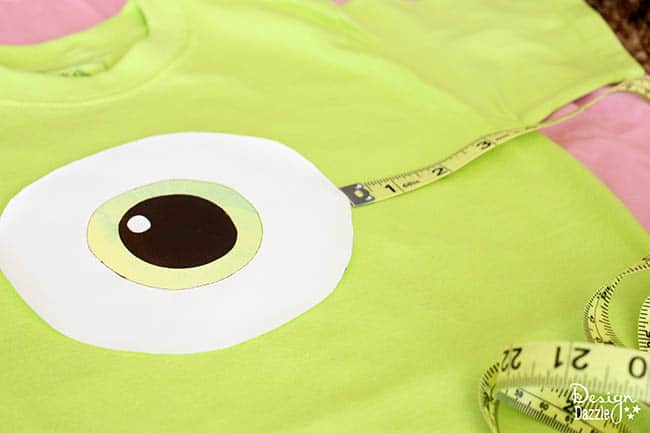 Step 2: Before ironing the printable on, make sure to measure and check that it is centered on the shirt, and about 2-3 inches below the collar. My iron-on instructions said not to use an ironing board, so I placed a pillowcase on my kitchen counter and ironed on there. My iron-on package also came with parchment paper to put over the printable. Carefully iron the printable on, using firm pressure and steady movements. Be sure to follow your iron-on instructions exactly! Different brands of iron-on will have different intructions.
Step 3: Paint the old thrift store storage box bright blue using craft paint.. If you have an old suitcase lying around, use it! Hot glue ribbon or in this case craft foam on to make new handles if necessary. I cut out craft foam corners and glued them onto the corners for an added touch.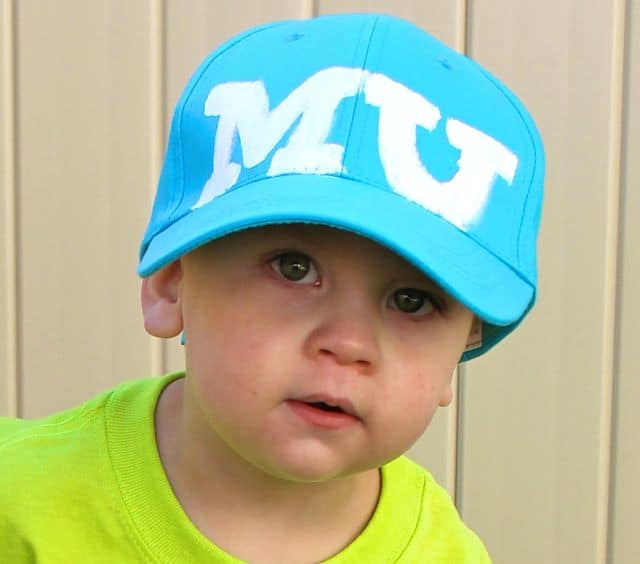 Step 4: Paint "MU" for Monsters University in block letters on the front of the hat. What a sweet little face!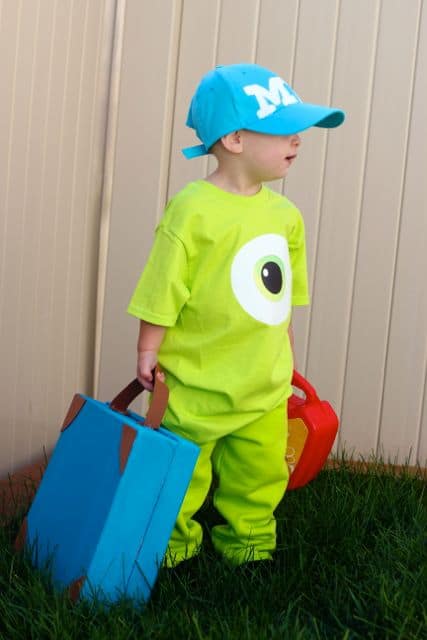 This might possibly be the most darling "quick & easy" costume ever! In about 15 minutes, your little Mike Wazowski will be running around getting laughs and screams out of everyone!
The Eye printable is FREE and available for immediate download by subscribing to Design Dazzle!
To receive this free printable – enter your email address in the box below and click submit. Make sure to check your inbox for an email from Design Dazzle. You will have access to all of our FREE printables and also will receive an email newsletter filled with lots of great information. Don't worry your email address will never be sold.
Printable files are for personal use only. They are not for commercial use.
If you're looking for other ideas for simple costumes, be sure to check these out!
10 Minute Homemade Jellyfish Costume
Monster Inc. Halloween Costumes
Easy Halloween Costumes that won't break the bank
Beeker Muppet Costume Tutorial


Save