This post may contain affiliate links that, at no additional cost to you, I may earn a small commission. Read our Disclosure Policy.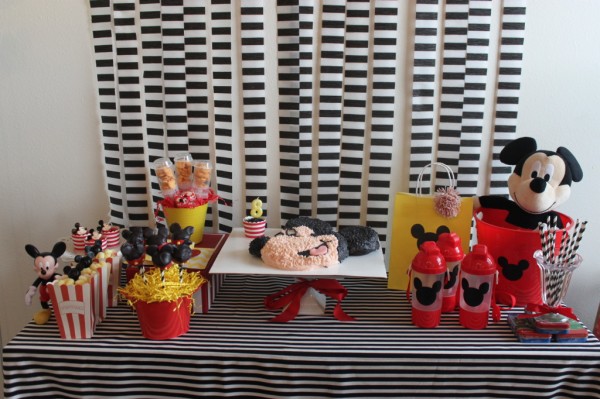 A great party doesn't have to be elaborate or cost a lot of money….or contain gluten, for that matter! Dorangela from Two Prince Bakery Theater threw together this delightful Mickey Mouse Gluten-Free Birthday Party for her son. Since the party was just for family, Dorangela kept it simple with just a few snacks and sweets artfully displayed. She says, "I usually share some pretty elaborate parties on here. I wanted to show you that you can also make a beautiful party without having to spend a lot of money, just using a few creative touches to carry out your theme. This Mickey Mouse inspired gluten free birthday party is a great example of that."
The super cute birthday cake was gluten free and dairy free due to the birthday boy's allergies
Mickey Mouse silhouettes (or should I say "Mickey Mice"?) were created using a cricut machine. I love how she kept it simple by using just the silhouettes and a few touches to convey her theme.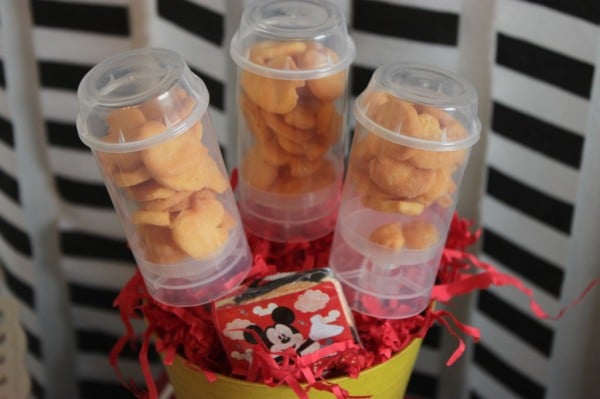 Push Up pop containers filled with gluten free duck Qwackers, "which taste absolutely amazing and are clearly the snack of choice at my house."