This post may contain affiliate links that, at no additional cost to you, I may earn a small commission. Read our Disclosure Policy.
root-a-toot-toot!
hi there! i am Lisa from hoopla palooza,
a "seriously fun" site where i make all kinda out-of-the-box treats, crafts, and such. you really must check me out and join in on the fun!
now it's no question i am HYPERSPAZ EXCITED to be here today, so i can share one of my treats with you.
today let's talk about nutcracker soldiers.
known for their seriousness and attentive manner.
wonder what's really inside of them to make them that way?
let's take a look:
those eyes i've had for awhile. i got them online here. and they come in handy cuz they seem to be the perfect size for a lot of the crazy treats i make.
ok let's get started. not pictured above are red candy melts that you need as well.
allow to dry or freeze for 5 minutes til dry.
hey let's do the face now!
i saw those mustaches and hence came my inspiration for these. that blue mustache cake pop guy up there looks silly to me-i didn't know what he was supposed to be but he inspired me.
who woulda thunk a blue mustache guy could be a source of inspiration?
let's move on…
the yellow holly berry is just a candy chip sprinkle.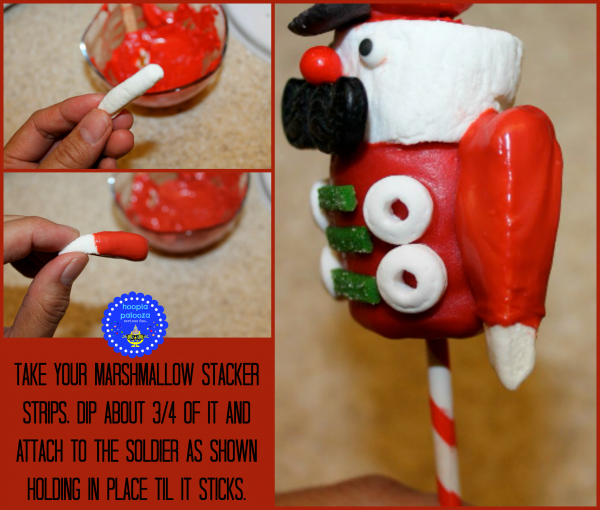 yes those arms are cut stacker marshmallow sticks, not french fries with ketchup…
guess you could use a french fry if you want a salty taste to these but i wouldn't recommend it…
what do you think mr. soldier?
another french fry?
ooo! a smile?!?!
i'll take it since smiles are kinda rare with you guys.
so now we are done:
but uh, can we see that smile again?
i did give you 2 french fries after all…
uh, still can't see it?!?!
aww c'mon!
just one more smile and really BIG this time ok?! you guys are on the BIG awesome DESIGN DAZZLE website
after all!
YAY!
(i think)
well, at least i hope these guys made you smile.
i know i am cuz i'm lucky enough to have you here.
and a BILLION thanks again to Design Dazzle for having me as part of the 100 Ideas of Christmas Wonderful!!!!!!
LISA 🙂