This post may contain affiliate links that, at no additional cost to you, I may earn a small commission. Read our Disclosure Policy.
This year the kids are finally to old enough to where having an organized activity at a party, isn't just chaos, it's fun! So I got a little "crafty" with our holiday party and turned it into a "Let's Be Sew Tacky" party. Get it…?? SEW. TACKY (you know… like glue?!) I know, I know, bad puns… but with a little twist on the Ugly Sweater party is turned out to be a really GREAT theme!
I found super inexpensive thermal shirts for all the kids
so that each child could make their own "ugly sweater".
A
nd then I pulled together tons crafts supplies from my kid's art drawer, Michaels and the Dollar Store: pom poms, tinsel, glitter, googly eyes, mini presents, christmas trees, gingerbread men, buttons, bows and bells just to name a few.
Laid everything out on a big table and let them go town!
And what they ended up was Sew Tacky, it was cute!
The kids had a blast making their own sweaters!
And to reward their valiant artistic efforts, I put together a tacky little dessert table laden with yummy treats.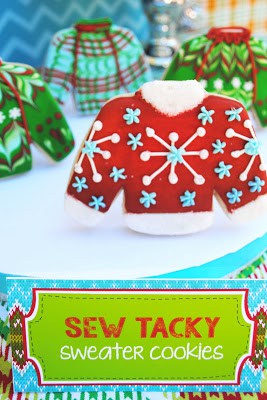 And lots of craft, sewing and holiday themed cake pops…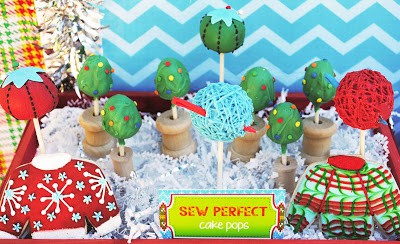 Then I added in a few delicious cupcakes sprinkled with buttons…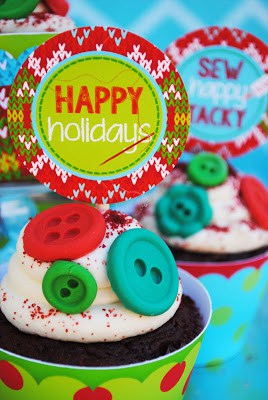 And let the kids go to town!
They devoured the dessert table and had sew, SEW much fun that I think we will probably be doing this again next year. I can't wait!
And so that you can have your very own Sew Tacky Holiday Party, I will be giving away a Free Set of Sew Tacky Holiday Party Printables PLUS a $50 Gift Card to Michaels! Here's how to enter…
1 – Leave a comment on this post (do not do it anonymously) – it will be your first entry in the contest
2 – Be sure to check my Facebook Page next week for details as to how to get an SECOND shot at winning
3 – Stop by my blog on Monday, December 2nd when I announce the winner. If it's you, you will have 24 hours to contact me to claim your prize.
Good luck and may your upcoming holiday season be crafty and oh, SEW TACKY!
Check back for more ideas for activities, parties, crafts and games that you can do with your kids this holiday season! This year we will have DOUBLE the fun with new posts twice a day from now until mid-December! So grab your craft supplies and get ready for some fun!
Title:
"Let's Be Sew Tacky" Party
Mentions:
christmas, christmas wonderful, holiday party, ugly sweater
Keywords:
ugly sweater party
Last Updated:
November 18, 2020