What kid doesn't love Christmas activity books, crafts and food? If your kids do, then you better read on… Because this post is all about a Kid's Christmas full of fun activities!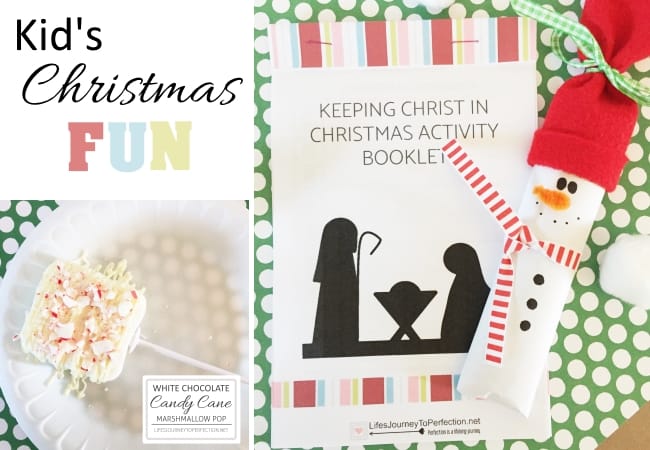 Hi! It's Kim, from Life's Journey to Perfection. I am so excited to be on here today, to share with you some fun, kid friendly Christmas ideas and printables!
Don't kids seem to bring a special kind of excitement when it comes to Christmas! An excitement over the magic that the holiday holds. One of my most favorite Christmas's was when I filled 25 envelopes with some activities we would do each day. Some of those activities were making graham cracker gingerbread houses, marshmallow snowmen, drinking hot chocolate and watching Christmas movies. It was fun for me to see the enjoyment these little activities had on my kid's days.
That's why I came up with the following ideas, to bring a little bit more fun into my kid's Christmas season. I hope it can add some fun into your kid's Christmas too!
Christmas crafts are the hit at most school parties, well actually the treats are too. Good thing, I will be sharing both!
My kids love candy bars! I bought a whole box at a school fundraiser, so I thought, let's use them for Christmas and make some Snowmen out of them! These snowmen would make great gifts for friends or teachers!!
For Full Tutorial of How to Make these Cute Candy Bar Snowmen click HERE.
Next up, a fun activity booklet to keep those cute kids busy!
If your kids are like mine, they love to do activity booklets! This booklet centers on Christ's birth. There are 12 Activity Pages that will keep you kids busy, so you can get some Christmas wrapping done. Below is one of the pages of the Keeping Christ in Christmas Activity Booklet, who doesn't love a good word search!
To download the Keeping Christ in Christmas Activity Booklet click HERE.
Lastly, as promised, a TREAT! My kids LOVE these so much and they are seriously so easy for them to make!
 They say a way into a kid's heart is treats, okay well, I'm not sure if that is what they say. But. it just seems to be true, with my kids anyways! These White Chocolate Candy Cane Marshmallow pops are so easy and fun for the kids to make! They taste delicious too! I bet they would even be so yummy as a stir stick for some hot chocolate!
For the full tutorial of how to make these White Chocolate Candy Can Marshmallow Pops with your kids, Click HERE.
We hope that your Christmas is full of Christmas magic and fun! A special thank you to Toni and the Design Dazzle team for having me on here! If you'd like to see what other ideas and printables I have available, hop on over and visit me at Life's Journey to Perfection! My blog is all about sharing fun tips, printables and lesson ideas to inspire and help your life be a little bit easier! You can also follow me on Instagram, Facebook, Pinterest, Twitter, and yes, I've even dabbled a little bit with YouTube!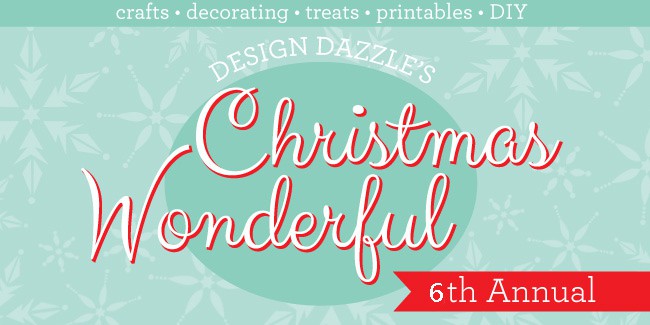 Title:
Kid's Christmas Full of Fun Activities
Mentions:
christmas, Christmas crafts, christmas wonderful, kids crafts
Keywords:
Kid's Christmas
Last Updated:
February 16, 2018