This post may contain affiliate links that, at no additional cost to you, I may earn a small commission. Read our Disclosure Policy.
Today I'm sharing a fun EASY tutorial on making a Mummy Hand from a dishwashing glove. Does anyone else have just one glove under the kitchen sink (with no idea where the other mate is) just waiting for a craft project to happen? Well, I certainly do!
The Mummy Hand is perfect to go on a mantle or to give as a gift, this fun DIY project is easy, inexpensive, and a great kid craft to make for Halloween decor.
Here's what you'll need:
2-3 cups of rice or beans or cotton balls (some type of cheap filler)
1 rubber band
White cotton or muslin fabric, rip into strips about 18 inches long (about 10 – 12  strips )
1 rubber kitchen glove (dollar store find)
Glue gun
Any ribbon or embellishment you'd like to add to the finished product
Here are just a couple of steps to create your mummy hand: 
Fill your rubber glove with rice (or other filling) until your glove is completely filled. Tie off with a rubber band.
Begin wrapping your glove by taking a strip of fabric and hot gluing it to the top and back of the finger.
Wrap tightly down the finger.
Do each finger and wrap the tail between the fingers. When you're done with the fingers, you can cut off any excess fabric tail and glue the last of the tail to the glove.
Finish wrapping the hand, gluing the last piece of fabric to the glove.
Decorate with ribbon or anything else you like (I added ribbon and plastic animals like the rat or sparkly spider's web), and voila! Place among your Halloween decor and enjoy!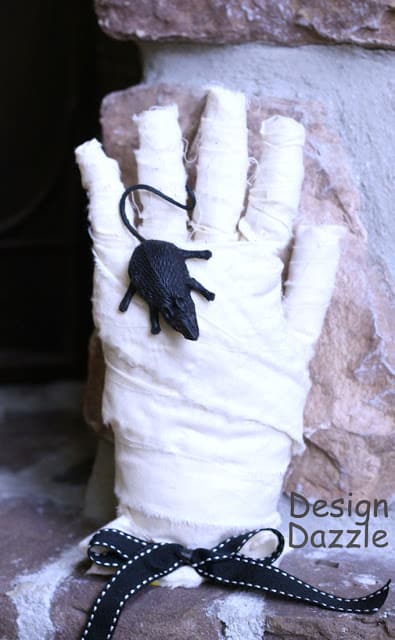 Various embellishments give it different looks – spooky, cute, scary, etc.
Don't forget to check out some of my other Halloween projects like my
It's Halloween week starting October 1st!!!
Come back October 3rd for our Halloween Link Party.
Save
Title:
Kid Craft: Make a Mummy Hand From a Dish Glove
Mentions:
dishwashing glove craft, halloween crafts, halloween mummy hand, make a mummy hand
Last Updated:
October 30, 2020