This post may contain affiliate links that, at no additional cost to you, I may earn a small commission. Read our Disclosure Policy.
Designated as a National Heritage Area, Hudson Valley is steeped in history and natural beauty. Although we went during the winter months on this trip (which isn't as pretty), I have been to Hudson Valley in the summer and it is a beautiful area. Trees, rivers and lakes are abundant. My next trip there will be in the fall to see the foliage and fall scenery. I had a business trip in New York City so we planned on going a few days early and visit outside of the city.
The historic sites located in the Hudson Valley are Franklin D. Roosevelt Presidential Library, Museum and Home, West Point, Rockefeller estate, Vanderbilt Mansion and many more. There are also golf courses, thousands of miles of hiking trails, fishing streams, lakes and rivers and more.
The Hudson valley is in close proximity to New York City. We flew into JFK and rented a car and drove to Newburgh which took about 1.5 hours. The reason I chose Newburgh is because it's close to FDR library, a motorcycle museum and the CIA. I also do a lot of renting of homes on my trips – Airbnb, VRBO, Tripadvisor etc. I found a home at the last minute that was available and inexpensive. I normally book my homes months in advance but it just wasn't working out this time. My husband and I were both sick and we weren't sure we would be going on our trip, so I waited til the day before to book our stay. Thankfully, winter isn't their busy season so it was very easy to find a place. If you are going anywhere during a busy season, make sure to book way in advance!
Like I mentioned earlier, my husband and I were in Hudson Valley during the winter, but I just had to show you what the area looks like when fall rolls around! Isn't it drop dead gorgeous? I didn't take this photo, but I plan on going back in the fall to make sure that I get one as close to it as possible!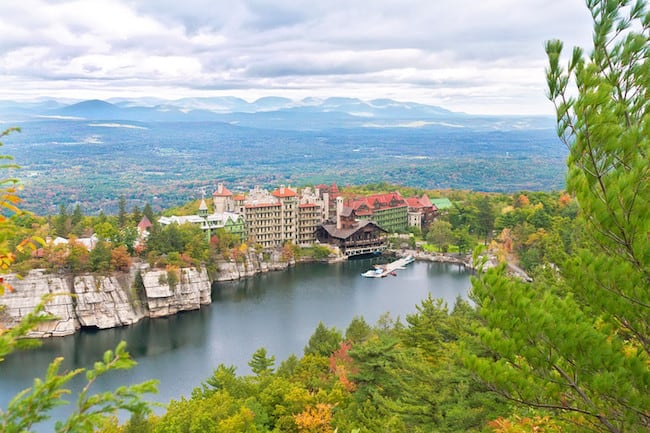 Years ago I heard about Mohonk Mountain House while reading about it and it instantly became an item on my bucket list. The first time I got to visit Hudson Valley, I made my husband promise that we could stay there – even if it was just for one night!
He kept his promise and we were able to experience this beautiful, all-inclusive resort! It is very expensive, and we just stayed the one night. They do allow earlier check-ins and a later checkout, though, so we got to spend two full days there with a one night stay.
The resort is meant to encourage you to take advantage of the gorgeous facilities and outdoor amenities in the area, so the rooms are fairly small and very cozy. There is a great spa, horseback riding, hiking, and even ice skating in the winter. I have to say, the food wasn't as great as you would expect, but we did have a great time while we were there! Just don't plan on the best tasting food.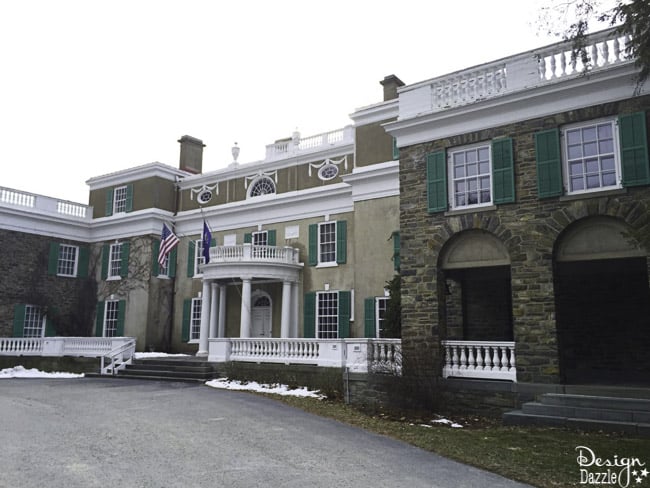 The images shared above are of the Franklin D. Roosevelt Presidential Library, museum and home. It was very interesting! We spent several hours there touring all of it. I highly recommend visiting there if you are in the area.
The
Culinary Institute of America
, along with some great dining, is located in Hyde Park which is the main campus (there are a total of four campuses). We took a tour of the CIA- the world's premier culinary college and really enjoyed it! The tour was a little over an hour long and cost $6 each. A CIA student took us around and we saw classes in session – most were busy working and making food.
We also saw the main dining hall which was beautiful. It use to be a Jesuit seminary at one time. I booked a lunch reservation at
Ristorante Caterina de Medici
, the Italian restaurant right on campus.
Warning: You need to make reservations far in advance for availability. I was able to make this reservation about 3 weeks beforehand, but we went during the winter months. I know other seasons the restaurant can get booked quickly. The lunch was quite delicious. It was a prix fixe (fixed price for several meals). Our servers were students – they were attentive and very good.
I really wanted to try
The Bocuse Restaurant
, a French restaurant, but they were closed the day we were touring. I guess I will just have to go back!
After our meal, we headed to the
Apple Pie Bakery Cafe.
It is a relaxed reservation-free dining area. You can eat lunch there, but since we just ate we decided to get some desserts to go. I have to say, the cookies and donuts were quite overdone and dry. We had two other desserts, an apple-type dessert and a small individual cake, and those were quite yummy. I would have liked to order all the desserts! But again, I guess we will have to go back!
We did drive by the entrance to the Walkway Over The Hudson which is a 1.28 mile pedestrian bridge over the Hudson River. This is considered a state park and the worlds longest pedestrian bridge. This is on my list next time. We were just running out of time to do everything we wanted in just two short days.
My husband is a motorcycle enthusiast – he loves his Harley! We attended the Motorcyclepedia Museum which is located in Newburgh the town we stayed in. There is a display of the evolution of the Indian bike line (1901-1953) and a wonderful collection of all types motorcycles 550+ some you can even sit on and take photos. We spent a little under two hours persuing and enjoying the museum. If you are into motorcycles and their history it's a great spot. We went to the Harley Davidson museum in Milwaukee, Wisconsin and that place is pretty incredible. It's very high-end in a beautiful building. This Motorcyclepedia is more of a hometown feel but definitely worth a visit.
Mill House Brewing Company was a great place for brunch in Poughkeepsie, New York. Beautiful rustic interior with some delicious food. We tried Mill House Poutine which is gravy and fries. It was the first time trying poutine-pretty darn good! My husband and I shared the poutine and the Fried Chicken with Belgian Waffles (with biscuits and gravy) and we were stuffed! This place is a brewery but we don't drink so don't know the details on all that. I would definitely go back here if we were in the area.


Save