This post may contain affiliate links that, at no additional cost to you, I may earn a small commission. Read our Disclosure Policy.
Hello, friends! I'm Michele from The Scrap Shoppe. I am so excited to a part of Christmas Wonderful on Design Dazzle again this year! I just love a Christmas series full of ideas just for kids.
Today I'm sharing a fun, inexpensive, and festive craft project that is perfect for little hands to help with! This Holiday Pom Pom Chalkboard Wreath is bright and cheery and perfect for decorating bedroom doors. Little hands can even write or draw a message in the center of the wreath!
Supplies:
Large pom poms (3 colors)
Small pom poms  (1 color)
Ribbon
Scrap cardboard cut into a circle (~10″ wide)
Chalkboard paint or chalkboard vinyl
Liquid adhesive
First apply the chalkboard vinyl (or paint!) to the center of the wreath. Go ahead and "season" the chalkboard by rubbing it with a piece of chalk then erasing it.
Working in ~3″ wide sections, spread the liquid adhesive on the cardboard and randomly add the large pom poms to the adhesive. Work your way around the cardboard wreath form. Overlap slightly over the chalkboard so you don't see the edges.
Go back and fill in any big gaps between the large pom poms by gluing on the small pom poms. Also glue the small pom poms around the outer edges of the wreath form and around the inner portion of the wreath.
Make a bow with the ribbon. Also, take a 4″ long piece of ribbon, fold in half lengthwise, and glue down on itself to make a hanger for the wreath.
Glue the bow to the bottom of the wreath on top of the pom poms.
Also glue the wreath hanger to the back of the wreath form.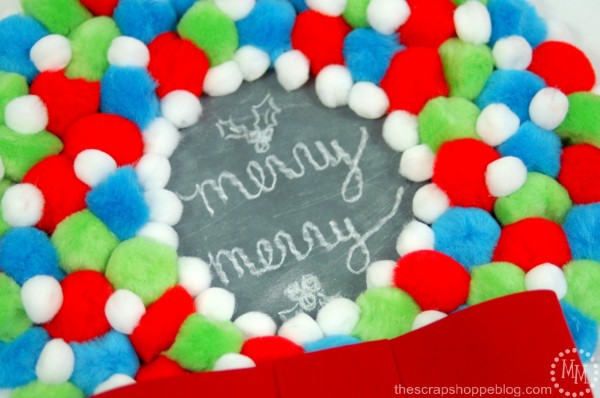 Write a message on the chalkboard and this wreath is ready to hang!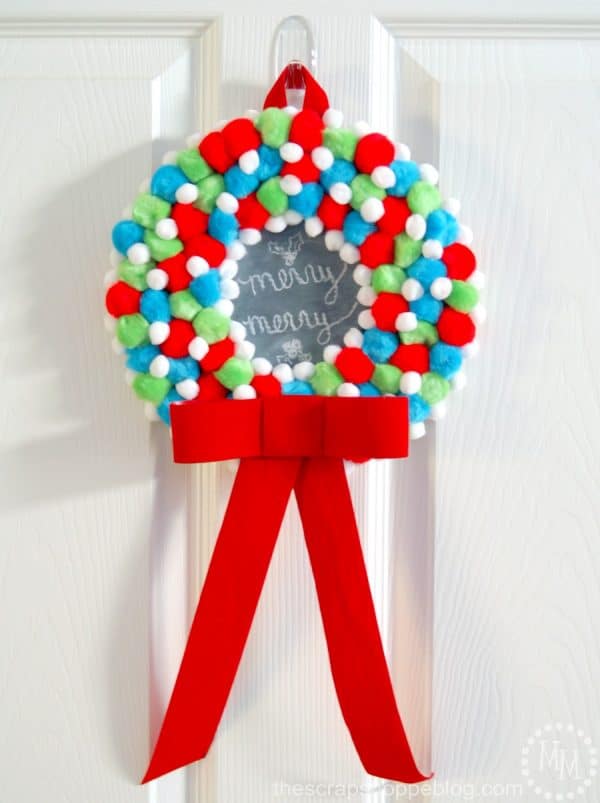 I used a clear 3M Command Hook on the door to hang the wreath.
My boys LOVE that they can help make their own Christmas decor for their rooms. And this wreath is double the fun since they can write and draw on it, too!
Definitely try to get your kids involved in the create process. It is such fun for you and them!
Michele is a wife and mommy to 2 little boys. She recently gave up her job in the field of science to pursue her dream of spending more time with her boys and becoming a full time blogger. When she's not playing superheroes or building Lego mansions you can find her creating at The Scrap Shoppe. She doesn't shy away from any type of media so you never know what sort of project will show up on her blog next!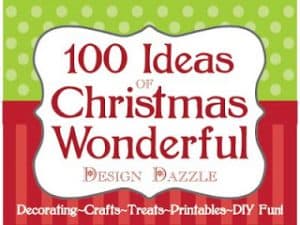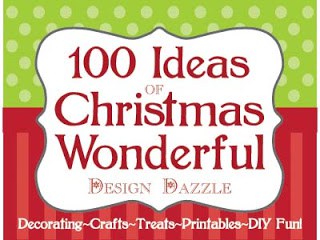 Christmas Wonderful runs until mid-December.
Title:
Holiday Pom Pom Chalkboard Wreath
Keywords:
Holiday Pom Pom Chalkboard Wreath
Last Updated:
July 31, 2020