This post may contain affiliate links that, at no additional cost to you, I may earn a small commission. Read our Disclosure Policy.
For the Harry Potter lover – a Harry Potter themed Christmas Tree! In our home, we LOVE Harry Potter anything. Wizards and muggles alike will be blown away by Harry Potter Magical Christmas Tree Ideas!
Harry Potter Christmas Tree Decorations
I love nothing better than a beautifully decorated Christmas tree. But decorating a Christmas tree with Harry Potter Christmas ideas is just perfect!! Some of the items on the following Christmas trees are-
Hogwarts acceptance letter, Harry Potter Tree ornaments, the marauder's map, flying Ford Anglia (Weasley's car), chocolate frog boxes, a small Harry's patronus ornament, Hermione Granger's wand, potion labels, and a Harry Potter tree topper such as a sorting hat! Plus lots more!
Check out the eye candy of the Harry Potter trees for some great inspiration!
Decorations around the Christmas tree have a lot of wizarding touches. The details are fabulous!
Hogwarts Houses Represented
Using your Hogwarts House colors as the primary theme for your tree is a classic. Whether you're a brave Gryffindor, wise Ravenclaw, cunning Slytherin, or loyal Hufflepuff, decorating with house colors and hanging the Hogwarts crest proudly can be a great way to start.
More Harry Potter Christmas tree ideas…
Hogwarts Homemade Ornaments
Crafting DIY Harry Potter ornaments can be a labor of love. Using book pages to create unique Harry Potter ornaments or designing your own Harry Potter tree skirt can bring a personal touch to your decorations. A golden snitch ornament or flying keys with delicate wings can add charm.
Favorite Harry Potter Characters And Moments
From Harryís Patronus to the iconic sorting hat, the Deathly Hallows symbol to Luna Lovegoodís iconic glasses, the choices are vast. Why not add a Ford Anglia ornament, reminiscent of the Chamber of Secrets, or a Cornish pixie causing mischief from the third book?
Incorporating The Great Halls Holiday Splendor
Taking inspiration from the Warner Bros. Studios depiction, decorate your tree to emulate the grandeur of the Great Hall during Christmas. Think floating candles, snowy owl decorations, and, of course, house stockings to hang nearby.
How about all those details? I really enjoyed all the Harry Potter-inspired ideas, props, ornaments and decorations. Not sure who decorated these trees but they are fabulous!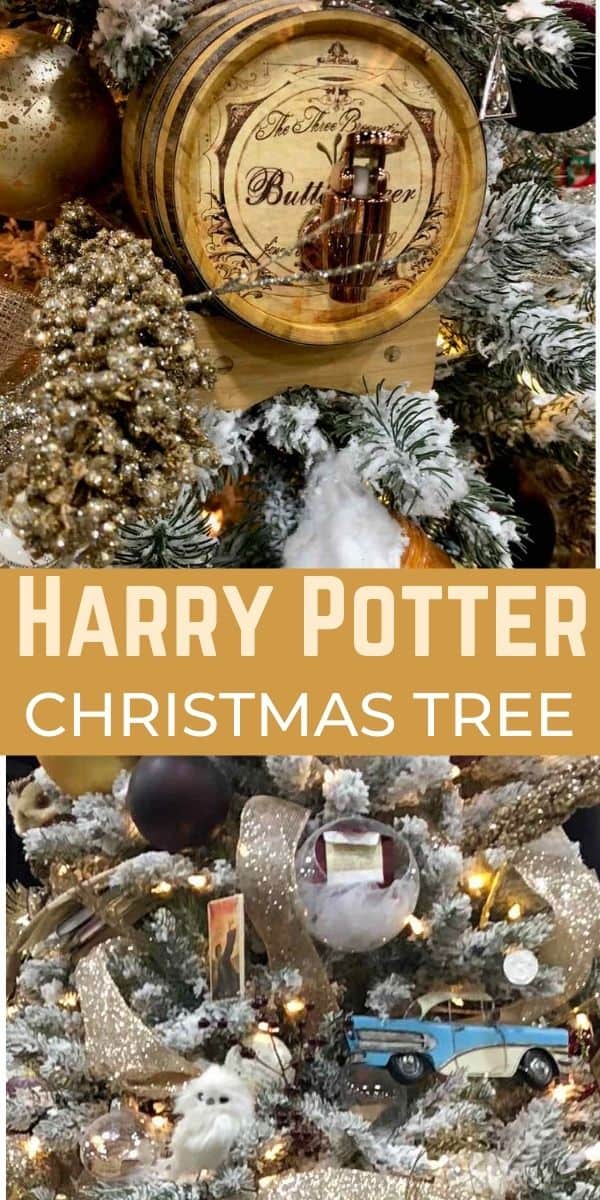 Hogwarts Christmas Tree Ideas
Imagine a small Hogwarts Express train circling your tree, reminding every visitor of that first time Harry, Ron Weasley, and Hermione Granger journeyed to the school of magic. This is a delightful throwback to the first book, Sorcerer's Stone, penned by J.K. Rowling.
Magical Keepsakes
Handmade ornaments or those purchased can be a fantastic addition to your collection. These keepsakes, like the Hogwarts castle or the Harry Potter village set, are not only great for the holiday season but also a way to showcase a good collection of all things Harry Potter throughout the year.
From Book Covers To Book Spines
Show off the love for Harry Potter books by crafting ornaments or decorations inspired by book covers. A quick trip down Diagon Alley in your imagination can fetch you myriad ideas!
Quirky Hogwarts Touches
Think of the invisibility cloak as a tree skirt or the Goblet of Fire illuminating the room with its soft glow. The quirky additions like the Half-Blood Prince potion bottles or Molly Weasleyís famous sweaters can bring in a touch of whimsy.
These cleverly decorated trees were featured at an annual holiday event called, Festival of Trees which is held in Utah.
It is a winter wonderland of thousands of donated and decorated Christmas trees, gingerbread houses, wreaths, quilts, etc! All different themes – kid-themed trees, movie-themed trees, outdoor theme trees, Disney trees, sports trees, etc. Funds raised at the Festival of Trees are given to the Primary Children's Hospital.
Harry Potter Christmas
If Christmas is looking a little dull this year, why don't you have a Harry Potter Christmas, complete with Christmas pudding, Christmas crackers, and silly hats? Harry Potter spent most of his Christmas time at Hogwarts, but you can have a themed Harry Potter Christmas at home. Keep reading about plans for a Harry Potter Christmas – fun for adults and children alike.
Christmas Dinner Preparations
Dress the table with white tablecloth, and heavy silverware (preferably with gold plated handles). Add pewter or sparkling crystal glasses at every plate, white cloth napkins, and then put a Christmas Cracker at every place setting.
A Christmas cracker is a hollow tube, filled with a paper hat, a toy, and a motto (a piece of paper giving you advice or telling a joke). The tube is wrapped in shiny paper and eventually looks like a large piece of candy. At Christmas dinner, two people hold the ends of the Christmas cracker and pull. The cracker breaks with a loud bang (due to the gunpowder strip inside it). Then the person who is left holding the biggest piece with all the stuff in it gets to keep the stuff and to wear the paper hat.
In a Harry Potter Christmas, the crackers are Wizard Crackers and are a lot bigger and bang louder. Inside, instead of little toys, there are big toys like Wizard Chess sets, live mice and Grow-Your-Own-Warts Kits. You could make your own crackers out of toilet rolls or paper towel rolls, stuffed with gifts and wrapped with shiny paper and a ribbon. You'd have to make the sound of your own 'bang' though as you pull!
Food
This is the best part of a British Harry Potter Christmas. The meal should start with oxtail soup, and then serve the main course. Turkey is always served (with stuffing of course), with large side dishes of apple sauce, carrots, peas, roast potatoes, and bread pudding. Dessert is usually Christmas pudding and brandy sauce, followed by mince pies and Christmas cake. To be a Harry Potter Christmas, there has to be more food than an average family can eat in a month. So that, by the time you've finished, you're rolling around the room.
Finish it all off with a drink of egg nog and you've just enjoyed a traditional British Christmas dinner.
Hogwarts Games
In a Harry Potter Christmas, you play a lot of Wizard Chess. The same effect as the battling wizards in the Harry Potter books can be achieved by playing a jumbo chess set.
Hogwarts Gifts
There are plenty of Harry Potter gifts available in bookstores and toy shops, from calendars to books, Harry Potter computer games, Hermione figurines, Ron Weasley's wand, or Dumbledore's Army t-shirts.
But you could make Harry Potter-style gifts yourself.
You could apply a letter onto the front of a plain sweater, to recreate the sweaters made for Harry and Ron in Harry Potter and the Sorcerer's Stone.
Make a Firebolt broomstick out of a wooden stick and straw tied up with string. On the stick handle, paint a lighting emblem so you know it's Harry's broomstick. Make a few of them then organize a Quidditch match on the front lawn. Really fun and a great way to burn off all the calories from dinner.
Also don't forget the socks that are Dobby's favorite gift in Harry Potter and the Goblet of Fire. Dobby loves socks and he gives Harry and Ron socks for Christmas, and Harry and Ron give Dobby some of their own socks to wear.
I hope you enjoyed Harry Potter Christmas ideas and got lots of tips to make it magical!
NEED MORE HARRY POTTER?