This post may contain affiliate links that, at no additional cost to you, I may earn a small commission. Read our Disclosure Policy.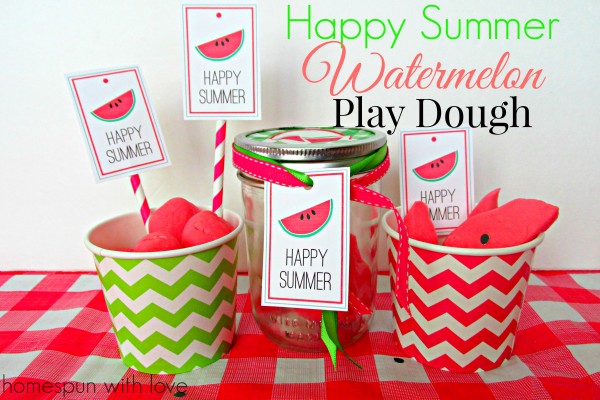 Look who's back… the girls from Homespun With Love!!!! We are so excited to have been asked back again this year as Design Dazzle Summer Camp Counselors!
                       Thank you so much for having us back again for another round of Summer fun ideas!Today we are sharing a big part of our daily Summertime life… and it may be true for many of you as well…WATERMELON!!!
Only this time we are not eating the watermelon,  (although it does smell good enough to…so make sure to teach the little ones…no eating this watermelon!)
   So let's get the Summer fun activities started with this Happy Summer Watermelon Play Dough!
                                                                                                                                                                                                                  Watermelon Play Dough Recipe
                                                                                                                                                                                                                      Ingredients/Directions
1 cup flour
1/2 cup salt
1 tablespoon vegetable oil
1 tablespoon cream of tarter
1 cup water
Watermelon extract or watermelon fragrance  oil
(we used this oil)
food coloring (just add until you get the desired color)

• mix all of the ingredients  together in a sauce pan except for the extract/oil.
• place on medium high heat on the stove
• stir frequently until the dough starts pulling away from the sides of the pan.
• remove from the stove.
• let dough cool enough to handle, then knead the dough, adding several drops of  watermelon extract/ oil. We believe a fragrance oil works best.
• place it in an airtight container.
Should keep for up to one month.
  How do you like to serve up your Summertime watermelon ?
Sliced into wedges…. fun watermelon balls? Yum!!!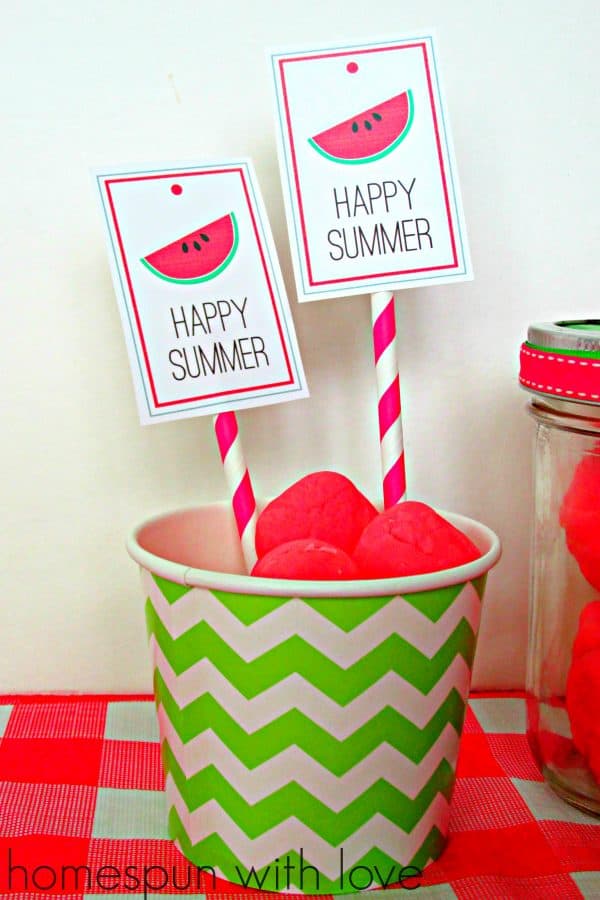 Keep your watermelon play dough fresh as can be in a glass jar and make up a few to give to some friends so they can have a Happy Summer too!
We love these Happy Summer watermelon hang tags from Katarina's Paperie.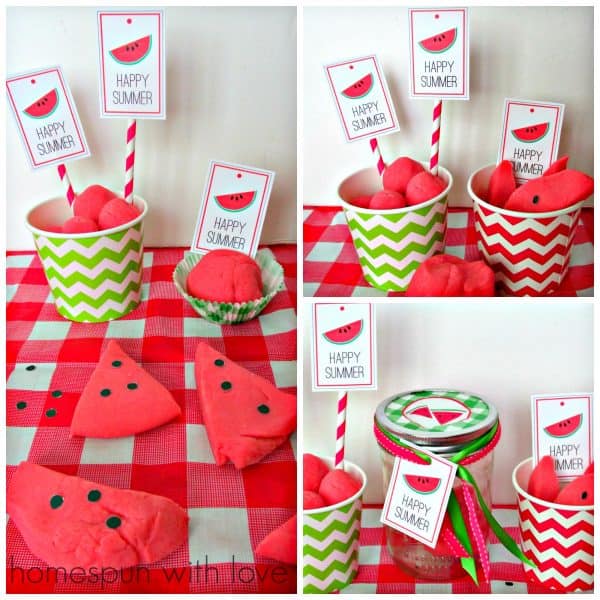 We hope we have inspired you this Summer to make up a big, fun, juicy batch of Happy Summer Watermelon Play Dough!!!
Thank you once again Design Dazzle for having us back again this year!!!
If you would like to find out more about Homespun With Love, we would love for you to stop by!

We are a mother and daughter team who love to inspire others through our crafts, recipes, kids activities and frugal approach to enjoying everyday living!
Save
Title:
Happy Summer Watermelon Play Dough
Mentions:
summer, watermelon
Keywords:
watermelon play dough
Last Updated:
August 17, 2020