This post may contain affiliate links that, at no additional cost to you, I may earn a small commission. Read our Disclosure Policy.
Fall is a wonderful time to get creative with your home decor. There are some many great colors and ideas to work with, and plenty of ways to transform your home into a cozy fall oasis no matter what your style of decorating! Pumpkins and gourds are some of the best things to work into your home for fall, and they're a lot more versatile than you might think! Here are thirteen unique ways to work these fall harvest items into your everyday home decor!
Hanging Gourd Lights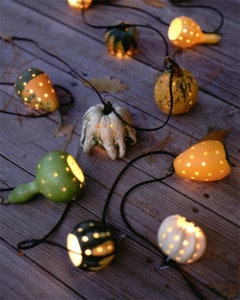 How perfect are these hanging gourd lights? They are an excellent way to cozy up your porch, deck or any interior space in a way that is perfect for Autumn! You can find a full tutorial on how to make them here!
2. Marbled Indigo Pumpkins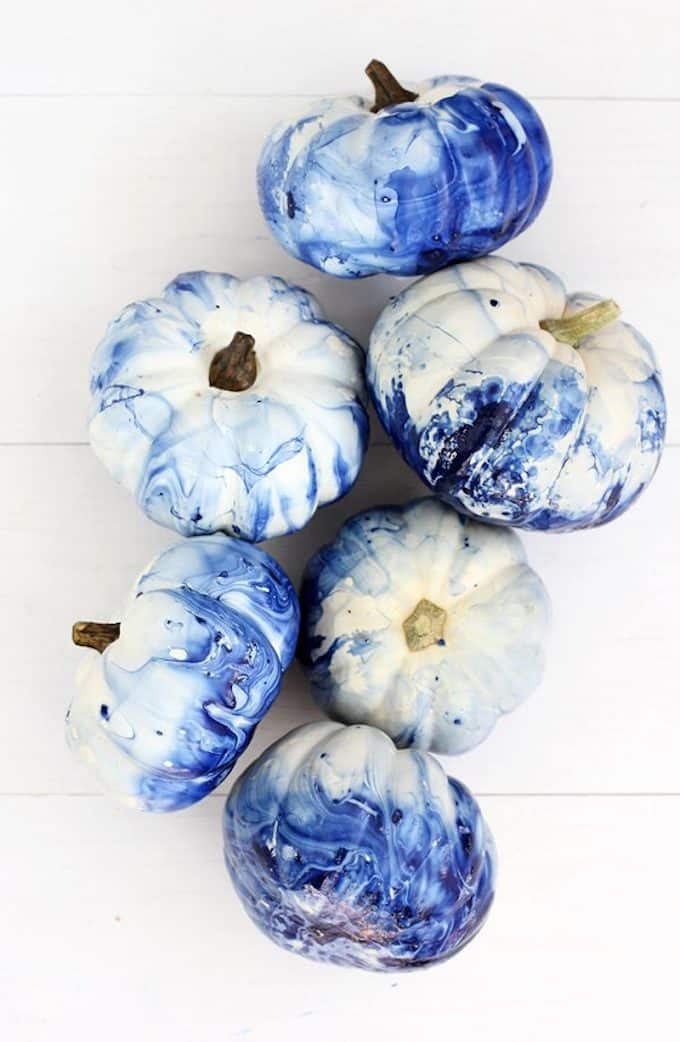 These gorgeous marbled pumpkins are beautiful, classic and still bring in a touch of Fall while feeling modern. Get the instructions on how to make your own here!
3. Outdoor Metal Pumpkins
Just because it's Fall doesn't mean that you can neglect your outdoor decor! These metal pumpkins are a great way to add a rustic farmhouse or vintage look to your porch. Full tutorial here.
4. Fall Foliage Centerpiece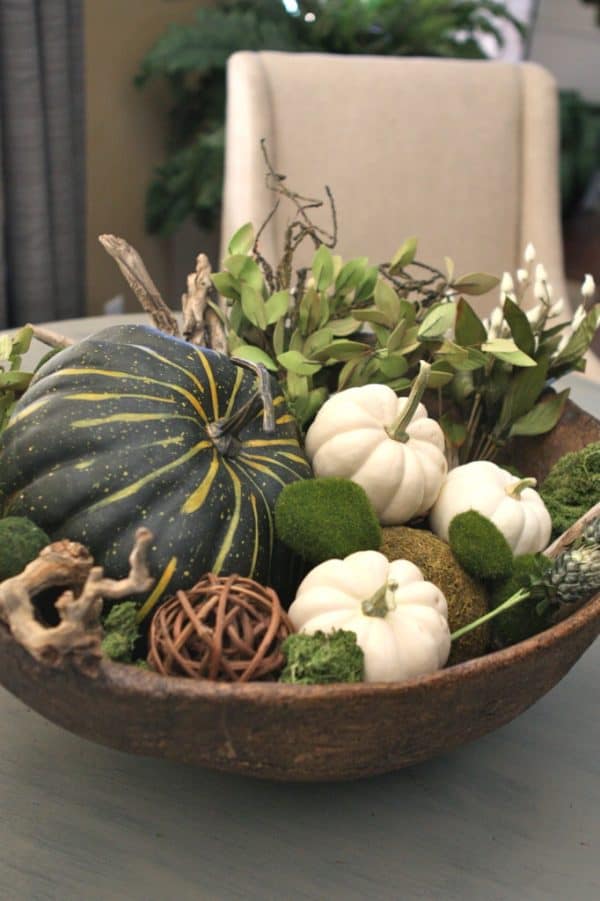 The use of natural fall foliage with these pumpkins and gourds for this centerpiece makes the room feel fresh without looking too cliche or stale. I love the addition of moss and wood to make the whole thing feel natural!
5. Glass Bottle Pumpkins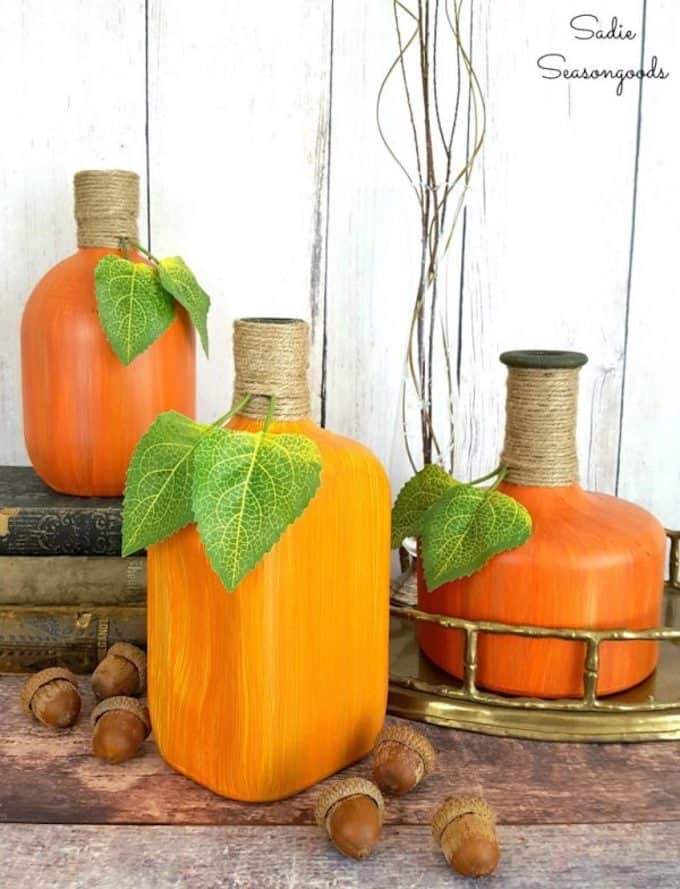 Make a trip to the thrift shop and re-purpose some old glass bottles into these adorable pumpkin bottles! This is a great way to bring pumpkins into your decorating without having to use real pumpkins! Plus, they look so cute that you can stick them just about anywhere! You can find all the instructions here.
6. Autumn Mantel and Exterior Decor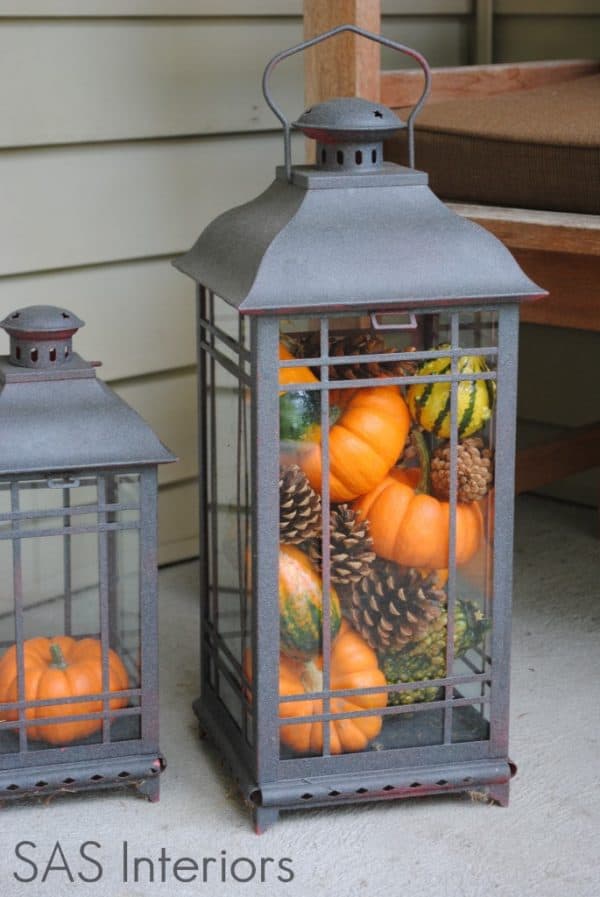 One great thing about pumpkins and gourds is that they come in all shapes and sizes! While this may seem awkward at first, it means that you can use them as a filler for just about anything! This idea of using different shaped pumpkins, gourds and pine cones to fill up some lanterns is great for Autumn!
7. Pumpkin Centerpiece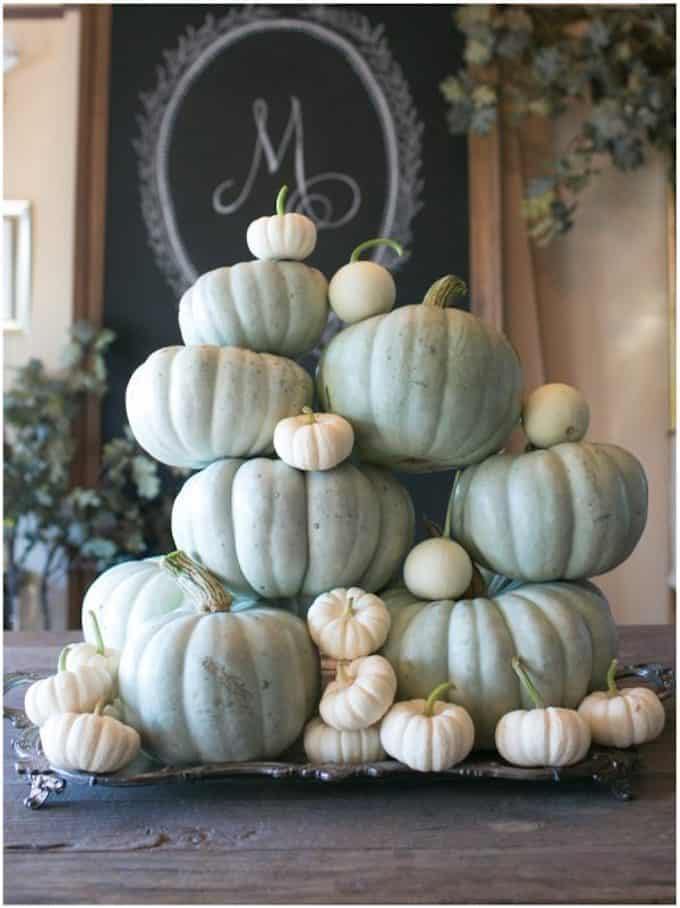 Another reason that having a lot of different shapes and sizes of pumpkins and gourds is great is for stacking and creating wonderful centerpieces and creations like this! No two will be exactly alike, and that's what makes it so fun! I love the vintage feel of the colors and the tray in this setup!
8. White and Orange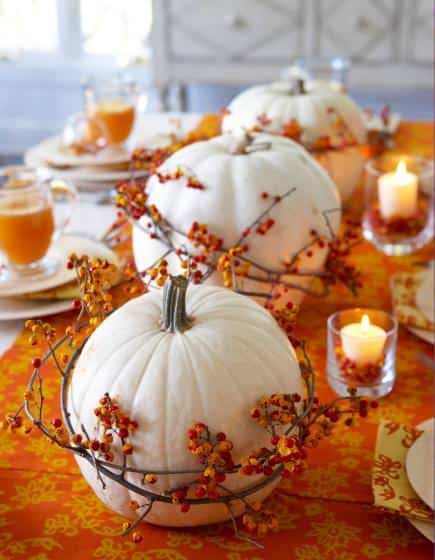 Sometimes using just white pumpkins can feel a little boring, but you can jazz things up by adding lots of colors to make the pumpkins stand out. The classic Fall orange in this setup makes the pumpkins feel far from boring, and it makes the whole table feel warm and cozy!
9. Gourd Candle Holders
Combine cozy and cute together in this fantastic craft using gourds to make unique Fall candle holders! These would look great on a table, mantel, or anywhere you can fit them! Get the instructions here.
10. Pumpkins and Veggies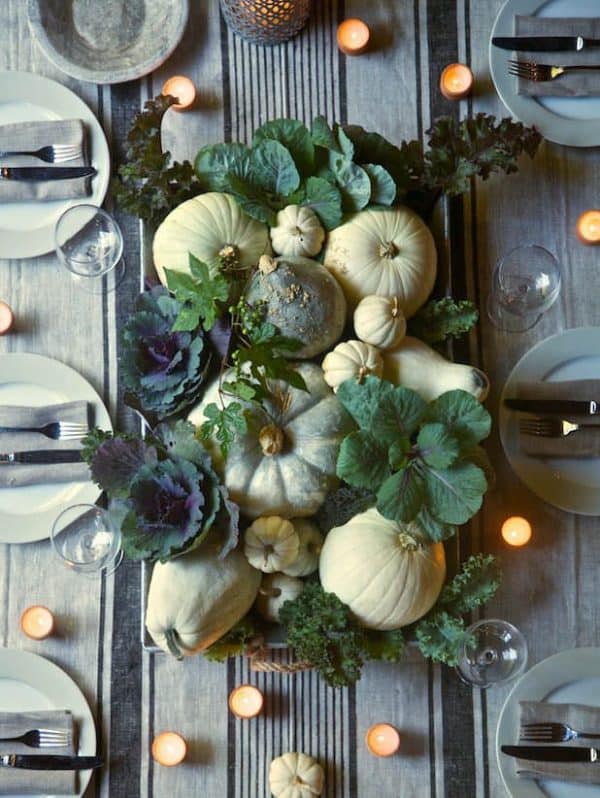 Pumpkins, gourds and squash aren't the only Fall harvest items to get excited about! Using lots of other fresh veggies and greens to create a lush, fresh display is an awesome idea for your Fall table! I love the use of color and texture in this creation!
11. Vintage Farmhouse Pumpkins
I can't get over how adorable this pumpkin is! It's perfect for your vintage home or to bring a touch of class into any room. Plus, it's actually pretty easy to make! Get the instructions here.
12. Chalkboard Pumpkin
Who says pumpkins are just for carving or sitting on a table? This fun craft makes them functional and seasonally appropriate! Use your chalkboard pumpkins for fun sayings, to-do lists or whatever else you can think of!
13. Copper Leaf Gourds
These copper leaf covered gourds are gorgeous and glamorous! They're modern and feel like Fall without being too glitzy or in-your-face. You can make your own fantastic copper gourds by following the instructions here.
Do you have any favorite ways to use pumpkins, gourds or any other Fall items in your decorating? I'd love to hear your ideas!
Be sure to check out some of my other pumpkin decorating posts!