This post may contain affiliate links that, at no additional cost to you, I may earn a small commission. Read our Disclosure Policy.
My good friend Ammie designed this party for her son Wyatt. This boys bike party was done on budget using things she already had at home and finding clip art that she could incorporate into the decor. She did a great job keeping this party thrifty but also super fun. Wyatt and his friends had a great time at this bicycle party. So grab your helmets, it's a bike party!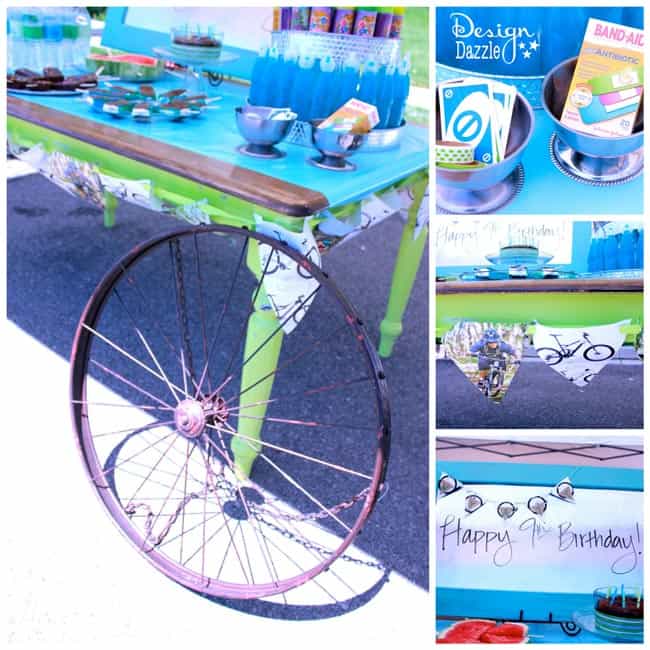 You can see some of the decor here, that bike wheel is a great piece next to the table. Then take a look at the pennant banner made from picture of bikes and people biking. Ammie used a bicycle catalog to create a paper pennant banner. Great idea!
The wrapper around the water bottle just adds another element of bikes to the food table. And do those desserts look delicious or what?
I love the idea of a brownie cake!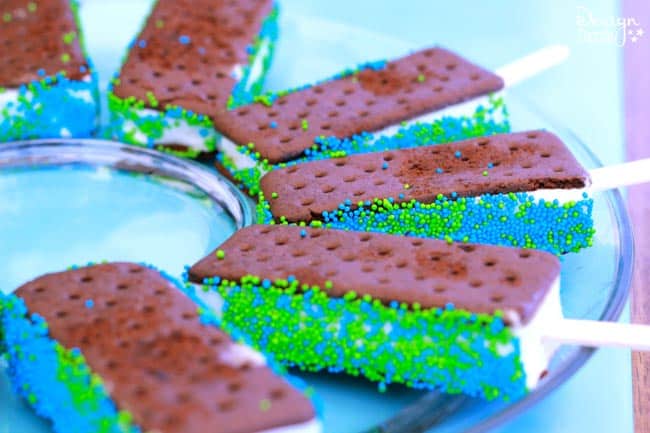 Ice Cream Sandwiches were dipped in candy parallels to match the party colors. It also "dresses" up the ice cream bars.
Finding display stands like this not only help organize the treats and goodies, but they make everything very noticeable and a great way to display items.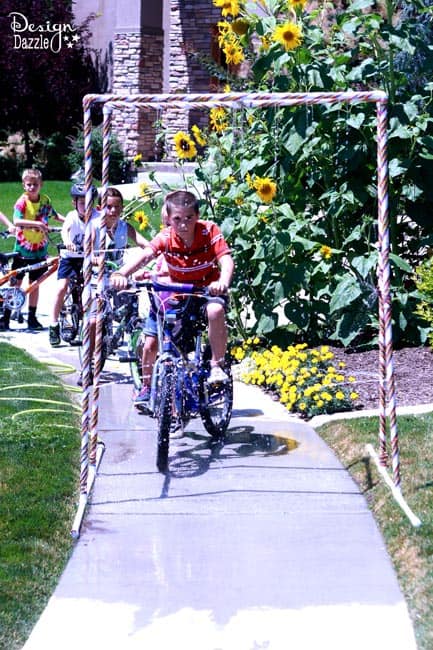 What is more fun than a bike wash? And a great way to keep cool! This was made with PVC pipe, pvc attachments, duct tape and a water hose. Perfect for a hot summer day!
Wyatt's dad made these awesome bike ramps from scrap lumber and some spray paint. The kids had a blast biking on the ramps. Chalkboard lanes helped steer the kids in the right direction.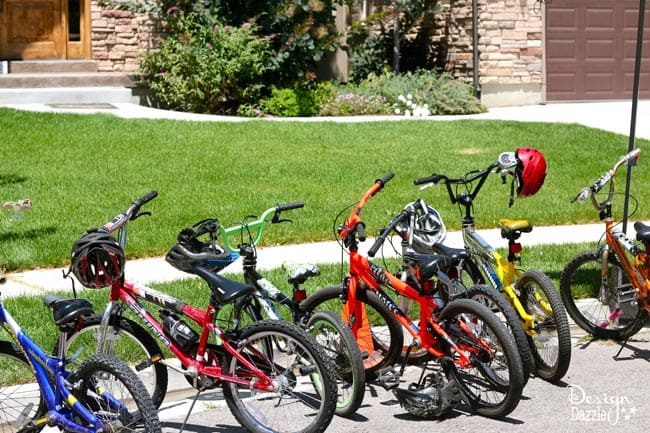 Everyone brought their own bike and helmet to the party.
Super cute favor for the guests. The bike clip art was downloaded from the internet and printed on blue paper. Using a circle punch and attaching string makes it into a tag.
Thank you Ammie for sharing this bicycle party so I can share your ideas with everyone else. What a wonderful job, and I know the guests all had a GREAT time!


Title:
Grab Your Helmets, It's A Bike Party!
Mentions:
bicycle party, bike party, budget bike party
Last Updated:
July 21, 2020