This post may contain affiliate links that, at no additional cost to you, I may earn a small commission. Read our Disclosure Policy.
Is there anything more lovely than your home smelling fresh and clean?
I've been getting ready for summer and I'm sharing my tips on how to do it!
I was sent the Shark vacuum and ARM & HAMMER™ products to try along with compensation. All ideas, opinions are my own.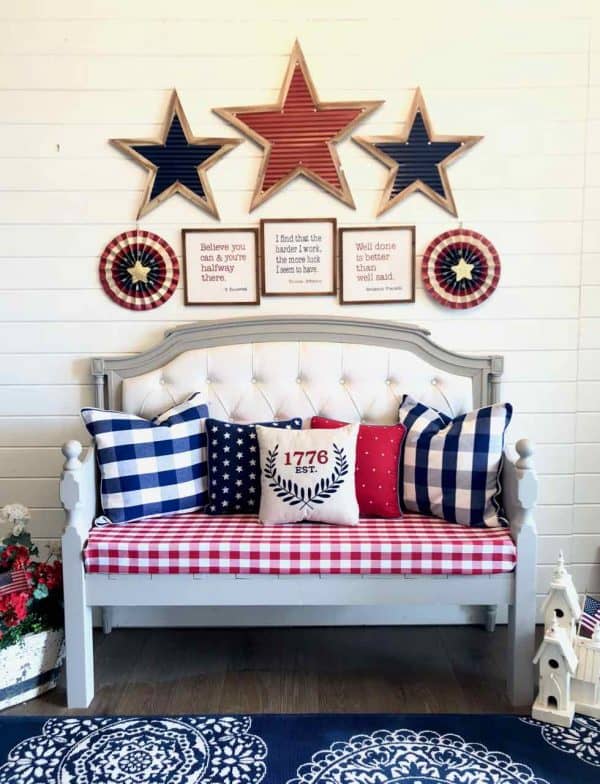 Do you have any aversions to smells??
I do and trust me my hubby gets in trouble if he hangs his workout clothes (after his workout) in our bathroom.
He tells me I'm way overboard with my smelling of foul odors : )
I just really like a clean fresh smelling home.
A big help for fresh smells is ARM & HAMMER™ baking soda and I've been using it since I was very young which is longer than long ; )
It's been a staple in my home to help neutralize odors.
In fact, I purchase bulk size bags to use for the countless ways.
Baking soda is a powerful natural cleaner that I use all over the house.
And believe me, I do! Where do I use baking soda?
In the fridge, trash can, kitchen disposal, laundry, carpets, personal care and more.
The ways I use baking soda…
How to Clean Rugs: Refreshing Rugs
I've been getting my summer decor out and ready to decorate with.
Pulling my blue rug out of the garage (been stored over the winter and spring months) it needed some help getting clean and ready.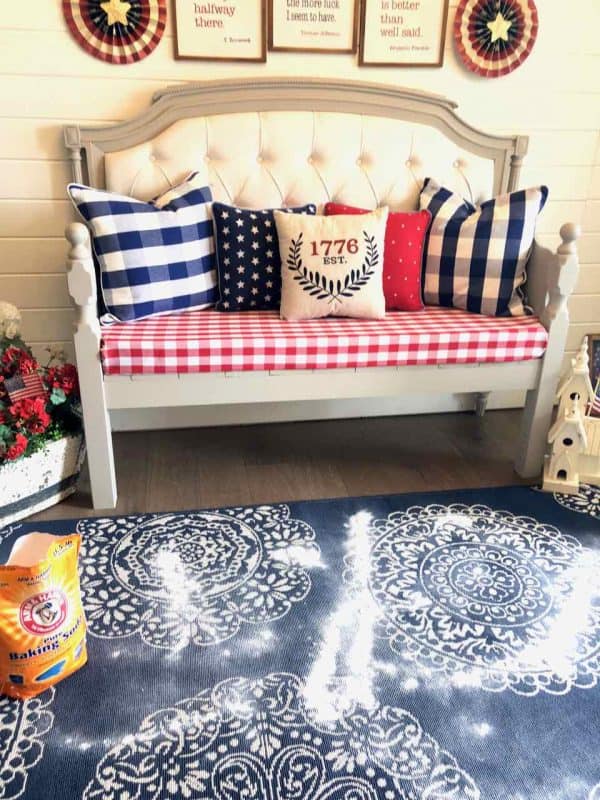 The first thing I do when refreshing my rugs that have been in storage since last fall.
I bring out the baking soda and sprinkle it on the rug.
I take a broom and sweep it into the rug.
Letting it sit for at least 20-30 minutes helps deodorize and clean the rug. I then vacuum the rug and voila a clean and fresh rug!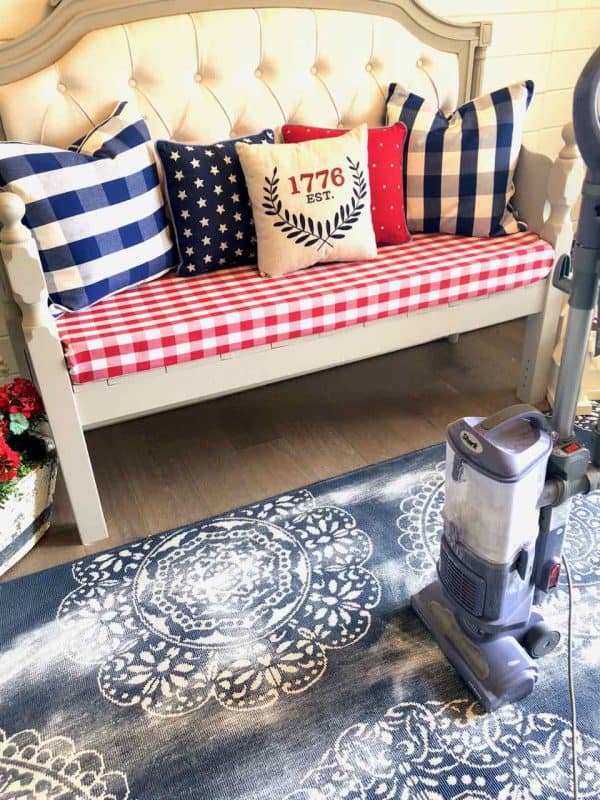 Craft/Personal Care
Yes, I even have used it to craft with!! I taught a crafting class at a retreat and what did I use?
ARM & HAMMER™ baking soda (purchased at the big box store in large 13.5-pound bags)!!
I created a Christmas craft for personal care using baking soda and bubble bath to create SOLID bubble bath that were shaped into snowballs.
I packaged the snowballs into cello bags and added a cute Christmas snowball printable. They are a darling gift idea.
Laundry
I use natural cleaning detergents without all the harsh chemicals.
It's especially important to me not to have chemicals close to my skin – so I've been using natural laundry detergent for several years.
Doesn't it make sense not to have chemicals on our clothes that we wear all day long and can transfer to our skin?
I don't use bleach but I do use baking soda to help whiten my whites.
It also softens and freshens fabrics.
Adding 1/2 – 1 cup along with your regular laundry detergent can make a difference with your laundry.
One glass container is my laundry detergent the other one is baking soda.
Fridge
I keep a small container with baking soda on a shelf inside my fridge.
In the days past, I would keep the small orange box of baking soda in the refrigerator.
I now just change out the baking soda in my little container. You can use it either way.
Trash Can
Sprinkling a bit of baking soda can go a long way with eliminating odors.
I have two trash cans in my kitchen one has trash bags and the other is for recycling where we don't use a trash bag but sprinkling a bit of baking soda works great.
Cooking, smoking, pets, and mold can cause odors.
And nothing beats ARM & HAMMER™ baking soda.
It is perfect for spring, summer cleaning and anytime cleaning!
For more than 165 years, ARM & HAMMER™ has helped consumers with proven odor-reducing products.
Today, they are helping keep clean homes happening with their line of vacuum bags and filters, cleaning solutions and pet-focused products.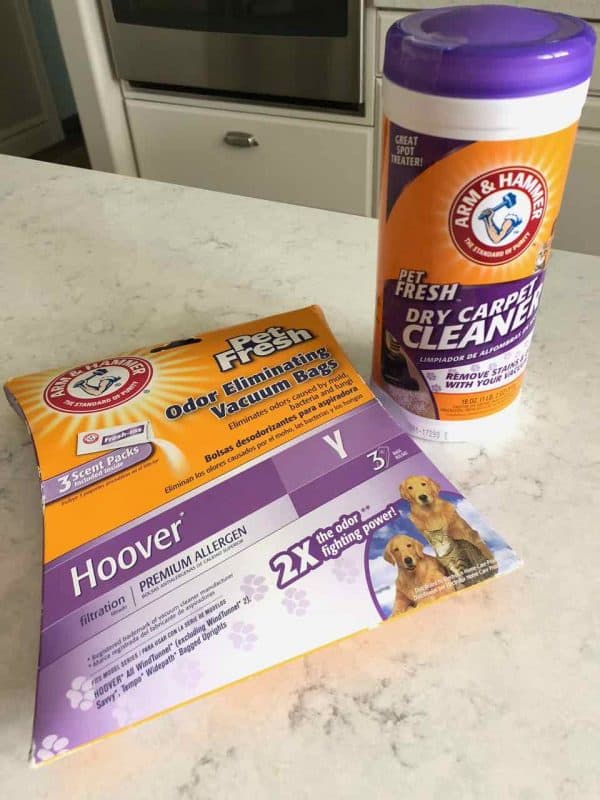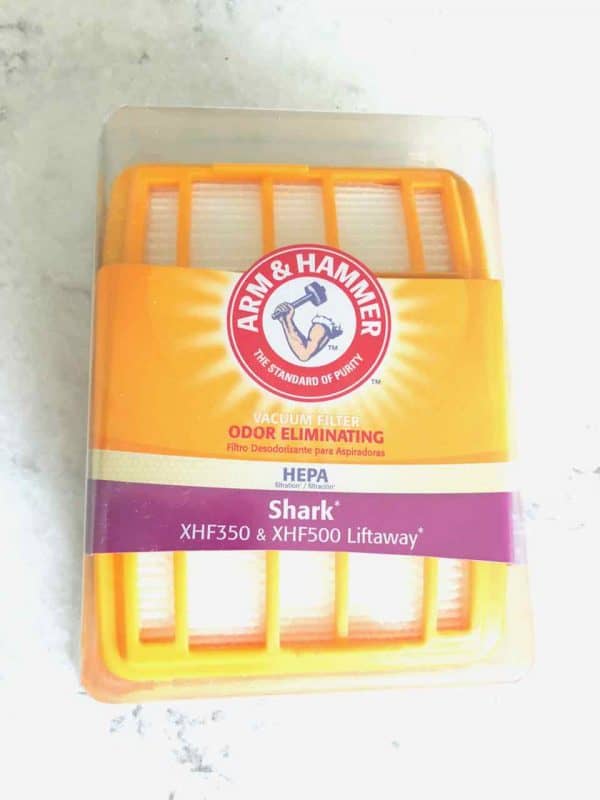 If you would like an allergen-free and cleaner home, think about using an ARM & HAMMER™ HEPA filter.
These are much more efficient than regular filters you may use.
Did you know that 99.97% of the debris produced by mold, dust mites, dander coming from your pets, and pollen, can be captured by HEPA filters?
Most regular vacuum filters are not efficient in capturing small particles.
Changing vacuum bags and filters regularly, helps the vacuum operate at top performance, which of course, makes keeping a clean home easier.
As dirty air passes through the filter, baking soda particles neutralize odor-bearing chemicals.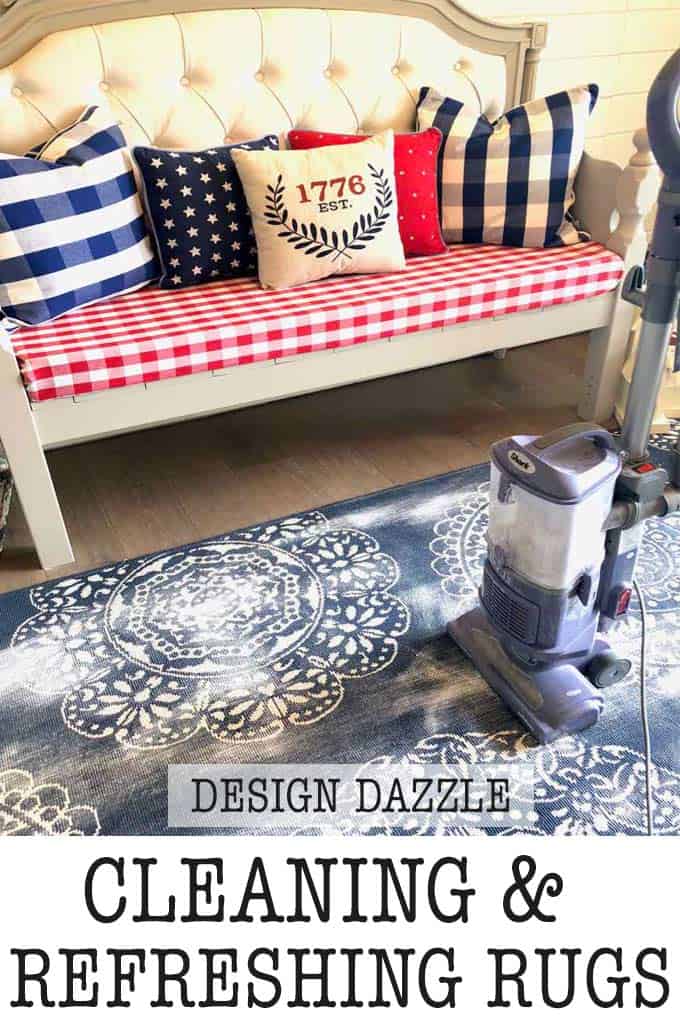 Wow, the power of baking soda!! The benefits are numerous!
ARM & HAMMER™ makes bags and filters for nearly any vacuum.
Frequently replacing vacuum bags and filters help surfaces around your home stay clean, removing allergens and dust.
Replacing your vacuum bags every 1-2 months and filters every 3-6 months is recommended to help your vacuum maintain peak performance.
I love this line of vacuum bags and filters because…
ARM & HAMMER™ Pet Fresh™ Dry Carpet Cleaner effectively removes odors and stains when used with a vacuum.
The cleaner absorbs allergens and eliminates pet odors by breaking down tough stains.
The leaning particles in the cleaner work like sponges to absorb pet messes (or human messes) in the carpet.
There is a range of products, filters, and bags on their website.
You can also easily search for the vacuum brand to find the matching filter or bag.
I know I enjoy a clean, fresh smelling home.
A clean home is a happy home with ARM & HAMMER™.
Happy #SummerCleaning, getting ready for summer break and anytime cleaning!
Getting Ready For Summer With #ARMandHAMMER.