This post may contain affiliate links that, at no additional cost to you, I may earn a small commission. Read our Disclosure Policy.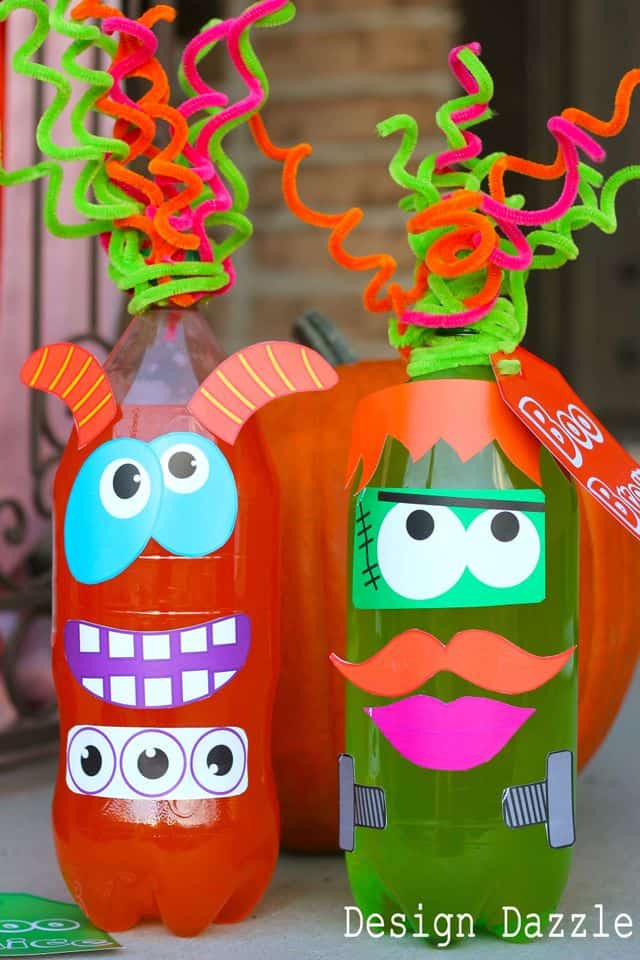 One of my favorite parts of Halloween is getting "booed" and "booing" our neighbors. As a family, we always love getting an anonymous Halloween gift on our doorstep, and then making our own gift to leave on the doorstep of someone else to keep the Halloween spirit going!
Here's a simple and fun gift idea with a free Halloween Printable to give to neighbors and friends: a Halloween Mr. Soda Head. Give this gift to your friends already assembled (it makes for a great decorating activity with your kids) or as a kit for your neighbors to assemble with their families. Either way, this gift idea is a quirky and fun way to add to the Halloween spirit (It doesn't hurt that this idea comes with free printables too)!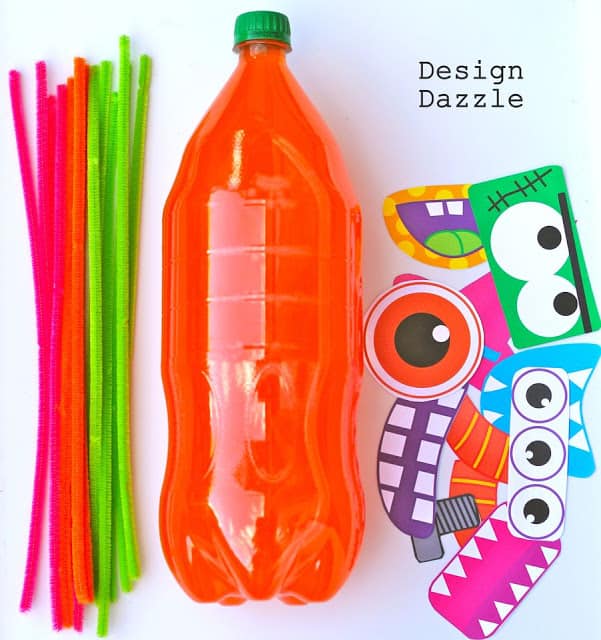 Supplies:
About 15 pipe cleaners per bottle
1 large bottle of soda (about 2L)
Free printables (links are below)
Step 1: Take a pipe cleaner and wrap it tightly around a marker, then slide the curly Q pipe cleaner off the marker.
Step 2: Repeat this step until you have 13 pipe cleaners that have turned into pipe cleaner curly Qs.
Step 3: Take a pipe cleaner and leave it straight. Attach your 13 curly Q pipe cleaners onto the straight pipe cleaner like you would a twisty-tie. Make sure the curly Qs are close together.
Step 4: Stretch out the curly Qs so that they are longer and a little bit more disheveled.
Step 5: Wrap the pipe cleaner with the curly Qs attached tightly around the lid of the soda bottle. Then, take your 15th pipecleaner and wrap it on top of the previous pipe cleaner. Wrap tightly around the curly Q pipecleaners to that they stay sticking straight up.
Step 6: Print, Cut, Stick.
The printables were printed on this 
glossy inkjet photo sticker paper 
. I have a HP laser printer and they printed fine even though it says inkjet. I love this
sticker paper
. It prints beautifully and is only about 20 cents a page. You can also use regular paper and a glue stick to attach the face parts to Mr Sodahead.
Step 7: Have fun. There is no right or wrong to this craft activity. It's all about having fun and being creative with your kids. To make this super easy, you don't need to add the pipe cleaners. These printables would be great to make a Pumpkinhead too!!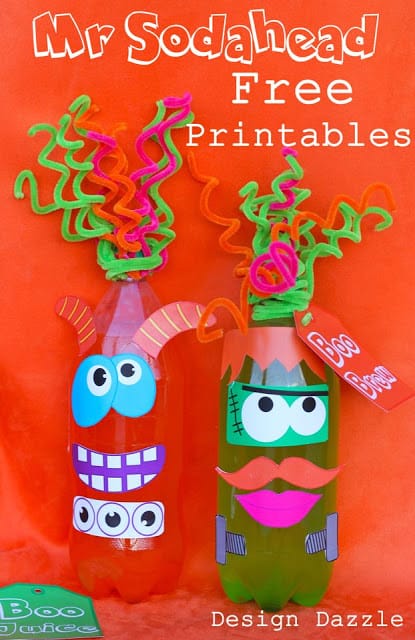 I love the final product. The "Boo Brew" or "Boo Juice" are cute tags for Mr. Sodahead. If you're giving him as a gift, write a Halloween message on the back of the tag.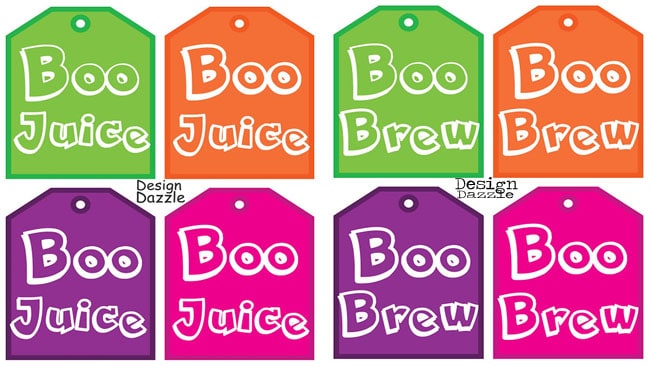 This is what the printables look like. Each page will print on an 8.5″ x 11″ paper. The first image shows the small printables to use on smaller drink containers like small soda bottles and juice boxes. The second image is for larger items. Enjoy!
The monster printable is FREE and available for immediate download by subscribing to Design Dazzle!
To receive this free printable – enter your email address in the box below and click submit. Make sure to check your inbox for an email from Design Dazzle. You will have access to all of our FREE printables and also will receive an email newsletter filled with lots of great information. Don't worry your email address will never be sold.
Printable files are for personal use only. They are not for commercial use.