This post may contain affiliate links that, at no additional cost to you, I may earn a small commission. Read our Disclosure Policy.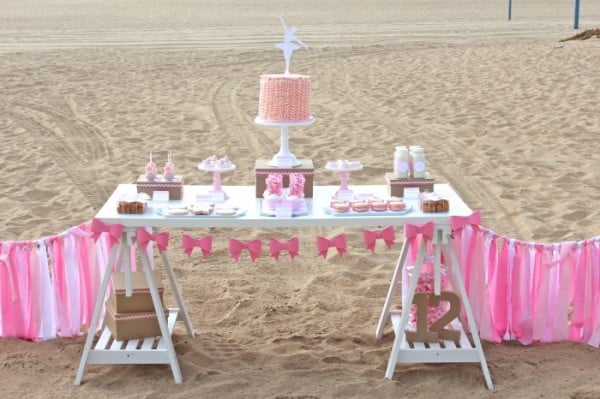 Who wouldn't love to have a party that features all of their favorite things? Jenny from Bloom Designs did just that for her daughter, Audrey. Jenny says, "When Audrey was planning her 12th birthday, she was very clear about what she wanted to do- go to her favorite place with her favorite people and do her favorite things ….. She made a list of everything she loves and I pulled everything together by using her favorite color, pink. " I just LOVE the concept and I think it came together beautifully!
Audrey's favorite place is the beach and if you're going to the beach you're going to need sandals and a towel. The pink bows and pink metal buckets make this a charming display.
I love the use of brown paper packages to add height to the dessert table.
The dessert table was covered with Audrey's favorite things- "a "ruffled" cake topped with a ballerina for her love of dance, elephant topped cupcakes, chocolate covered oreos topped with whales and beach buckets, ice cream shakes, rose cake pops, Minnie Mouse macarons, sea shell cookies and mini boxes of her favorite nutter butter cookies."
The CUTEST elephants ever!
Look beneath the cookies to see the paper printed with all of Audrey's favorites.
After the beach, the girls headed back to the house for an afternoon of fun.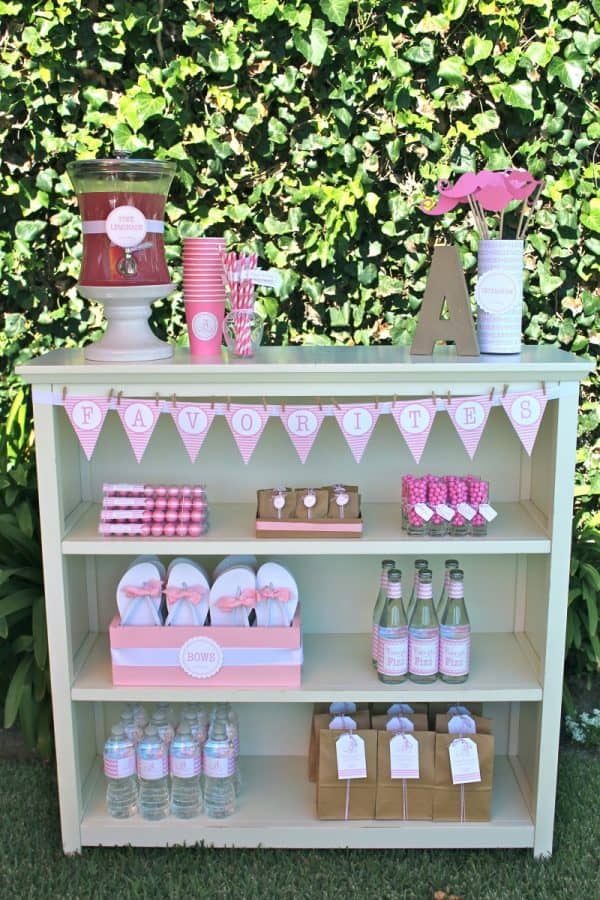 To see more of this fun party, check Bloom Designs.