It's amazing how different a room can feel and look by simple changes. But this family room got a complete overhaul! From removing the green carpet, installing my favorite engineered hardwood floors to many more details. Read on for the one thing I did that was COMPLETELY FREE and only took about 30 minutes. It made all the difference in the world.
Here is the before photo:
The previous home owner had installed interior plantation shutters on the three picture windows in the family room. On the outside, there was an orange-ish awning (that somewhat matched the exterior brick color) that was installed on the top arched window.
So what was the problem?? The views!! You couldn't see the beautiful backyard. It was also dark and not much natural light came in. Besides, the ugly orange-ish awning became a part of the family room (even though it was installed outside). The solution: remove the plantation shutters from the back three windows and remove the awning from the outside. For picture windows, it just didn't make sense to have all this covering up the views and light. We had a very private backyard so it was fine removing all the shutters. We kept all the other plantation shutters in the home. So this is what was FREE and took about 30 minutes to remove the shutters and awning. As you can see in the reveal below, it made a huge difference!
And I'm loving the AFTER:
Our family room was lighter, brighter, and have better views by doing a few things:
fresh paint
new flooring
fireplace updated
shiplap ceiling
removed plantation shutters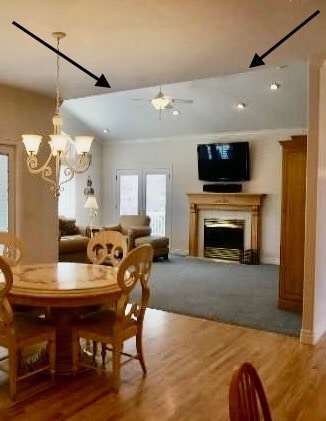 The above image is another BEFORE picture. I wanted to add shiplap to the family room ceiling to add texture and depth to the room. It's hard to tell from the image but the ceiling is vaulted. The shiplap ceiling ends where the dining room and family room ceiling meet (arrows on the pic show where it ended). Shiplap ceilings were the perfect addition to the family room.
The AFTER:
Looking into the dining area and family room.
Here's a view from our family room into the dining area and kitchen. How about the dining room's built-in cabinets? I loved how they turned out.
Above the arched window, there is an automatic shade that worked with a remote control. Since the backyard was west-facing it received a lot of afternoon sun. So down came that orange-ish awning and the new creamy taupe awning worked just perfectly. It was lowered only when needed.

Family Room Products:

Edgecomb Gray – Benjamin Moore paint on walls
Momentum Flooring Engineered Hardwood Floors (I loved those floors)
White Dove – Benjamin Moore trim color

For all the details on the fireplace remodel and to see what type of marble I used, visit here.
What do you like most about the remodel? Let me know in the comments below.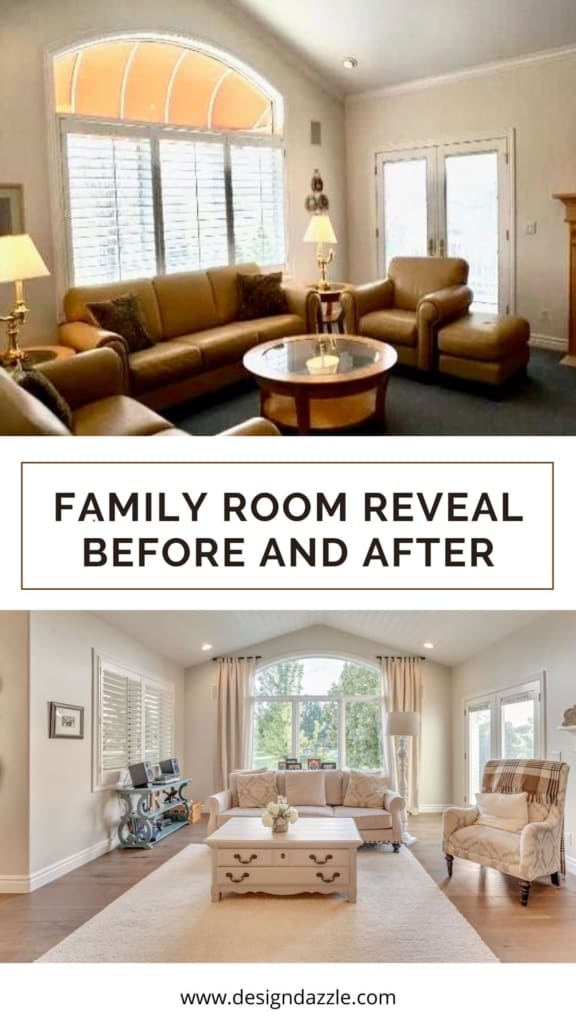 Title:
Family Room Reveal Before and After
Last Updated:
August 9, 2022