This post may contain affiliate links that, at no additional cost to you, I may earn a small commission. Read our Disclosure Policy.
Family game night is a blast at our house! Playing games is a great way to interact with your family and watch less TV. I am sharing some of our favorite games for an epic game-filled evening!
Our family has always enjoyed playing games! We are "slightly" competitive and we all do our best to try to win! I am writing this during the Coronavirus 2020 quarantine and social isolation. We have 4 people in our home and are doing a great job of social distancing outside our home. We are pretty much staying home mostly, but doing some outside store pick-ups or wearing a mask while grocery shopping so family game night is a great way to pass the time!
Fun Family Game Night Ideas: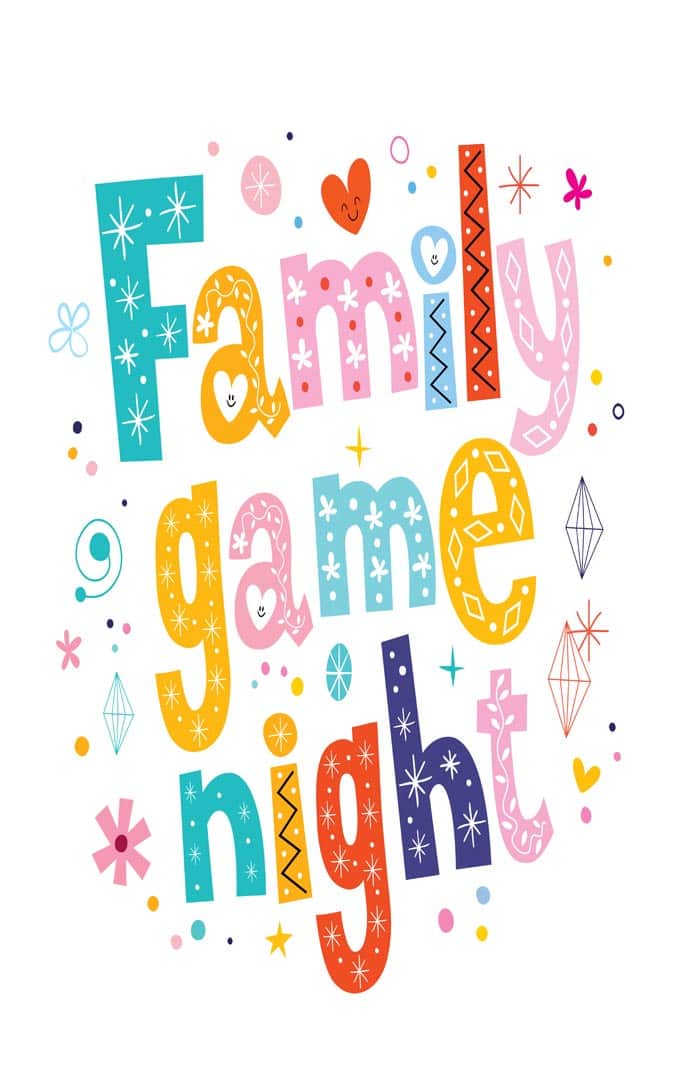 One thing about me is I really hate reading instructions on how-to play a new game – especially a very detailed game.
Some games are really easy but some are very detailed and can be exhausting reading the instructions. Our kids are pretty smart and they explain the details and rules to the rest of us. I have a great tip for you that my kids told me about. They watch Youtube videos to learn how-to play. Isn't that brilliant? I hadn't thought of that one!
So which games are our favorites? Well, we have a lot of favorites that most can be purchased online at Amazon. I'm sharing some below…

This game has won all sorts of awards. When it was first being explained to me I wasn't that interested but after playing several rounds. I thoroughly enjoyed it and can't wait to play again. Azul
is a favorite!

A super fun game called "Cover Your A$$ets is a card game and pretty easy to understand and start playing right away. Your fortune can be made or lost, in just a few turns. You're never out of the game until the last card is played. We ended up playing at least 5 games in a row.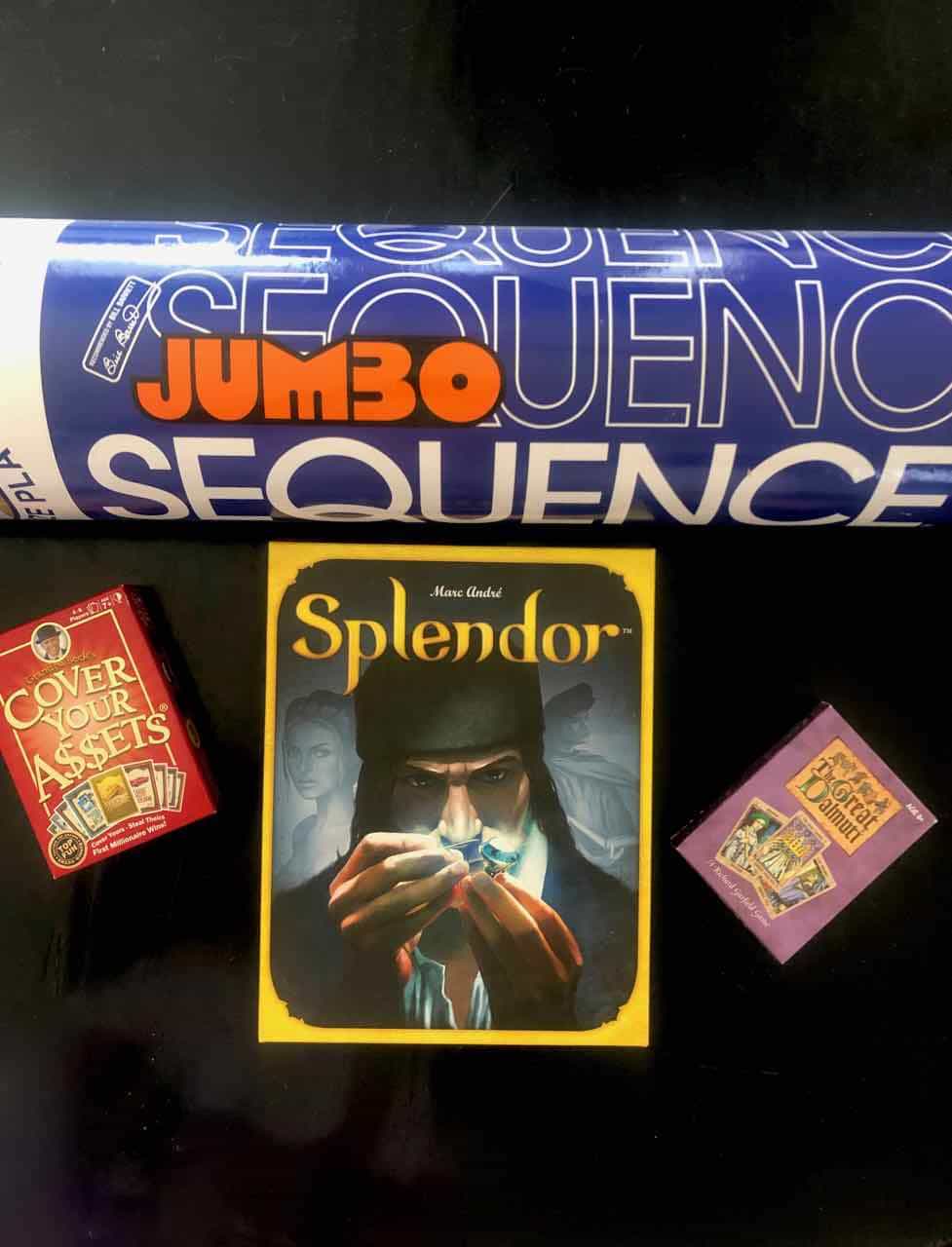 Splendor – Players become merchants who are trying to buy gem mines, means of transportation, and shops—all in order to acquire the most points. I was very pleased with the game, quality, ease of learning and winning. There are thousands of positive reviews for this game on Amazon.
Life isn't fair. And neither is The Great Dalmuti. In one round you're at the top of the heap, and in the next you could be peasant scum. After each game, you change seat positions and the cards are re-dealt. It's a light card game where players gain status by going out first
We've had this game for maybe 12-13 years.
Jumbo Sequence is great for older eyeballs because the game board is huge! This is also a great group game, for 2-12 players, ages 7 and up. The first player or team to score the required number of five-card sequences wins the game. It's fun, it's challenging, it's exciting – it's Sequence!
Our kids were playing this today. I haven't yet played but am certainly interested because I really love playing the board game Monopoly. Get a handy way to play the classic property trading game! Be the first collect 3 full property sets of different colors, and you'll win the Monopoly Deal Card Game. Ages 8 and up, for 2 to 5 players.
The Family/Friends Version of the Classic Game of 'Who Said What'. Loaded Questions is the PERFECT group game. I've played this at get-togethers and parties. This core Loaded Questions game is perfect for families and adults. Other Loaded Questions games include Party, Adult, Junior and On the Go.

There are many people that play Catan. This adventure-based game is perfect for three or four players eight and older, who will all battle to collect resources and build settlements on the island of Catan. The incredibly popular, multi-award-winning civilization-building board game of harvesting and trading resources is one my kids play this one ALL THE TIME. It's not one of my favorites but has over 6000+ reviews on Amazon so many really take pleasure in playing this game for family game night.
Pandemic. As skilled members of a disease-fighting team, you and the other players work together to keep the world safe from outbreaks and epidemics.
I haven't played this game but with almost 6000 reviews. It looks to be a popular game. I love the fact that you play together and try to save the world. Perfect at this time in all our lives with the pandemic that is taking over many avenues of our lives.

Edited to Add:
Kingdomino A new game we played this evening is called Kingdomino. It was named Game of the Year in 2017! In this short 15-20 minute game, players build a 5 x 5 kingdom of domino-like tiles, making sure as they place each tile that one of its sides connects to a matching terrain. It's extremely easy to learn and would be fun for players of all ages! It is recommended for ages 8 & up but I think 5 & up could play pretty easily.
This is my list of some of our favorite games for family game night. Believe me, I have many more! Do you have a favorite game? Please comment I would like to add a few more to our game closet.