This post may contain affiliate links that, at no additional cost to you, I may earn a small commission. Read our Disclosure Policy.
Disclosure: This shop has been compensated by Collective Bias, Inc. and its advertiser. All opinions are mine alone. #DamageFreeHolidayDecor #CommandDoNoHarm #CollectiveBias. For further information, please see our disclosure policy.
One of the things I had in mind when decorating the kitchen was the fun I was going to have decorating for different seasons and the holidays.
I wanted a white neutral kitchen with plain white subway tile so I could add various decor from the holidays.
The tile backsplash is the perfect backdrop for changing out various artwork and goodies.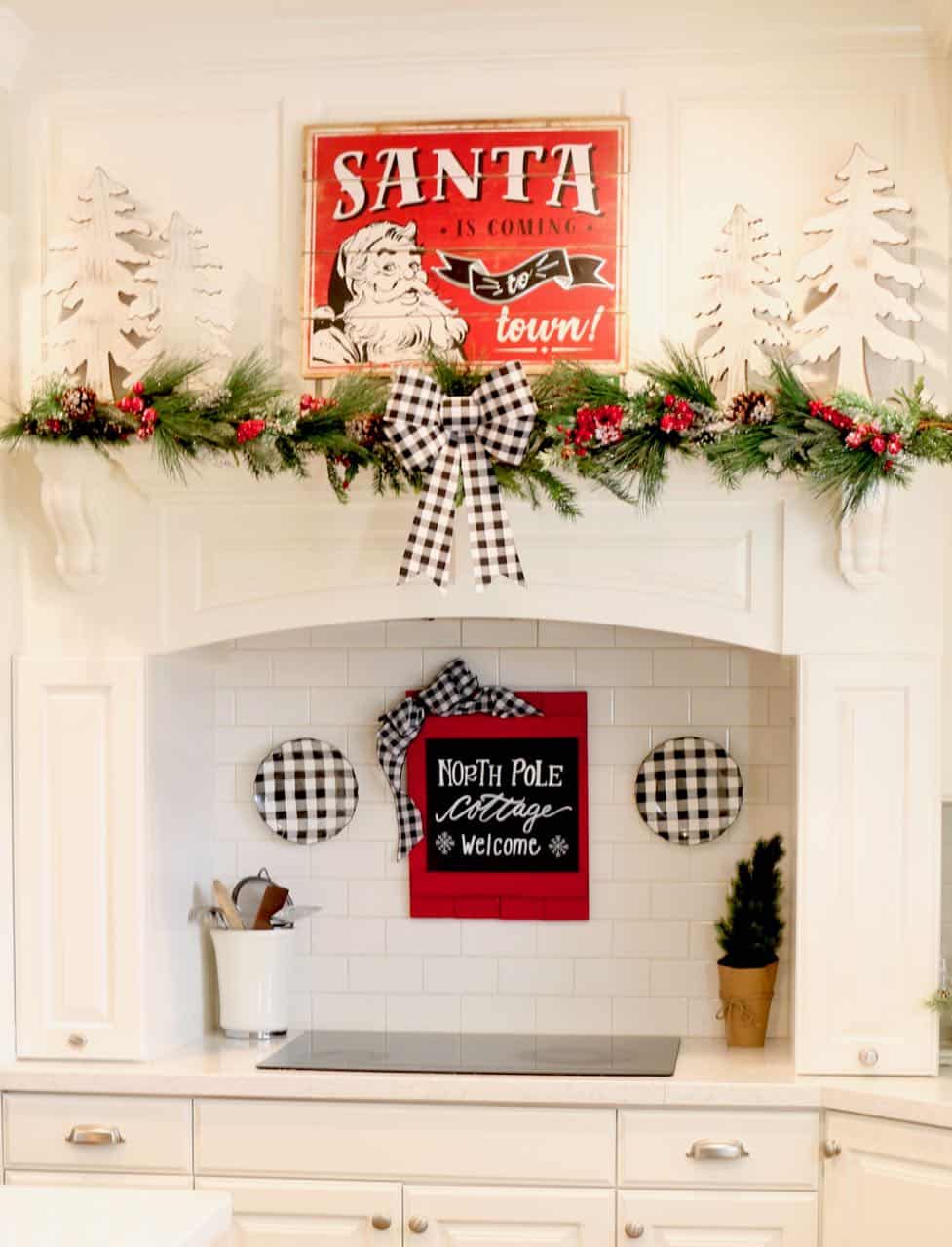 As you can see, I need a way to hang holiday decorations. For many years I have been using Command™ Products to hang the decor on tile.
I found out about this NEW technology from Command™ Brand – Command® Adjustables™ repositionable 1 lb Hooks and Command® Adjustables™ repositionable 1 lb Clips I loved using them!
The fact they are repositionable is amazing!
So, how do you hang decor on TILE? Tile, is not anything you want to place a permanent screw in.
My decor is all different sizes so I would have to change out the hooks.
But what I've found over the years, hanging decor on tile is so easy! It goes up easy and comes down easy with Command™ Products.
In the image above, I've shown the Command® Adjustables™ repositionable 1 lb Hook that sticks to the tile and secures my wood "North Pole Welcome" sign.
Wowza, I love the repositionable hooks and clips! They can be repositioned up to 3x in the first 20 minutes so you can get it just right.
No tools required and it holds strong! I had to reposition the hook a couple of times when hanging the wood sign on the backsplash tile – just to get it in the correct position.
DECORATING THE KITCHEN TIPS:
Did you know you can find Command™ products at Walmart?
Walmart also has a great selection of Holiday decor! Wow, I found some really cute decorations. I purchased the following items at Walmart:
"Santa is Coming to Town" sign
Black and White check bow
greenery
Merry Christmas rug
Milk for Santa (purchased last year)
I was also excited to learn that there are so many various Command™ products created for just your project.
The item I found was a Command™ Bath Squeegee with Water-Resistant Strips. I need this for the shower! Check all the Command™ Hook products here.
I found the Command® Adjustables™ repositionable 1 lb Hooks and Command® Adjustables™ repositionable 1 lb Clips on the endcap in Walmart.
They were located near the hardware and paint section.
Above is a clear picture of how I attach bulky items to Command™ Products. I use a pipe cleaner to help attach items such as greenery, etc.
The image below shows the Command® Adjustables™ repositionable 1 lb Clip attached to the top of the kitchen mantle.
A green pipe cleaner is used to "tie" the greenery on to the clip.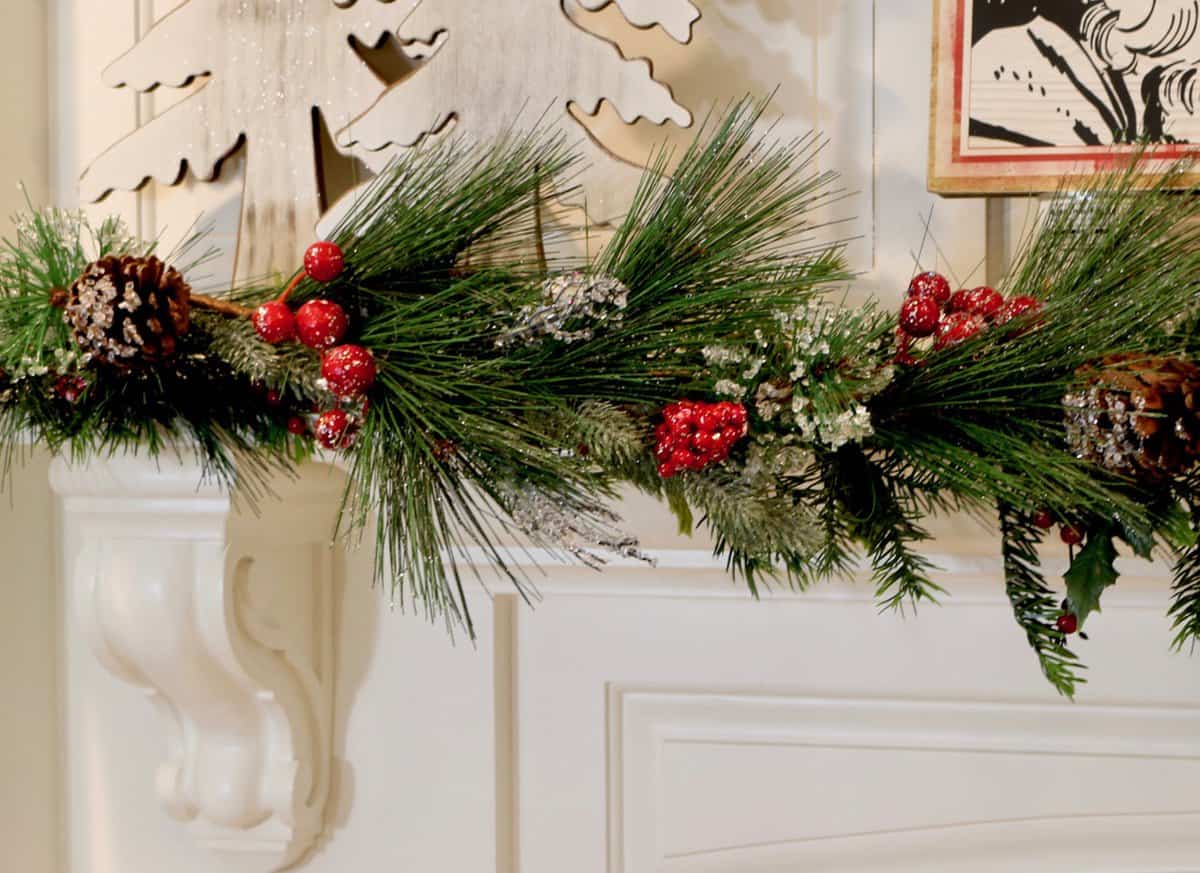 Did you know that Command™ Products stick to painted, stained, or varnished wood, glass, tile, painted cinder block, plaster, metal, and painted wallboard. You can also use Command™ Outdoor Products outside on smooth, sealed and finished surfaces including vinyl siding and fences, doors, windows, decks, gutters and trim.
Every season I change out my signs on my tile backsplash. It is so easy. The Command™ products are a lifesaver for my decorating!
Check out the above image to see how I use the products. I purchased the plate hanger at Walmart (same section as the Command™ Products). I attached the plate hanger to the back of the black and white plate.
After reading the instructions, I then hung the Command® Adjustables™ repositionable 1 lb Clip on the white subway tile.
Attaching the plate hanger onto the clip was so quick and easy!
That is how to hang decorations onto a hard surface like tile!
I love decorating the kitchen with holiday decor damage-free so you don't have to see holes or nails for the rest of the year. #CommandDoNoHarm
The kitchen is the heart of every home, I enjoy making the kitchen welcoming and festive for the holidays.
I've come up with some ideas that are easy, and I hope it gives you some ideas, too! You can check out to see how I decorate for Spring and last Christmas. Notice how I hang unique decor on my backsplash?
How do I do it? Of course, I use Command™ Strips. Completely easy to use! When using Command™ Products make sure to follow all package instructions or visit command.com/howtouse
I enjoy decorating for the holidays and I know my walls/tile will have #DamageFreeHolidayDecor
#CommandDoNoHarm
How do you use Command™ Products?
Title:
Decorating The Kitchen For The Holidays
Keywords:
Decorating The Kitchen
Last Updated:
January 2, 2020