This post may contain affiliate links that, at no additional cost to you, I may earn a small commission. Read our Disclosure Policy.
We got three major pieces of news that will impact future visits to Walt Disney World. Here is an overview of our three favorite D23 announcements in 2020.
During the course of D23, Disney has revealed new details into existing projects like the extensive overhaul of Epcot. We got news of brand new hotels, interactive experiences, and all-new attractions. Disney Plus was also a considerable focus, prompting people to sign up for three years of service on the spot. Besides the lineup of new content coming to Disney Plus, the parks remained a significant focus at this year's event. In addition to all of the details regarding the above Epcot overhaul, we got three major pieces of news that will impact future visits to Walt Disney World. Here is an overview of our three favorite D23 announcements in 2020.
Star Wars Cruiseliner
Images from here.
The Star Wars hotel we have anxiously awaited since the D23 announcement in 2017 is coming. Construction is currently underway, and Disney has provided more insight on what to expect. The hotel experience will be modeled after the Disney Cruiseline and will simulate a cruise through space within the world of Star Wars. The experience will be hugely immersive and follow a storyline that guests impact through their decisions. It's a lot like what we were first told about Star Wars Galaxy's Edge when it was announced two years ago. The two-night "cruise" will port on Batuu. Meaning that guests of the Star Wars Cruiseliner will have immediate access to Star Wars Galaxy's Edge.
Cherry Tree Lane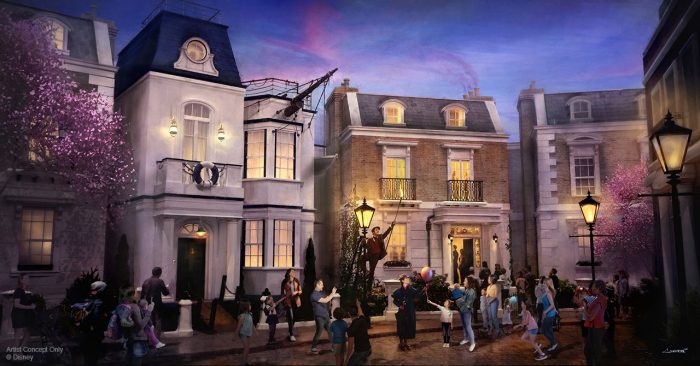 Image from here.
It was long rumored that Mary Poppins would get an attraction in Epcot at the UK Pavilion. That rumor lost a lot of steam and was nearly forgotten about by the time D23 came around. The hot news everyone expected was of a new Brazil pavilion, but that announcement never came. Instead, Disney went right on ahead with the announcement of a Mary Poppins attraction and did one better. There will also be a Cherry Tree Lane themed expansion to the UK pavilion. The ride details are still unknown, but it will make an exciting addition to the pavilion, which currently has no attraction.
Disney Genie
Image from here.
Some of the biggest news comes in the form of downloadable software. Planning a Walt Disney World vacation is easy to do, but it requires a lot of knowledge and experience to optimize your trip. Too many first-timers, don't get the experience they should because they don't know the ins and outs of planning. Disney Genie is an app that will help future guests plan their Walt Disney World vacation, so they don't miss a thing. It will make recommendations for relevant points of interest and even optimize your schedule based on all of the things you want to do. While it isn't a replacement for My Disney Experience, it will be as big of a help. Disney Genie will be ready sometime during 2020.
So are you excited? I personally can't even wait to test out some of these awesome new features this year!