This post may contain affiliate links that, at no additional cost to you, I may earn a small commission. Read our Disclosure Policy.
These cookies and cream frozen treats are super easy to make! Although you need to wait a few hours before they can be served, the wait will definitely be worth it!
These are perfect for an afternoon snack for both the kids and adult in the house or as treats for your party…an Oreo themed party! Why not!
Ingredients:
3 cups of Vanilla Frozen Yogurt
1 and a 1/2 cups of Almond Milk
2 teaspoons of Vanilla
1 and a 1/2 sleeves of Oreos
Popsicle Molds (I found mine at Wal-Mart for $1.00.)
Step by Step:
1. Start by placing frozen yogurt,
almond milk
, and vanilla in the blender, and blend on high until smooth. If mixture is thick, add 1/2 cup more of almond milk.
2. Place Oreos in zip lock bag and crush them with a rolling pin or your hand.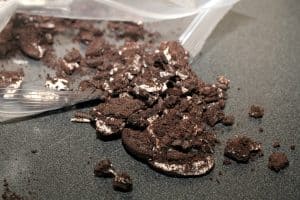 3. Pour crushed Oreos in you blender and stir by hand.
4. Pour mixture into popsicle molds and freeze for several hours, until frozen solid.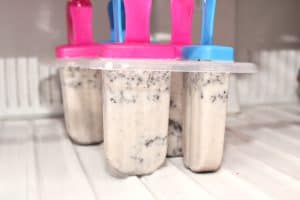 5. You may need to let them sit out for about 5 minutes to make them easier to pull from the molds.
6. Serve and enjoy! 
To make these awesome cookies and cream frozen treats, you'll need popsicle molds
and a box of the classic Oreo cookies.
If you're looking for more fun popsicle treat recipes, here's a quick way to make popsicles.
You also might want to check out this healthy berry smothie popsicle recipe!

Title:
Easy Cookies and Cream Frozen Treats
Mentions:
cookies and cream, cookies and cream frozen treats, cookies and cream popsicles, cookies and cream treats, frozen treats, oreo frozen treats, oreo popsicles, oreo treats, popsicles
Keywords:
Cookies and Cream Frozen Treats
Last Updated:
August 7, 2018