This post may contain affiliate links that, at no additional cost to you, I may earn a small commission. Read our Disclosure Policy.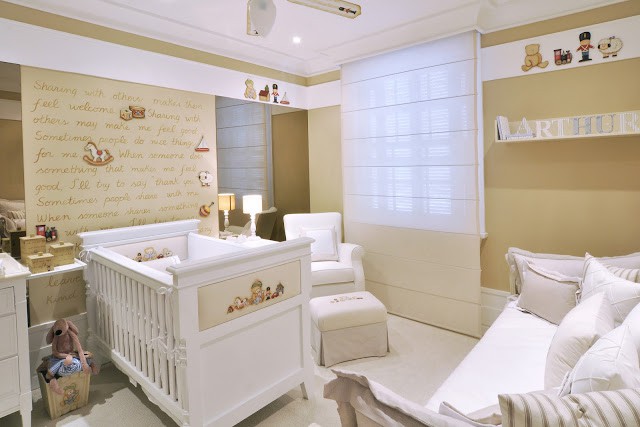 This darling Classic Old Toys Nursery design came to us from Lucia Tacla in Brazil. The amount of hand-painted detail in this room is simply amazing! From the text on the walls to the hand-painted pillows, Lucia did it all. The neutral colored walls serve as a backdrop to the tastefully done "classic old toys" theme that is carried throughout the room.
The story walls were hand-painted using a diluted paint technique to give it the light appearance. According to Lucia, "It was a challenge because each wall had a different measurement, and everything had to follow a metric and a self harmony". Through trial and error, she created a story that works with the space and incorporates the classic toy figures in a pleasing pattern.


The knobs on the chest of drawers are hand painted little soldiers.
This looks like a haven of calm and tranquility!
The classic old toys theme even made it onto the custom designed fan blades.A few of my favorite old classic toys…
Title:
Classic Old Toys Nursery
Mentions:
Baby Nurseries, baby nursery, gender-neutral rooms, nursery ideas
Keywords:
Classic Old Toys Nursery
Last Updated:
August 8, 2020