This post may contain affiliate links that, at no additional cost to you, I may earn a small commission. Read our Disclosure Policy.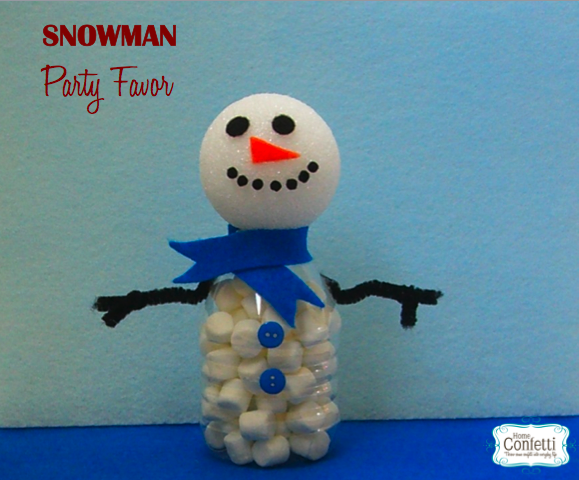 Hello Design Dazzle Readers! My name is RoseMarie and you can normally find me over at Home Confetti where I try to inspire readers to "throw a little confetti into everyday life" with fab finds from around Blogsphere, as well as moments of my own craftiness. I am so jazzed to be part of Design Dazzle's Christmas Wonderful and make Snowman Water Bottles! There have already been so many great ideas!
I'm always hunting for cute DIY gift ideas I can give the kids over the holidays. Whether it's for my daughters' classmates, or as a party favor or just something as a "happy ending" to a special holiday dinner. This is a cute snowman treat idea that's so easy to make and I bet you even have the supplies laying around.
Here's what you need:
– An empty water bottle (I used an 8 oz. bottle)
– 2 1/2 inch foam ball
– scraps of felt for the eyes, nose and scarf
– small black pom poms, 3 mm size (for the smile)
– Styroglue (Tacky Glue would probably work too) and glue dots
– Buttons (optional-you can use felt here too)
– Black pipe cleaner for arms
– White colored candy. I used marshmallows, but white gumballs or cotton candy would be fun, too
– Exacto knife
1. Start by cutting the ring off the bottle's neck (as shown) 2. Firmly press the foam ball into the top of the bottle to get an imprint of the opening  3. Using the exacto knife, "excavate" a hole so it will fit snuggly over the bottle's mouth.
4. Before you put your snowman's head in place, fill up the bottle with your white candy of choice. Then put the head on. 5. Once you have the head on, it's smooth sailing… Cut out and glue on the eyes, nose and mouth. I used glue dots to adhere the scarf, buttons and pipe cleaner arms.
Isn't he so cute?! My two girls were fighting over him when I was trying to take the photo, so I had to make another one.
I hope you get a chance to make him. And don't forget to come visit me at Home Confetti!  Happy Holidays!
Thank you so much for sharing, RoseMarie! This is such a cute idea!
Christmas Wonderful runs until mid-December. Check back for more great ideas like this one. 🙂
Title:
Christmas Wonderful: Snowman Water Bottle Party Favor
Mentions:
christmas wonderful, snowman craft, snowman party favor
Keywords:
Snowman Water Bottle
Last Updated:
November 10, 2020