This post may contain affiliate links that, at no additional cost to you, I may earn a small commission. Read our Disclosure Policy.
Whether it's Christmas, Halloween or some other holiday I love making my nieces fast handmade skirts. But what do I do for my own baby boy? Enter the Handkerchief Scarf.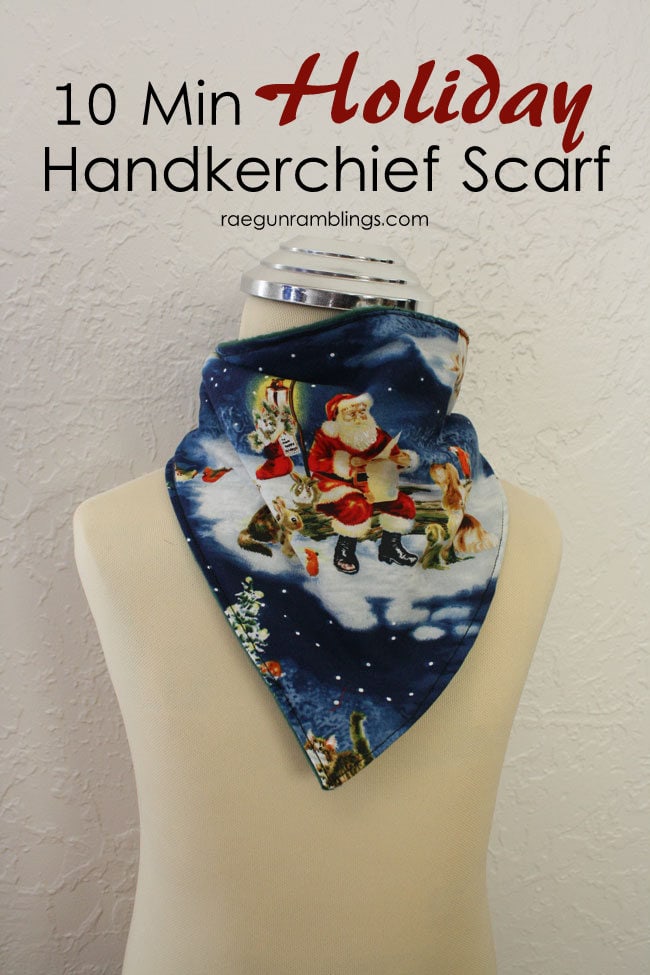 Marissa here from Rae Gun Ramblings. Let's be honest boy wear is usually quite a bit more time intensive than a quick elastic waist skirt for the girls. But I wanted something comparable that I could use the fun seasonal fabrics and this was just perfect. I have come to really love this scarf because it sews together super fast, keeps my wild one's neck cozy even when he ditches his hat, and is cute!
To make your own Christmas handkerchief scarf all you need is a fat quarter (1/3 yard) of fabric and fleece if you're buying it new or just some scraps if you have some laying around. This fits great on my almost 2 year old. And I can button it around my neck but if I was making my own I would either make the 20 inch edge longer or just cut a curve in the 20 inch edge for comfort. But this size would probably fit most toddlers and elementary kids fine.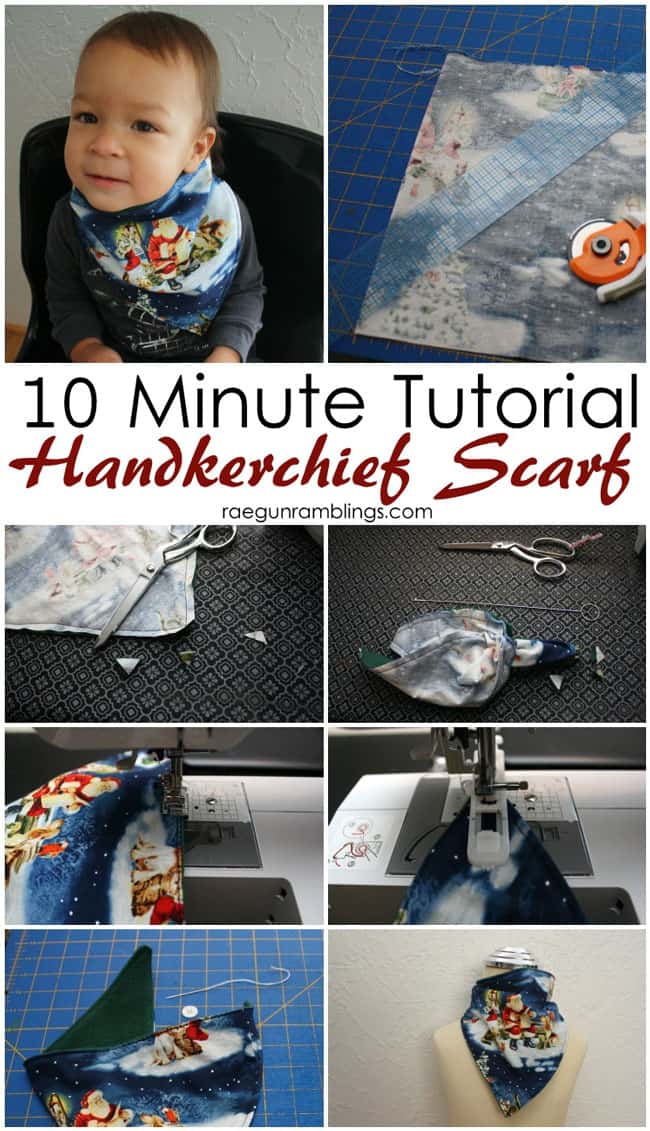 What you Need
Christmas fabric 10X20 inches (make sure the design is facing the right way when your piece has the 10 inches vertically and the 20 inches horizontally)
Fleece or some other warm fabric 10×20 inches
Button
What to Do
Fold your fabric in half so you have two 10×10 squares. Cut the edge diagonally so that you have two triangles that are 10 inches tall (the point will be in the center) and 20 inches wide on the top edge. If you're using a larger print or one with a direction make sure to have your fabric with the point pointed down. And feel free to shift how you cut your fabric initially to get the best placement of your design. You want most of the action to be in the bottom half of the triangle (I wish mine was just a tiny bit lower).
With right sides together sew your Christmas fabric to your fleece leaving about an inch space to turn your scarf right side out. I like to leave my space in the middle of one of the straight edges.
Turn right side out. I find a loop turner is super helpful for this task but you can do this many different ways. If you aren't familiar with a loop turner it's like a magic wand for sew-ers you can see it in action here.
Iron.
Top stitch around all edges making sure the gap is folded under and sewn closed.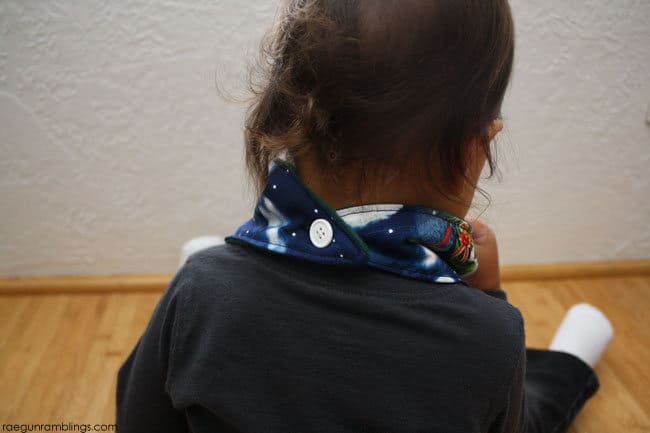 Super easy right!?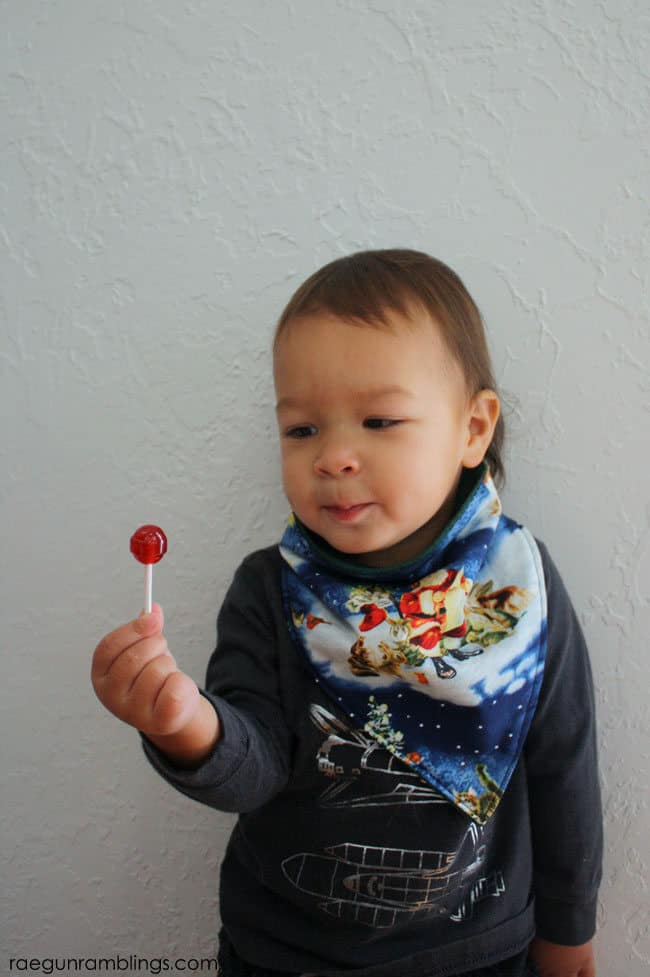 Now my little guy will have a fun scarf to match his cousins' holiday skirts!

Hunger Games Ornament | Reindeer Bait Snacks | 10 Min Infinity Scarf
I hope you liked my easy scarf tutorial. I have loads of other Christmas crafts and recipes but here are a few of my favorites. I hope you'll all swing by and check them out. Thanks so much for having me Toni!
Marissa's a huge Potter fan, lover of fried food, Instagram addict, and mama to Teddy. She spends her days sewing baby clothes for her shop Rae Gun and blogs over at Rae Gun Ramblings where she loves to share her favorite recipes, creative tutorials, and book recommendations. Stop by her blog to see more and say hi!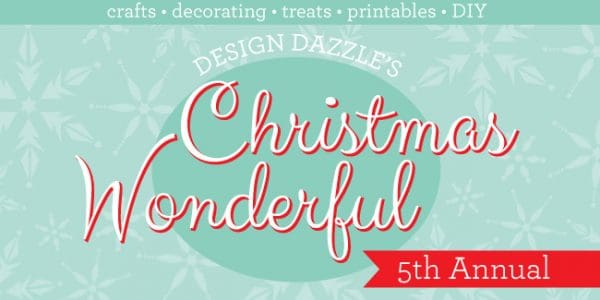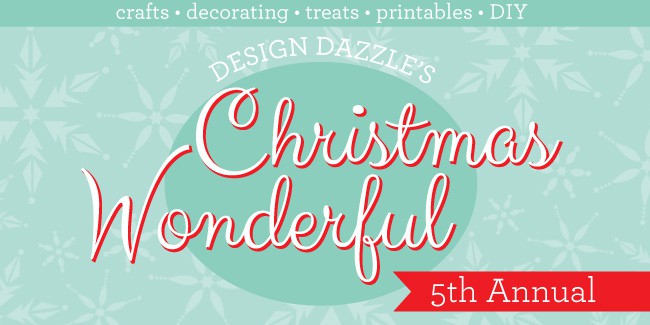 Thank you for the cute and practical idea, Marissa!
Save
Title:
Christmas Handkerchief Scarf
Mentions:
christmas, christmas wonderful, holiday bib
Keywords:
christmas handkerchief scarf
Last Updated:
February 16, 2018