This post may contain affiliate links that, at no additional cost to you, I may earn a small commission. Read our Disclosure Policy.
In October my family and I took a fabulously fun trip down to Anaheim to go to Disneyland and California Adventures. It was such a wonderful time full of fantastic memories! I'm sharing some tips of our trip to Disneyland and California Adventures. We were able to be at Disneyland during the time they have all the fun Halloween decorations up and events going on. No matter how old you are, Disneyland is always fun, which makes it the perfect place for a family trip full of lots of different ages!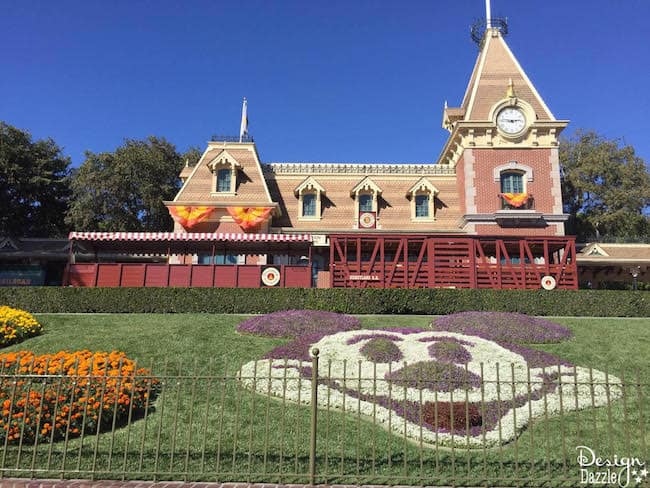 Instead of having to rent out several rooms in a hotel and making it a little more difficult to hang out with each other, we decided to rent a house for everyone to stay in! My husband and I love renting vacation homes, especially now that it's pretty much the only way our whole family gets to stay all together!
Renting a home sounds expensive and it is, but it's usually cheaper than having to rent multiple hotel rooms. There were 10 of us that needed a place to stay (that would have been 4-5 hotel rooms). And since we had our own kitchen, we were able to get groceries and cook some of our own food – which can save a lot of money! We purchased fruit, cereal, ice cream, snacks and some items to have a simple meal such as spaghetti and items for a barbecue. Much cheaper on the wallet than having to go out to eat for every meal. We also were 5 minutes down the street from Disneyland. There are tons of places to rent a home close-by. If location is one of your requirements when renting a home, make sure you check out the maps to see exactly where you are renting before you pay. We were so close we could see the fireworks from Disneyland every night. There are a lot of options for vacation home rentals, like Airbnb and VRBO. We rented this home from https://www.lunamarvacationhomes.com/ but found it through VRBO. Make sure to book your home reservations early. The good ones get booked early on especially during the busy season.
If you want the option of entering Disneyland before it opens, staying at the Disneyland Hotel allows for one hour entry prior to the general public on certain days. Our family stayed there a few years back. We only needed one room that time. It's about a 10-15 minute walk from the Disneyland Hotel to the turnstiles at the Disneyland entrance. So not  bad at all. This time with our home rental it was just as close for us to drive home as it would have been to walk to the Disneyland Hotel. You can also get on the monorail outside the DH (about 3-4 minute walk). The monorail will get you into the Tomorrowland Park inside Disney – so you do need your tickets to Disneyland before getting on the monorail. Disney's Grand Californian Hotel and Spa is another hotel located in the Disneyland resort. This one is closer to the park entrance than the Disneyland Hotel, but it is quite pricey. There are many options to consider between all the hotels and rental homes located near Disneyland.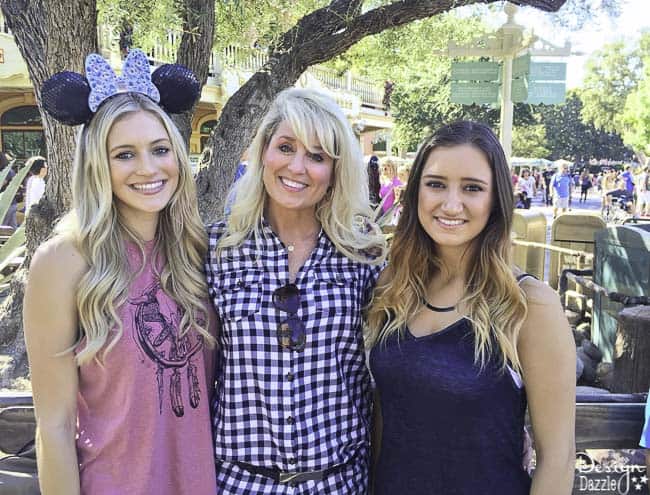 We were able to be exploring Disneyland during their Halloween celebrations, which were so much fun! I loved all the festive decorations and little things they do to change up the park.
Disney does this great activity for the kids and adults – Mickey's Halloween Party– but we decided not to attend because it wasn't a big "must" for us. If you do decide to go or be in Disneyland during this time, just be aware that you will have to leave the park when it's time for the party if you haven't purchased a special ticket! Also, you need to purchase a ticket months in advance they well out quickly.
Of course we had to get a big family picture! We decided to do Disneyland on day one and then California Adventure Park on day two and it worked out perfectly!
We figured out early on what were the most import rides and attractions we all wanted to go on. Then we did the FastPass! A FastPass is a ticket for a ride, show or experience that allows park guests to go into the express line and skip the long wait. FastPass tickets are available at the most popular attractions and do not cost any money. The FastPass ticket can be obtained at distribution machines located at the entrance to the attraction. You insert your ticket into the machine and you will receive a FastPass ticket. There are only so many FastPass tickets for each hour of operation at Disneyland. FastPass tickets can run out on busy days at the most popular attractions. We were a large group so our son went by himself to the FastPass distribution lines and did most of the FastPass running. We just gave him all of our tickets so he could do that. The FastPass system at Disneyland Park and Disney California Adventure park are separate. If you are planning to go to both parks in the same day, make sure to get your FassPass at each park.
Traveling around a theme park with a big group requires a lot of coordination, so here are some of my best tips to make your big group trip as happy and successful as possible!
Before heading out for the day, find out what everyone's "must-dos" are.
After finding out, get the Fast Passes for those rides ASAP! This way you can make sure you can check the biggest thing off of everyone's lists!
This seems like a no brainer but everybody needs comfy shoes – nothing ruins a day of adventuring more than have to do it with feet covered in blisters or very sore! The right shoes will keep you going all day.
Remind your group about sunglasses, sunscreen, and hats! Along with sore feet, getting a sunburn or squinting all day is no fun at all! Disneyland has beautiful weather almost year round. Of course, there are days when it can be rainy but more often than not Southern California is still like summer even though we were there in October.
Before you go, make sure you check the weather so you'll be prepared with the right choice of clothes and gear!
Be at the park as soon as it opens and make sure everyone has had a good, filling breakfast that will keep them going most of the day (or at least until lunch!)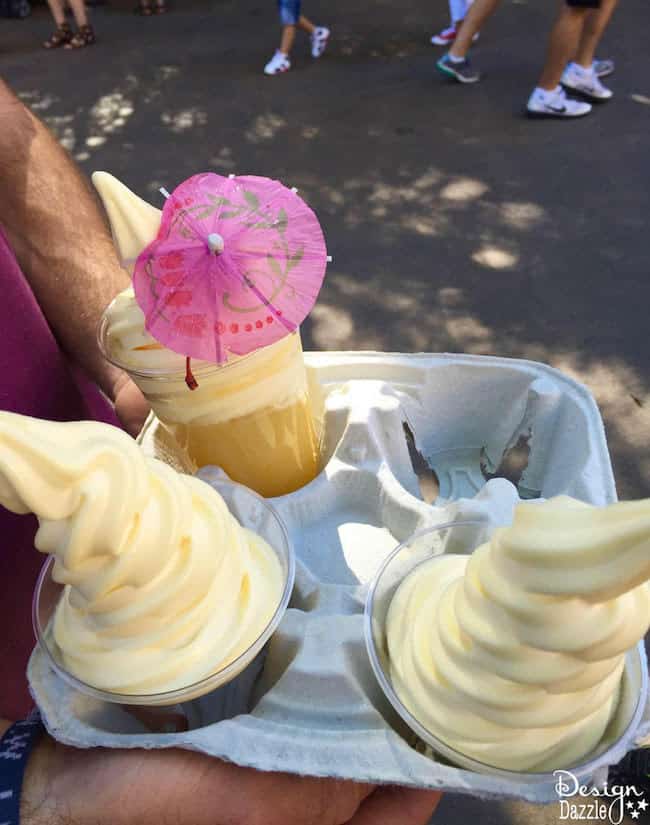 Have you ever had the Dole Whip at Disneyland? It is a yummy, pineapple soft-serve frozen treat. I could eat it for breakfast, lunch, dinner and anytime in-between. The pineapple and orange Dole Whip flavors are dairy free.
The Bibbidi Bobbidi Boutique is such an adorable place to take your little girls! It's a definite must full of cute and fun items. Make sure to check it out on your next Disneyland trip!
They have special mailboxes throughout Disneyland and California Adventures. Beware they don't have a special Disneyland postmark. They use to many years ago. Now they gather the letters/postcards at the end of the day and take them to the Anaheim post office. Also, Disneyland does NOT sell postal stamps, so if you are interested in mailing a postcard from Disneyland bring your own stamps. I know kids would get a kick out of placing a letter in the mailbox. It could be a fun adventure just trying to locate the different mailboxes throughout the parks.
Visiting Disneyland during different times of the year is so fun because you get to see the different holiday decor the park is decorated with! I loved the fall pumpkins and colors!
California Adventures was our next stop. I really wanted to see Frozen at the Hyperion located in Hollywood Land. Many years before we saw the Aladdin musical and it was spectacular! The theater holds almost 2,000 people. You do need to get in line early before a show. Depending on crowds it could be an hour or more before. Also, make sure you use the restroom beforehand – there are no restrooms inside the theater. I couldn't wait to see Frozen – a musical adaption based on the hit animated movie Frozen. But unfortunately it didn't happen. We waited til the last show of the day to see and they last show was cancelled. Unfortunately a park employee gave us wrong information and we went with it. So if this is on your list to do, make sure you see an EARLY show. Oh well, I guess we will just need to go back just to see this show. : )
My favorite ride is the new Soarin' Around the World. Imagine a wind-through-your-hair flight above the Eiffel Tower,  The Great Wall of China, and gliding around the Matterhorn in Switzerland. It is unbelievable. This new attraction takes the place of  "Soarin' Over California," which has played since the park opened in 2001. I always loved that film too. But this one where you get to experience beautiful scenery around the world is truly amazing!! It is definitely a ride I could go on again and again. Make sure to a a FastPass for this one.
The details of Cars Land is incredible! They have such fun activities and it's amazing to be able to walk around in what feels exactly like the world of Cars!
When we were all done with the parks, we visit the outdoor Downtown Disney which is outside the gates of the parks. Lots of fun stores, entertainment and restaurants – it's always buzzing with people. It's a fun place to hangout – no ticket is required. It is basically an outdoor promenade. Our late night snack at Ralph Brennan's Jazz Kitchen Express is a MUST visit. We call it the Jazz Kitchen and it is located in Downtown Disney. If you love beignets (pronounced ben-yay's), these are delicious. What is a beignet? They are like a deep fried doughnut, made square (with no hole) and served with tons of powdered sugar. Cafe Du Monde is located in New Orleans and makes the original beignets (at least here in the US). I've been to the Cafe Du Monde and they are extremely delicious. This place uses the Cafe Du Monde mix to make the beignets. You can purchase the mix at the Jazz Kitchen. You will see the line outside the door – the lines can be long but they usually go fast. If you see a line (usually at their side entrance) this would be the line to get in to purchase beignets. My entire family LOVES beignets – give them a try!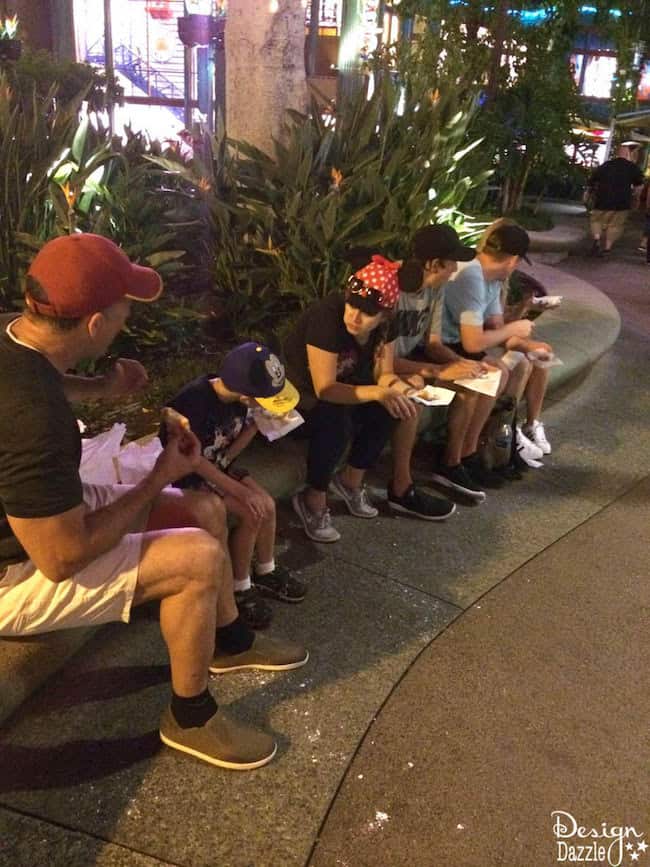 We loved the house we were able to find and rent for our family! The kitchen was great to cook in. It was private, quiet, and close to Disneyland (5 minute drive).
Plus, there was a pool and rec room that was perfect for hanging out and spending time together. I made sure to rent a home with a pool. Our kids grew up with a pool and we wanted to enjoy each others company swimming and hanging out. Since we had little grandkids here visiting it was a must to rent a home with a fence around the pool. The home also had a jacuzzi which was nice for the kids to go in after a long day at Disneyland resort.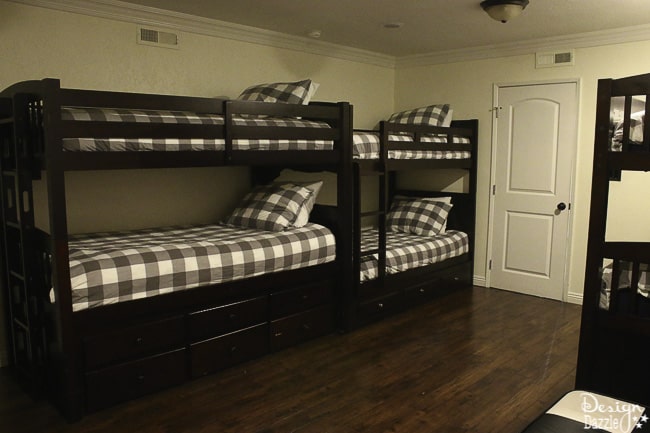 Every couple was able to have their own room, and all the single kids stayed together in this bunk room.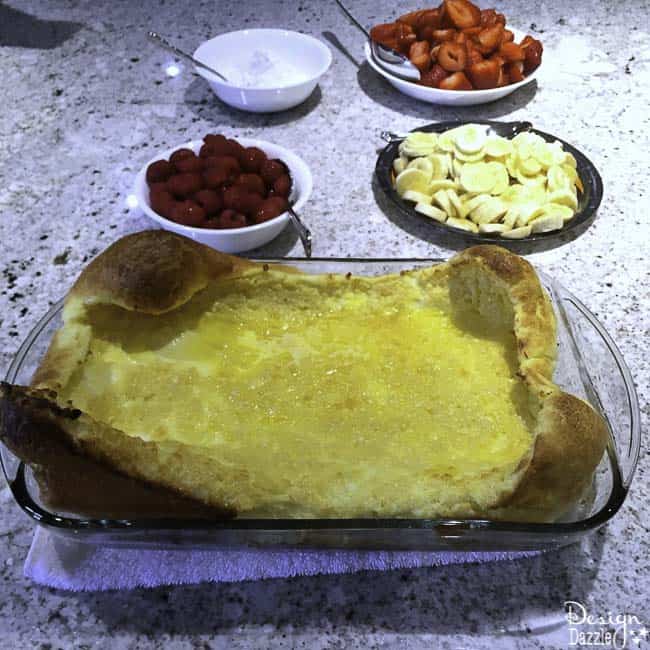 One nice thing about having a house was that we could cook all our own meals. I made my Big Daddy breakfast one morning and it was the perfect way to start the day! You can get the recipe for this family- friendly and easy meal right here!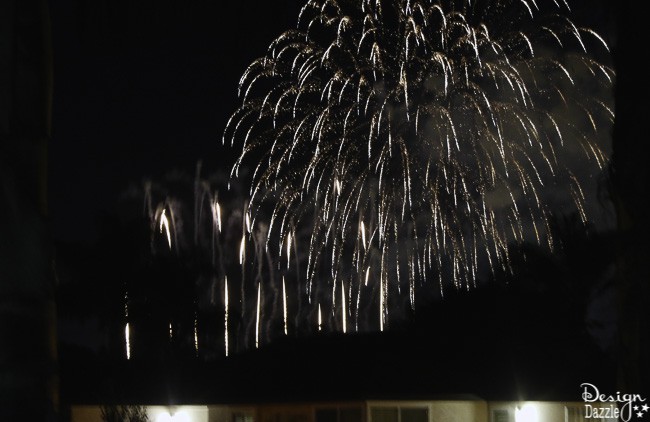 You can see how close the house was to Disneyland from this picture – so close that we could see the fireworks every night! We sat on the front lawn and watched the show. We were lucky to be able to find this place and watch the beautiful show every night.
Our trip was such a blast! Being able to do big group trips with family can seem like a stressful idea, but if you plan it right you can save some money, have fun together, and make wonderful memories!
Do you ave any tips on your trip to the Disneyland Park Resort? So many things to do and learn.


Save
Save
Save
Save
Save
Title:
Anaheim and Disneyland Family Trip
Mentions:
california vacation, disneyland, disneyland family trip, disneyland vacation, vacation
Last Updated:
February 16, 2018