This post may contain affiliate links that, at no additional cost to you, I may earn a small commission. Read our Disclosure Policy.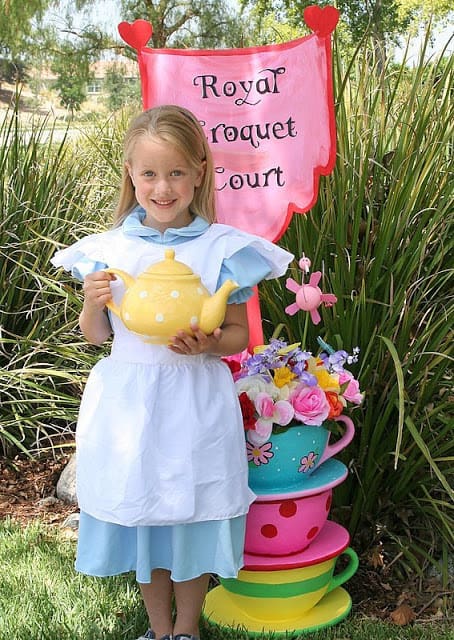 Southern California is a place I love – having lived there for many years. Three years ago we moved to Nor Cal (and we're really liking it). In March, my husband had a business trip to Pasadena and I went with him. You can't visit So Cal and not visit the favorite places you use to shop at. So I called my dear friend Donna – she drove to Pasadena and picked me up and we went to our favorite haunts in LA. These aren't just places I went to and loved, these are stores I shopped and "window shopped" at regularly. Downtown LA is bargain shoppers paradise, but it's also known for being rundown and grimy.
About seven years ago I started a party company – Party Wishes. Donna and I became friends when she was one of my party customers. When we found out we were moving, I sold her my party company – she was the perfect party gal!
So, here we were in one of our favorite stores on the lookout for "Alice in Wonderland" items for a party she was planning. We went up and down the store aisles – I happened to look up and at the very, very top of the shelves were these enormous stacked teacups. Bingo! They were perfect – it made her day and mine as well. I couldn't wait to see what she was going to do with the teacups (originally they were white). As you can see – she is quite the talent.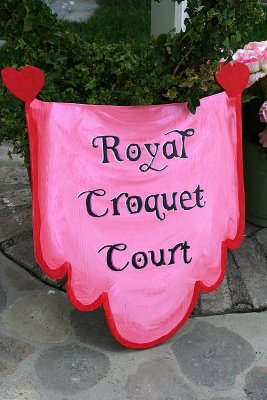 Donna made this adorable wood tea party sign (purchase thin plywood at any local hardware store – draw your shape and cut out with a jigsaw). Her instructions for getting the lettering just right: "You don't have to be a trained artist to get a custom painted look. I'm making signs for my Mad Hatter Tea party and I thought I would pass along my technique for custom signs.
First, I pick a font on my computer and print it out. Sometimes I have to enlarge it on my copier machine to get the right size I need.
I turn the copy over and hold it on a window (must be done during the day) to see the lettering and I use a #2 pencil and trace the letters and fill them in with a lot of graphite. I do realize that I can use graphite paper or a light box, but this is cheaper.Then, I flip the paper over to the right side and tape it on my already painted sign.
Next, I trace over the lettering again so the pressure from the pencil transfers the markings on the back of the paper onto my wood. Instead of using a paint brush, I use a paint pen. It is a lot easier to control and it's like outlining and coloring when you were a child."

Thanks for being my friend Donna and continuing the stellar tradition of Party Wishes! If you live in So Cal and need to hire a party planner or would like to see some fabulous ideas, check out her Party Wishes blog!
Title:
Alice in Wonderland Tea Party Sign
Mentions:
alice in wonderland party idea, alice in wonderland sign, creative ideas, DIY projects, Kids Parties, kids party ideas, mad hatters tea party
Last Updated:
November 15, 2018