This post may contain affiliate links that, at no additional cost to you, I may earn a small commission. Read our Disclosure Policy.
Hello there everyone I am Laura from Eye Candy Creative Studio and I am here to day to share a fun craft with you for the Summer Camp series 2016. I will be sharing how to make this fun and easy nautical looking: Anchor Rag Wreath.
I love making crafts and am doing so quite often around my house, so I am not surprised that my daughter thoroughly enjoys crafting as well. Of course it makes this momma super happy when she asks to craft with me and even more excited when she comes up with a great idea for a fun craft to share. She turned thirteen in April and we recently re-did her bedroom and we are getting ready to re-do her bathroom so she suggested that perhaps we should make a wreath to match the nautical art we bought the other day for her bathroom, while shopping at Michaels. So we picked up a few supplies for this wreath and made it the next day. We love the way it turned out.
Having a teen that loves to craft at this age is so much fun as I can teach her how to do the things I am making now as we have progressed past the basics. So I would suggest this craft for older kids but there is no reason the younger ones couldn't do it or at least help you, but it does take a little bit of time but it IS easy to complete. 😉
So let's find out just how easy this wreath is to make . . .
Gather all of your supplies! You will want a flat wreath form, your fabric color of choice, jute twine, scissors, a wooden anchor or other wood item to paint, paint and paintbrushes.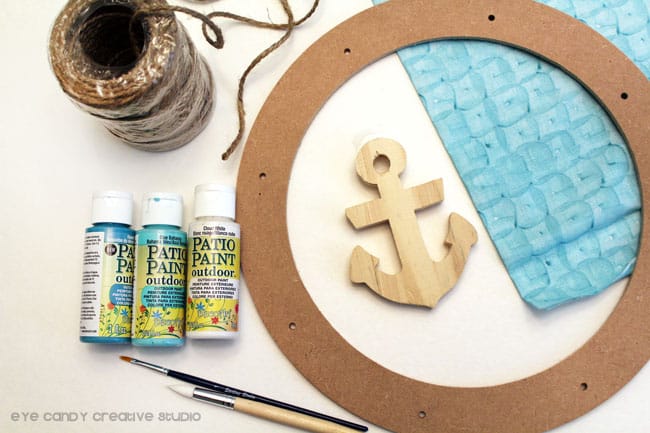 2. First she painted the wooden anchor – white paint on the front and the sides a darker teal blue. She then did some shading on top too (for dimension).
3. Take your fabric and cut them into 1 inch wide strips by 7 inches long. To do this, I used two fabric quarters to complete the wreath, folded each in half and then made small cuts about every inch and then pulled the fabric to "rip" it to get the rag look. Hope that makes sense but if not feel free to email me. 😉 You can choose to pull off all of the loose threads from tearing the fabric or leave them – the 'look' is totally up to you!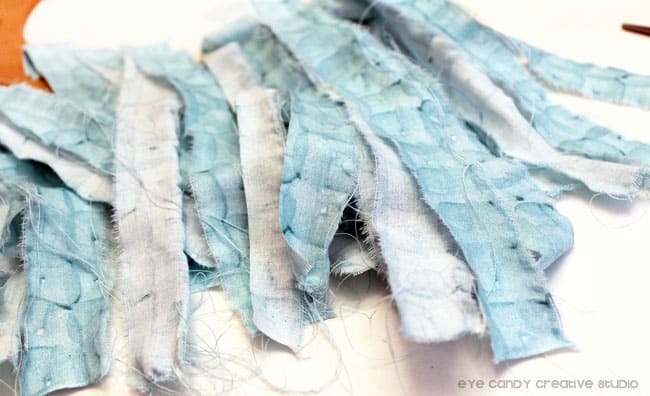 4. To create this look, simply tie each piece of fabric you tore around the wreath form, into a knot, until you have it about three quarters of the way filled. (like photo below). This will take a little bit of time to complete but it's not hard. We tied these in the front but play around with different looks . . . perhaps the knot on the side.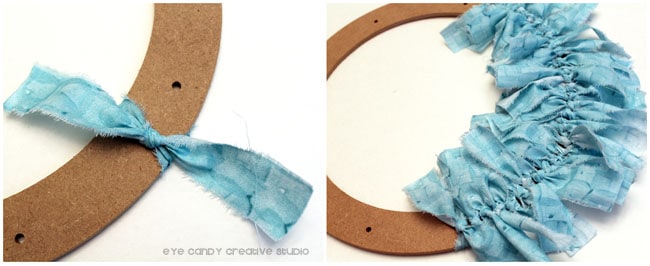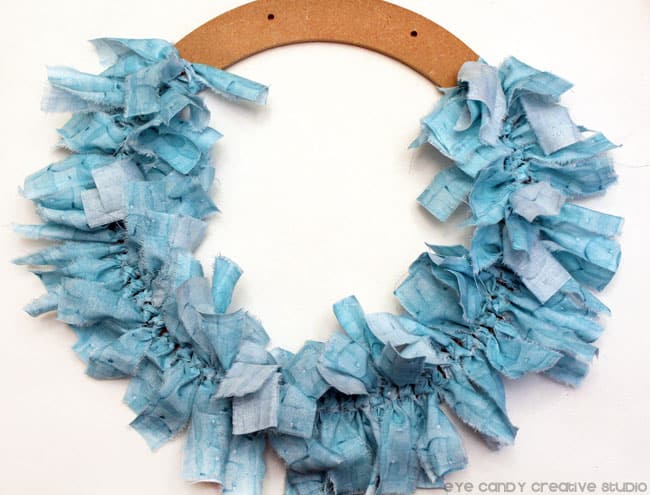 5. Next take a piece of jute, tie in a knot and simply wrap around the remainder of the wreath and then tie off.
6. Cut off a piece of jute (ours was probably 80 inches long) and tie together so you have one big circle. Fold over into fours and then place under the wreath form and loop through to create this look below that will allow you to hang it on a wall or perhaps a front door, even. 😉
7. The last step is to tie your painted anchor on. We placed ours off to the top left.
That is it! What a cute wreath right? She was so excited to have something new to match that anchor art we bought for her new bathroom decor and I promise to have a full reveal on my blog when we finish it. But for now I can always hang this on our front door to enjoy this summer!
What do you guys think? Pretty cute huh? Please let us know if you think you will give this a try or what you would put on yours as we would love to hear from you in the comments below . . .
Thanks so much to Design Dazzle for letting me share this fun wreath with you all today and I hope to see you all over on my page sometime too! Have a great summer y'all! xo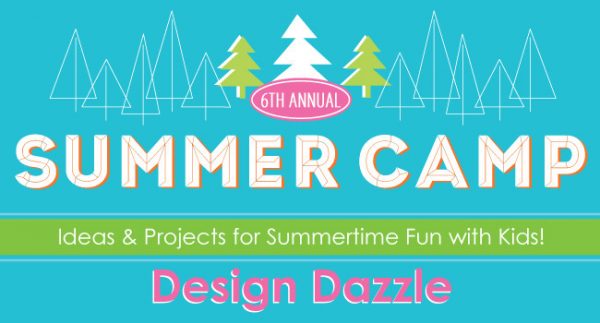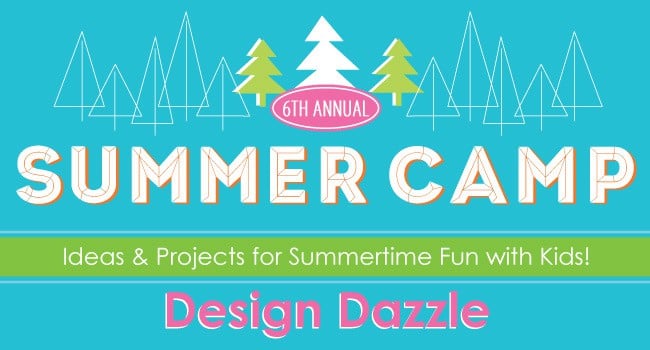 Gorgeous wreath, Laura! Thank you for sharing!
Stay tuned for more summertime fun ideas! Our Kids' Summer Camp Season will last until mid-July. Want to see more? Check out the full collection (including the archives!) of Summer Camp ideas.
Title:
Summer Camp : DIY Nautical Anchor Rag Wreath
Mentions:
anchor, door decor, fabric scraps, nautical, rags, summer camp, wreath
Keywords:
anchor rag wreath
Last Updated:
February 16, 2018