This post may contain affiliate links that, at no additional cost to you, I may earn a small commission. Read our Disclosure Policy.
Sliders are a perfect game day food, as they are easy to make, easy to eat and satisfying. They're perfect for the Super Bowl or any other game day event. You can make sliders with a variety of different meats and cheeses, and add toppings such as lettuce, tomato, and onion to customize them to your taste.
They're also a great option for feeding a crowd, as you can make a large batch and have them ready to go for when your guests arrive. Sliders make a yummy meal option for dinner. So, whether you're a die-hard football fan or just enjoy a good game day party, sliders are a delicious addition to your menu.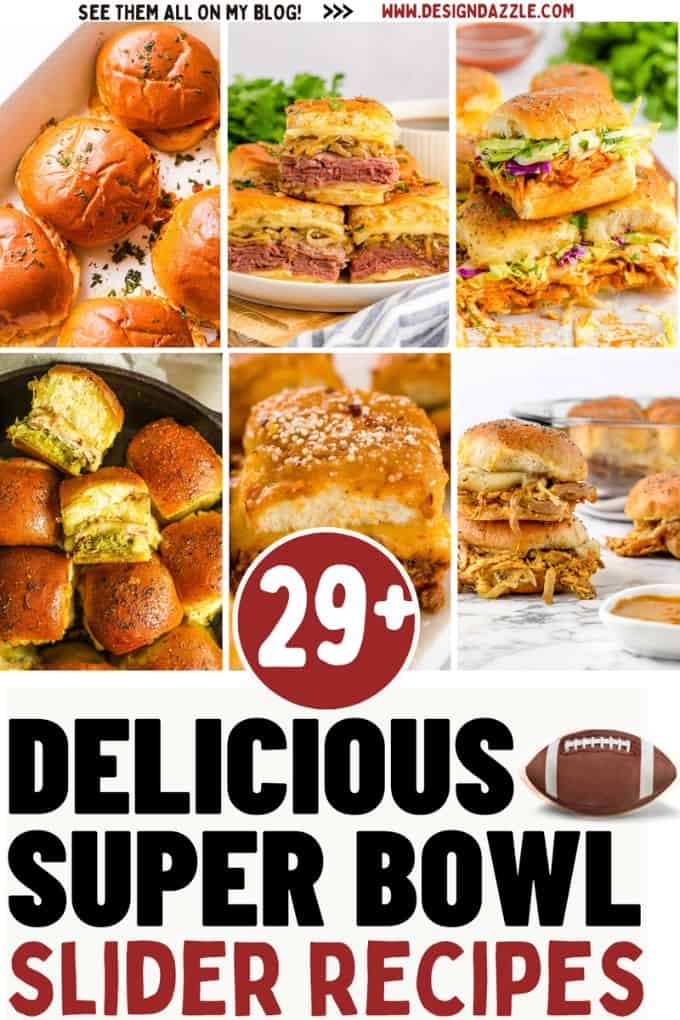 Below you will find a roundup of 29 delicious slider recipes that are sure to tackle your tastebuds on game day!
Offer your game day guests a healthier slider option, by serving these hearty, spicy, & veggie-packed Vietnamese Grilled Eggplant Banh Mi Sliders! Not only are they healthy, they're also gluten-free, & vegan!
These smoked tenderloin sliders are smoked with a sweet peach wood and topped with a peach mango salsa. Easy to make and enjoyable for all, perfect for the Big Game party.
These juicy Grilled chicken sliders topped with buffalo sauce and pepper jack cheese combined with some sweet Hawaiian rolls will be a HIT at your next game day party!
These sloppy joe sliders are not only easy to make but they are a crowd favorite! The glaze baked on top makes these even more delicious!
Sliders are always a hit with all ages and these easy Italian sausage sliders are sure to be a hit the next time you have a get-together.
Whether you use wild boar or a pork shoulder you'll love this easy to make recipe for your slow cooker.
When it's time for a game day treat or just to enjoy a weekend with friends, my Blackened Salmon Sliders with an Asian Slaw is a delicious and easy to prepare snack!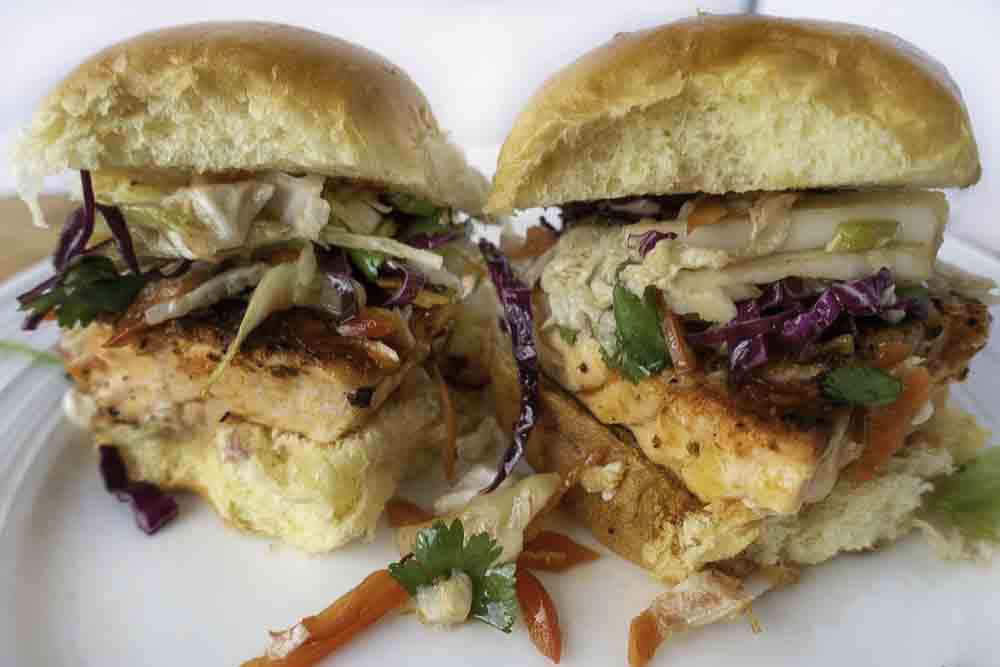 These delicious Crock Pot Mississippi Chicken Sliders, made with very simple ingredients and 5-minute prep time, are a multi-purpose recipe that works for both an appetizer and an entree.
Southwest Pulled Pork Sliders from the Slow Cooker will be a game day favorite. They're made with slow cooked pulled pork seasoned with southwest flavors.
These buttery Hawaiian rolls filled with ham, cheese, onions and a delicious mustard sauce, are perfect for game day. A great appetizer to feed a crowd!
These philly cheesesteak sliders with ground beef are perfect for a big game day. They are absolutely delicious and loaded with flavor!
Hawaiian Roll Turkey Pesto Sliders is an easy, shareable one-pan recipe that is filled with fresh turkey, pesto, Swiss cheese, and honey on sweet Hawaiian rolls. All you need is a cast iron skillet or baking sheet and a few ingredients to make these easy turkey sliders.
Sub Sliders: from A Seasoned Greeting
If you love a good sub then make these Sub Sliders! Layer up your favorite deli meats and cheese, bake, then top with a lettuce mayo mix.
These easy Pulled Pork Sliders are warm mini sandwiches filled with shredded pulled pork, sauteed onion, melty Swiss cheese, and a tangy Golden BBQ Sauce. The buns are brushed with a flavorful garlic poppy seed butter and baked to golden brown perfection.
These little babies are filled with ranch, shredded chicken breast, bacon, and pepper jack cheese. They are delicious, quick to throw together, and especially perfect as an appetizer for parties. These Chicken Bacon Ranch sliders will have everyone begging for more!
BBQ Chicken Sliders are the tastiest little sandwiches, filled with shredded barbecue chicken and cool, fresh cabbage slaw. They're baked with a deliciously seasoned buttery topping until golden brown and crispy, and everyone loves them!
Fluffy sweet Hawaiian Rolls filled with roast beef, cheese, and savory caramelized onions make the most delicious French Dip Sliders! You're going to love this easy recipe.
This Buffalo Chicken Sliders recipe is one of the easiest you will ever make! Flavorful mini sandwiches come together fast and are perfect for game day, parties, snacking, or a quick lunch or dinner.
Fans of chicken parmesan are going to devour these delicious chicken parmesan sliders. Get ready for your family to swoon over this tasty meal. It's a winner!
Need a quick and easy dinner, then try these tasty Jerk Pork Sliders. Since Pork Tenderloin is a fairly economical cut of meat, you can easily whip up this delicious meal without blowing your budget.
These meatball sliders are the perfect EASY appetizer to make for your next party! Made with Hawaiian rolls, meatballs, marinara, mozzarella and topped with a delicious butter and Parmesan seasoning.
Cheeseburger sliders are made with homemade juicy patties sandwiched between buttery rolls baked until cheesy, golden, and crispy! Everyone can pull one of these shareable mini burgers off the tray and top it how they like it!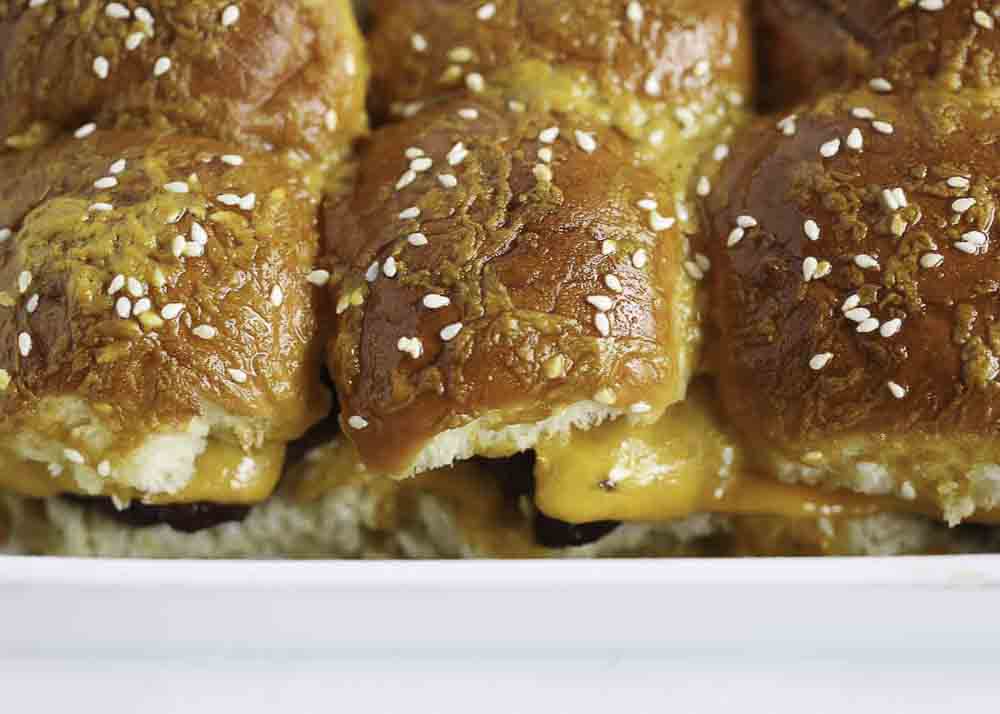 Get Game Day started with these Cheesy Meatball Sliders! They're stuffed with Babybel cheese and drizzled with BBQ sauce!
You'll love these easy Italian Sliders that are packed with tons of flavor! They're made on a sheet pan so prep and clean up is a breeze!
These Hot Italian Sub Sliders are packed with flavor and so easy to throw together! They are perfect for a tailgate or gathering and can easily be doubled or tripled to feed a crowd.
Poppyseed Ham and Cheese Sliders are filled with tender ham, creamy cheese and flavorful sauce. Make a try or freeze them individually to always have just the right amount!
For a unique twist on Game Day, serve these tasty Lamb Sliders with Tzatziki Sauce. The fresh cucumber dill sauce is a perfect compliment to the savory meat!
Easy to make, extra crispy, and SO delicious! These homemade Olive Oil Potato Chips are the perfect snack/appetizer any day of the week, especially when served with our Sour Cream and Onion Dip. Tangy, creamy, onion-y, and SO. GOOD.
These BBQ Chicken Sliders are made in the slow cooker, so they're perfect for a busy weeknight. Tender chicken is cooked in a sweet and savory BBQ sauce, then added to slider rolls, topped with cheese, and baked until golden brown. These sliders make the perfect snack, appetizer, or main course!

As the game day approaches, consider adding sliders to your menu and you and your guests will surely enjoy a delicious and satisfying meal while cheering on your favorite team. So, make sure to have all the ingredients ready, fire up your grill and enjoy the big game with some mouth-watering sliders.
For more game day fun, try these fun Super Bowl Party Activities for Kids, delicious Football Cupcakes, or these Non-Alcoholic Super Bowl Cocktails and Punch Recipes.

Title:
29 Delicious Super Bowl Slider Recipes
Last Updated:
January 24, 2023