This post may contain affiliate links that, at no additional cost to you, I may earn a small commission. Read our Disclosure Policy.
The front porch is more than just an entrance—it's a space that sets the tone for your home and offers a warm welcome to guests. Whether you have a small balcony or a spacious veranda, styling your front porch for summer can elevate your home's curb appeal and create a delightful outdoor retreat.
In this blog post, we'll explore tips and inspiration to help you infuse your front porch with the spirit of summer, from choosing vibrant colors to selecting cozy seating and incorporating charming decor. Get ready to make your front porch the ultimate summer sanctuary, where you can relax, unwind, and savor the joys of the season right at your doorstep.
Styling a Summer Front Porch:
With just a few tips to keep in mind, you can style your front porch, no matter its size, to make it an inviting outdoor space for your friends and family. I'm also sharing several decor/furniture items for affordable front porch summer essentials and tips for styling a summer front porch.
Decorate your front porch in an inviting way this summer with these ideas. From seating to lights and from tables to planters, you'll find a sample of inspiration to help you create your own front porch look that you can enjoy all summer long.
Porch Seating:
Depending on the size of your front porch, you may be able to provide a full seating area complete with chairs, a side table, and a loveseat. If so, this is a great area to decorate with a color theme, including seating cushions, pillows, and throws. From wicker to wood, your choices in this department are endless. And for a southern flair, a rocking chair on a front porch is always in style!
For a relaxed and inviting look, consider this wicker set of 2 chairs and side table. Available in a variety of shades, you're sure to find just the right one to compliment your porch. Made from a resin wicker, they're easily cleaned with a hose. Add cushions to further enhance your look.
Wicker Furniture Set
White Wicker is always a classic!

I love a good rocking chair for the porch. Here's an outdoor rocking chair set that comes in different colors.
Garden Stool
Always a classic look, this stool will up-level any front porch, no matter what the size. Tuck it in a corner with a lovely plant on it, or use it as a side table next to a chair if you have more room.
Solar Lanterns
You'll enjoy these solar lanterns that emit what looks like firefly's when lit. Place them on a table, floor or hang them to enjoy the pattern they cast on the surrounding surfaces solar lanterns that have fairy lights inside.
This summer classic planter is perfect to hold your flowers and plants. The lattice design provides a relaxed farmhouse touch. It's made of polypropylene so it's weather resistant.
Welcome Porch Mat
Even though a mat is difficult to see from the street, your guests will certainly see it right before they step into your home. There are so many welcome mats available these days, including ways to make your own or have one personalized, that this is an easy way to add warmth and style to your front porch. Choose one that blends in with the color scheme of your home and porch decor.
This doormat is a great mat that I have on my front porch. It measures 24″ x 72″ for a large profile that's sure to be noticed. Its natural coco coir fibers make it ideal for outdoor use. It's available in other sizes. I really like it. 
Floral And Plants
A welcoming touch is always apparent when there are flowers and plants involved. Whether you choose realistic man-made plant material or are an expert at caring for the real deal, adding color and greenery is a cozy touch that's instantly inviting. Go for splashes of color with reds and oranges or keep it soft and mellow with pastels like blue and lavender. 
Whether you have room for just one topiary or two, these faux boxwood plants will add a lovely look to your front porch next to steps or your door. They're also perfect for inside your home next to a fireplace or on either side of a door.
Topiary
Accessories
From flags to pillows and lighting to signage, add those little touches that will make your front porch decor unique. Welcome signs, holiday flags, pillows, and outdoor lighting can all easily be changed out with the seasons and add that welcoming touch that transforms a plain front porch into an inviting outdoor space.
We've created three FREE summer welcome signs for our readers!
If you would like any of our FREE summer printables, scroll to the bottom of this post to sign-up.
All you need to do is sign-up, download and print. Here are three 8.5″ x 11″ different signs: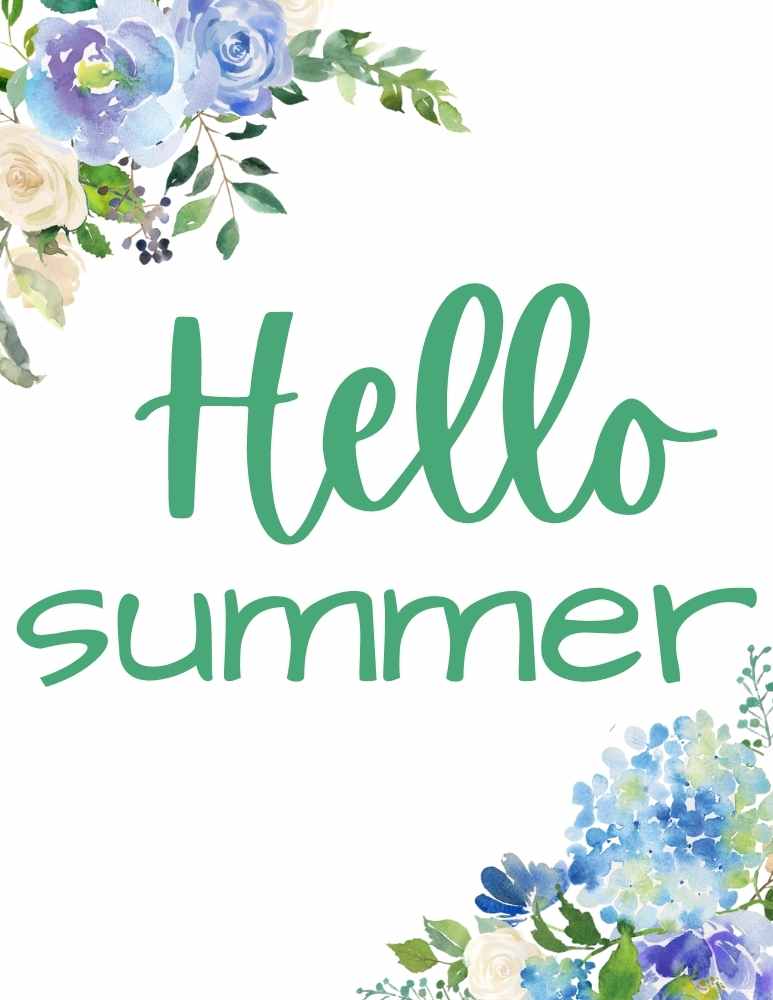 Front Porch Pillow
Add this "porch" pillow to a chair or bench as a welcoming element. Made of cotton, it's washable. It's a cute touch to add to your front porch decor.
Combine a welcome sign and a plant stand into one unit with this rustic vertical box. The top is open, allowing you to add your favorite flowers or branches. It's a unique way to add flair and decor to your front porch.
Front Door
Usually, the front door is the main focal point, so let's start there. A classic way to make your front door welcoming is to hang a wreath. If that's too traditional, consider hanging a wicker basket with flowers nearby instead. Maybe fresh color and a coat of paint are what's needed for an updated look for your front porch. 
Perfect for your front door, this eucalyptus wreath provides a neutral color that you can accentuate by varying the ribbon color to match your outside look. It's also perfect for attaching faux flowers for another pop of color for a custom look.
Wreath
Such a pretty artificial Eucalyptus wreath
Planters
Planters can make a big difference in porch styling. From window or railing boxes to hanging planters or on-the-ground planters, there are a variety of sizes and choices from which to choose to complement your front porch decor theme. Make use of the size, shape, and color of these planters to accentuate your porch.
This summer classic planter is perfect to hold your flowers and plants. The lattice design provides a relaxed farmhouse touch. It's made of polypropylene so it's weather resistant.
This set of planters will add a natural and charmingly rustic look to your porch. Fill them with your favorite plants or summer flowers for a splash of color that's welcoming and inviting. 
Wooden Planter Set
These Summer printables are FREE and available for immediate download by subscribing to Design Dazzle!
To receive this free printable – enter your email address in the box below and click submit. Make sure to check your inbox for an email from Design Dazzle. You will have access to all of our FREE printables and also will receive an email newsletter filled with lots of great information. Don't worry your email address will never be sold.
Printable files are for personal use only. They are not for commercial use.