This post may contain affiliate links that, at no additional cost to you, I may earn a small commission. Read our Disclosure Policy.
It is always enjoyable to give out homemade gifts during the Christmas season or at anytime of year. Who wouldn't love to receive darling, scented Christmas sugar scrub as a present?
Christmas Sugar Scrub
Holiday sugar scrubs smell yummy and make your skin feel silky smooth. I use scrubs on my body and feet in the shower and it feels divine. Also, after washing my hands, I'll use a bit on my hands and rinse. I don't need lotion after doing that.
Sugar Scrub Gift Giving Recipes & Free Printables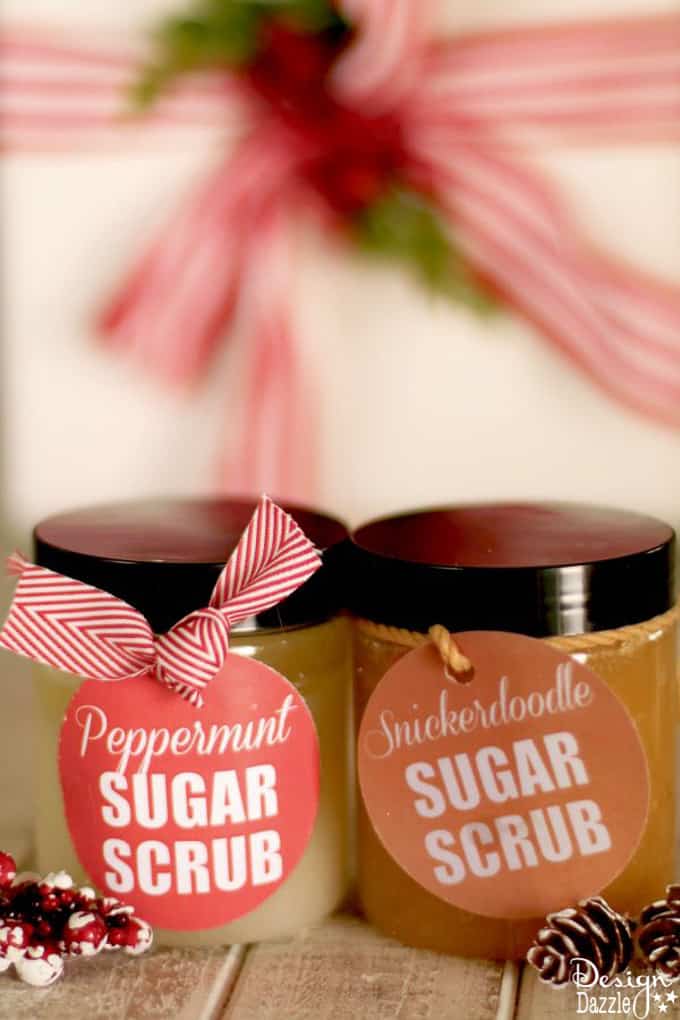 Do you know how easy it is to make sugar scrub? Whipping up a batch takes just a few minutes. A little more time is spent adding the scrub to jars and creating cute packaging.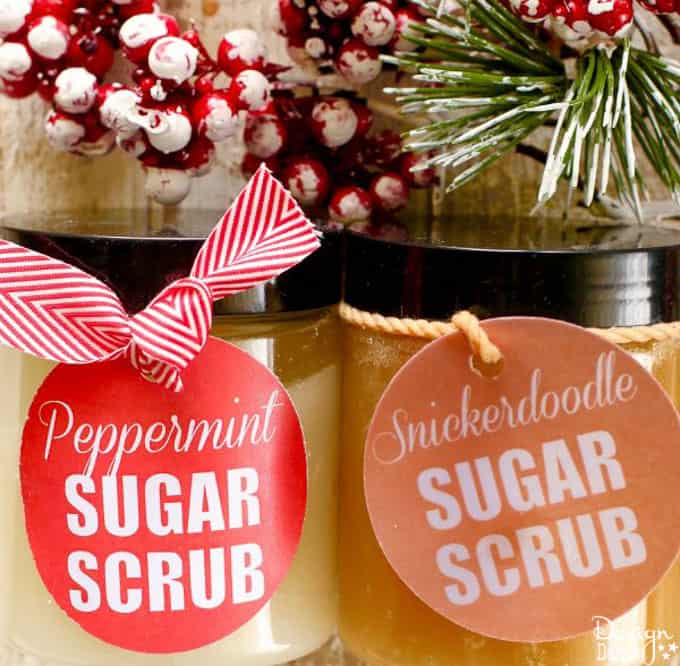 Christmas Body Scrub
Three Ingredients are needed: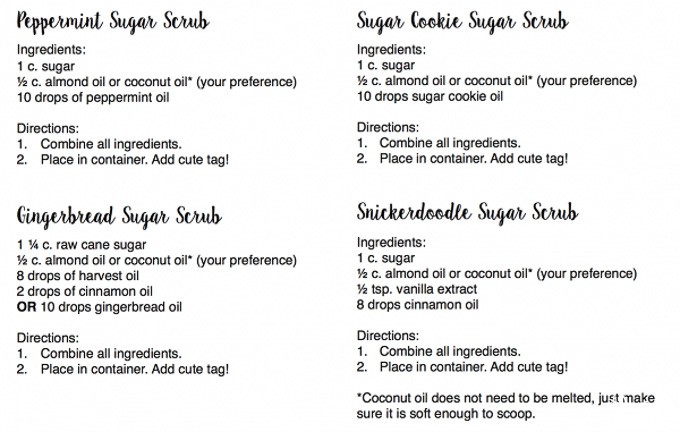 The almond oil I used was purchased by the gallon. I wanted to make a lot of gifts and I love this stuff. If you need just 3-4 gifts this one smaller container of almond oil will do
You can also use coconut oil. I used both almond and coconut oil and it's just a matter of preference. The melting point of coconut oil is generally about 76 degrees F (24 C). If the temperature is above 76 degrees, the oil will be liquid. So keep that in mind when making sugar scrub. The coconut oil sugar scrub depending on the temperature can be solid. If you like it that way, then coconut oil is for you.
Also, I personally like using essential oils that are natural vs fragrance oils. The fragrance oils are ok, but are diluted with carrier oils and mixed vs a pure essential oil.
The plastic containers I used worked out great! Just the right size and inexpensive at $1.50 each. If you need a cheaper price, use cello bags. It is very important to use cello. They are stronger and less likely to get punctured. Cellophane bags are thicker and can sound very crinkly vs the type of plastic bag like a sandwich bag. View my post about heat sealing a cellophane bag with a curling iron.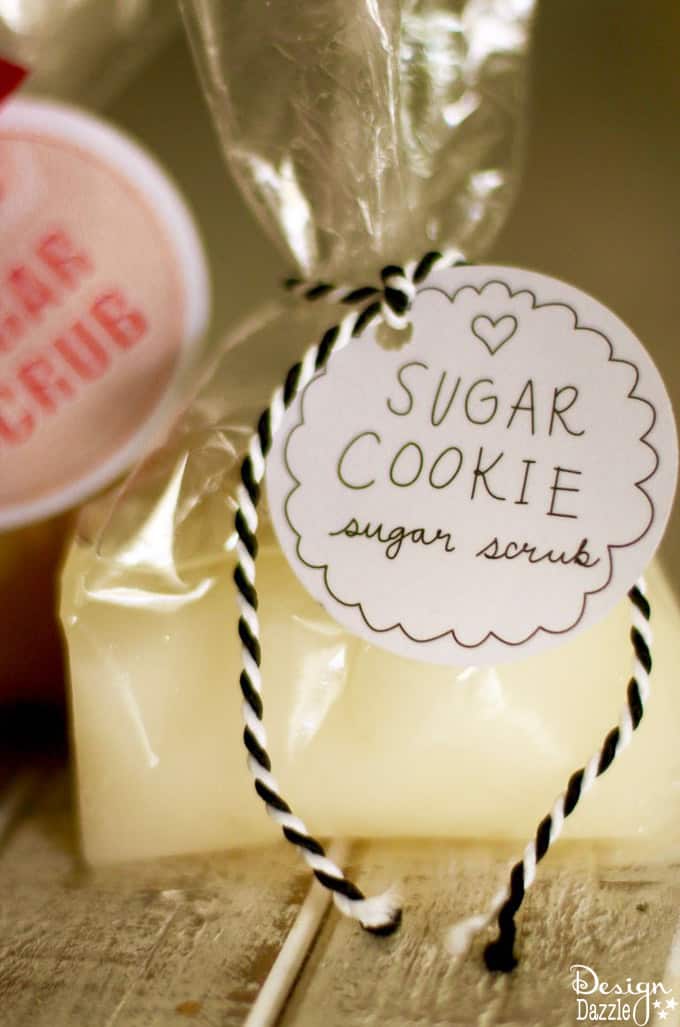 The numerous tags are shown below to make your own Christmas sugar scrub gifts for the holidays! Receive printables for free by subscribing as a subscriber to our newsletter. Scroll down for details.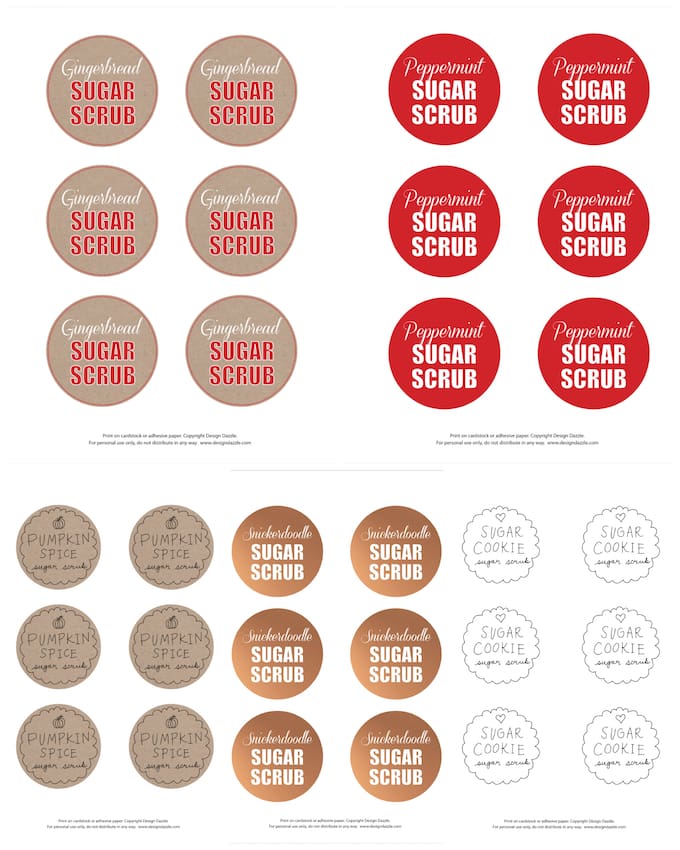 Need more Christmas DIY Gift Ideas?
These Sugar Scrub printables are FREE and available for immediate download by subscribing to Design Dazzle!
To receive these free printables – enter your email address in the box below and click submit. Make sure to check your inbox for an email from Design Dazzle. You will have access to all of our FREE printables and also will receive an email newsletter filled with lots of great information. Don't worry your email address will never be sold.
Printable files are for personal use only. They are not for commercial use.


Save
Save
Save
Save