This post may contain affiliate links that, at no additional cost to you, I may earn a small commission. Read our Disclosure Policy.
What could you give someone who has everything they want or need?  How about photo ornaments? How heartwarming to receive something so personal and awesome as family photos on an ornament. Decorating a Christmas tree full of photo ornaments of special people or special places would be not only amazing but preserves lasting memories and would be the perfect holiday gift. These DIY easy photo Christmas ornaments do look expensive – like it is an actual print on your ornament.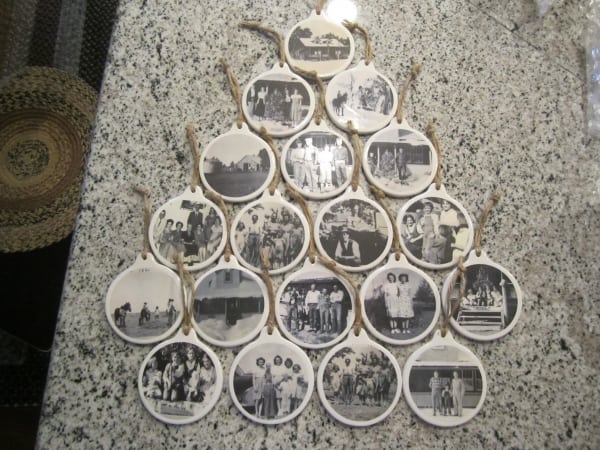 Ilene Jensen made photo ornaments for Christmas for her 90 year-old mother who has everything. Special black and white photos of her family were printed on water decal paper using a home printer. These images were then applied to porcelain ornaments.  The ornaments came with a gold ribbon and she replaced it with jute.  Really fun, easy and the results are so beautiful. The Christmas ornaments are photos of Ilene Jensens relatives.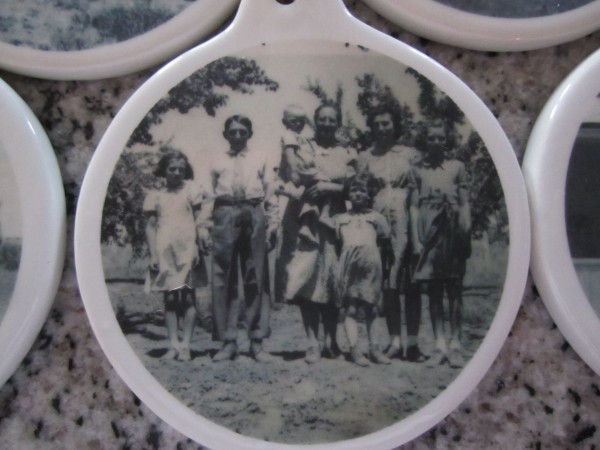 A few years ago, I made a few pretty plates using water decal paper. I loved how they turned out. You can read all about the process of how I created designer plates
There are different types of water decal paper. Some are used with an Inkjet printer and some are specifically made for laserjet. Check your printer to see what kind you have before ordering the paper.
How this DIY Christmas ornament works:
Print photo onto the special water decal paper.
Use clear water slide decal paper so it is transluscent and there is no "white color" backing
If using a round object, use a circle punch to cut out the image.
Reading the instructions for that brand, apply to the object of choice. Typically a smooth hard surface works – acrylic, porcelain, wood, glass, plastic, etc
Soak the decal in water (remove backing) and place it on the front of the ornament.
The decal paper is versatile when placing them on your surface; they can slide around until the adhesive drys. It is easy to re-adjust if you didn't get it right the first time!
Remove the excess water and smooth out any wrinkles.
Instructions on the package will determine if you let air dry or bake in the oven (depends on what type of decal you purchase and what your surface is the decals will be attached too.
Supplies:
What a fabulous gift idea! I would love to know if you end up adding these to your Christmas tree!