This post may contain affiliate links that, at no additional cost to you, I may earn a small commission. Read our Disclosure Policy.
You`ve probably heard of zoodles before? Yep.  Zucchini turned into "noodles" using a spiralizer. Zucchini + noodles = zoodles.
What is a spiralizer? It's a piece of kitchen equipment (typically $20-$40) that turns vegetables into noodles.
It`s a great way to get more veggies and less carbs into your diet.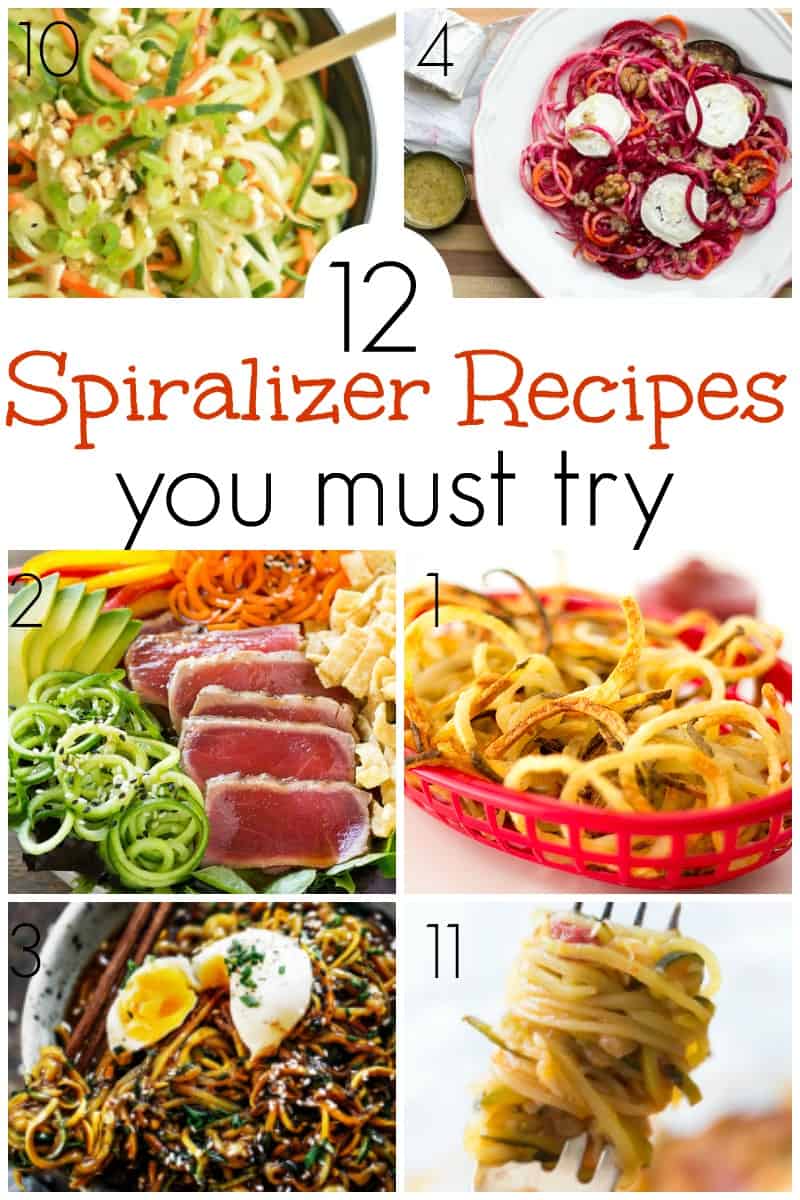 Well, what started as the spiralizing of zucchinis has turned into an entire food preparation movement, and it has gone well past zoodles.
You can spiralizer all kinds of fruits and veggies.
You can bake, boil and sauté your spiralized creations or enjoy them in raw salads!
From baked curly fries to cucumber salads to carrot and cabbage slaws, there are a ton of recipe ideas out there for you to try your hand at spiralizers, and we've collected 12 Exciting Spiralizer Recipes for you to try out for yourself.
Crispy Baked Curly Fries by Well Floured
Ahi Tuna Salad by Dinner at the Zoo
Asian Zucchini Noodle Bowl by Paleo Gluten Free Eats
Beetroot Salad with Walnut Dressing by Eat Drink Paleo
Creamy Sundried Tomato Parmessan Chicken Zoodles by Café Delights
French Onion Zoodle Bake by Climbing Grier Mountain
Teriyaki Chicken with Carrot & Cabbage Slaw by Hello Glow
Turkey Sweet Potato Enchilada Casserole by Lolly Jane
Drunken Zucchini Noodles by How Sweet Eats
Thai Spicy Cucumber Salad by One Little Project
Cheesy Baked Zucchini Noodle Casserole by Simply Recipes
One Skillet Parmesan Zoodles by Almost Super Mom
These spiralizer recipes are super fun, aren't they? AND they are also a healthier option instead of pastas!
This is what a spiralizer looks like:
Spiralizers are inexpensive and make it easty to create healthy meals.  This is the spiralizer that I own.
Some other fantastic recipes to try are the 12 Rotisserie Chicken Recipes.