This post may contain affiliate links that, at no additional cost to you, I may earn a small commission. Read our Disclosure Policy.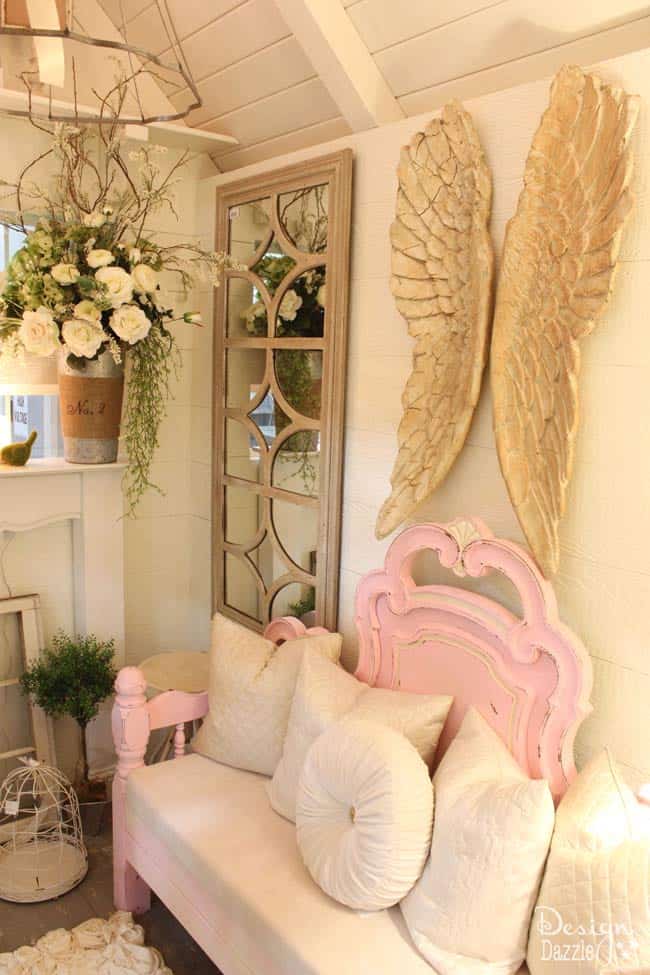 When the Salt Lake Home Show asked me to design and decorate a bungalow for the Wright's Shed Company, I happily agreed! What a fun opportunity and a great experience. I loved how this project turned out and I'm so excited to share the finished product with you. I decided on a shabby chic mom cave bungalow with colors in soft creams, pinks, whites and tans. Get ready for the mom cave picture tour!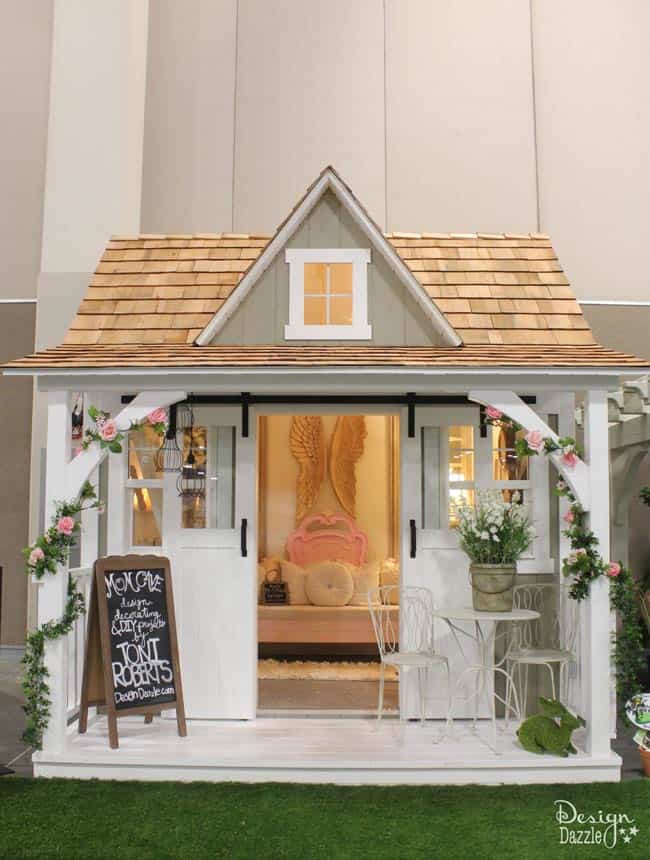 Wright's Shed Company take their sheds to the next level. This shed is really more of a bungalow. A bungalow is basically an upscale, outdoor shed. I was able to work closely with Wright's Sheds to tailor the look of the bungalow almost exactly how I wanted it. They were so accommodating with all of my requests, like glass in the barn sliding doors, windows and porch in front, and a dormer up on top. I was going for a Cape Cod cottage feel, so they customized the wood shingle shake roof as well. They can customize almost any details and sizing needed.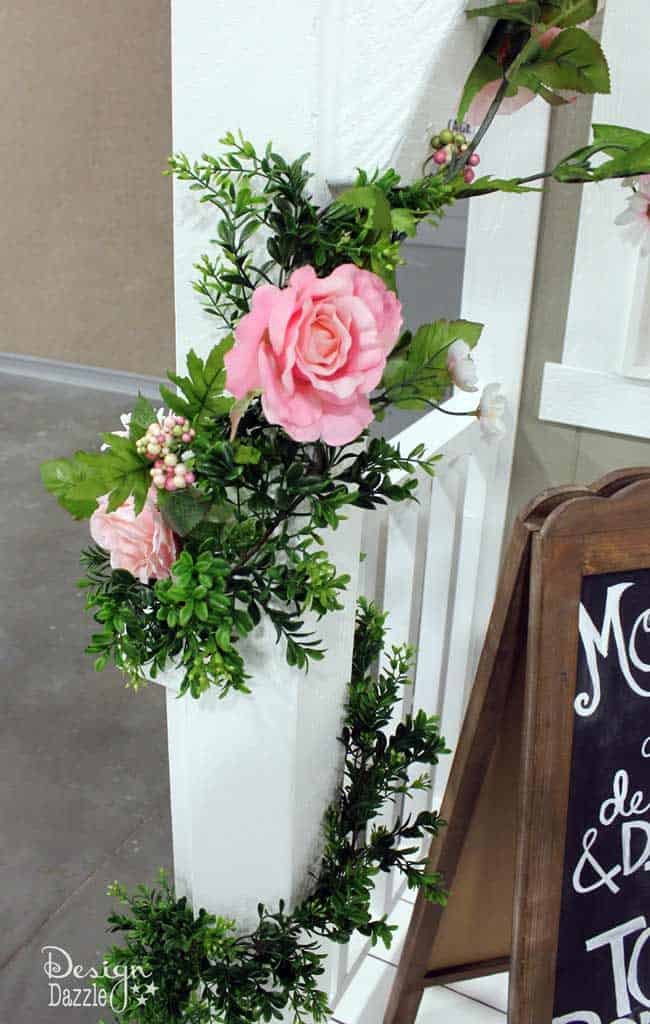 It's all in the details! I thought these flowers were the perfect feminine touch to the front porch. Of course, real flowers do the trick. But in the winter in Utah you've got to do something for flowers and greenery!
I love how the bungalow looks in the front! The porch decor is from Tai Pan Trading. It was so fun to see all of my ideas come together. Come on inside!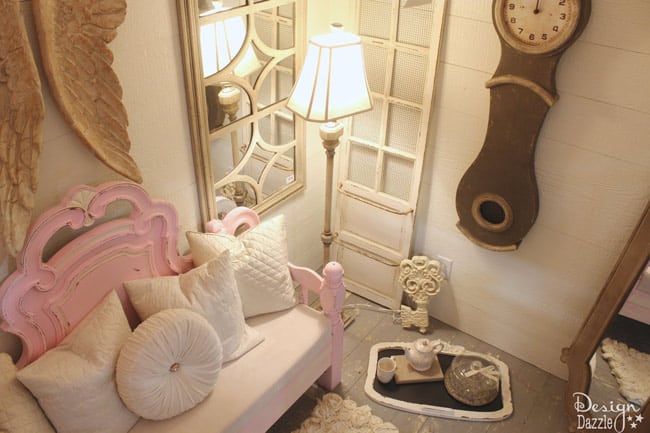 When you think of a shed, you probably think of an old, dusty place to store tools and stuff. I had a vision of a serene and beautiful place for mom to relax and take some time for herself. I hope my Mom Cave will make you want to sit, read a book, and drink hot cocoa. I know I could get cozy in this beautiful space! The majority of the beautiful decor and unique accessories (other than DIY projects and Re-D-Fined bench) are from one of my all-time favorite stores, Tai Pan Trading. Check out Tai Pan's website or Facebook page. They always have the best finds! Mirrors and angel wings were a big hit with the attendees at the show – both are from Tai Pan Trading.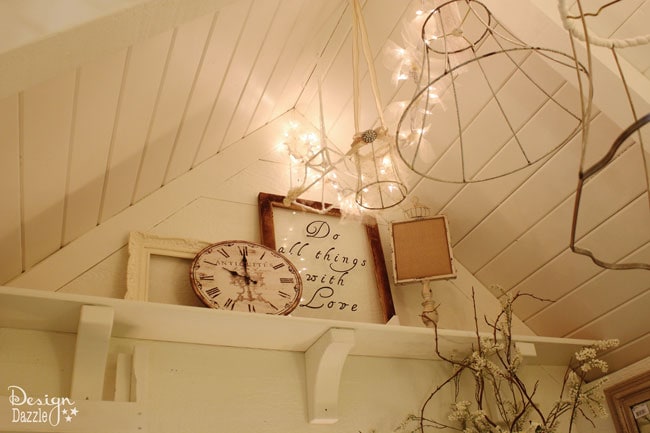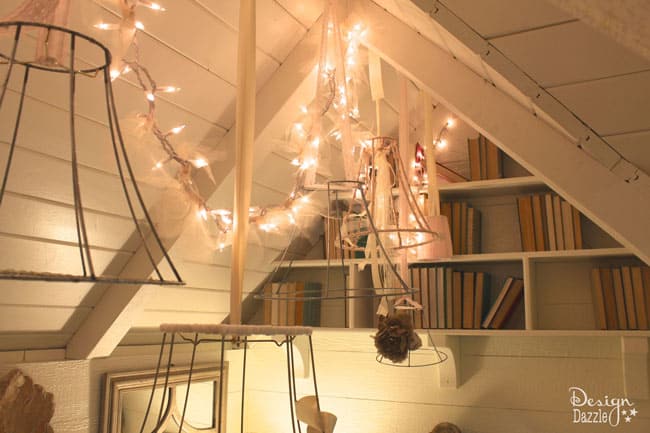 These wire lampshades were perfect in the high ceiling! Look for a tutorial for these DIY wire lampshades soon!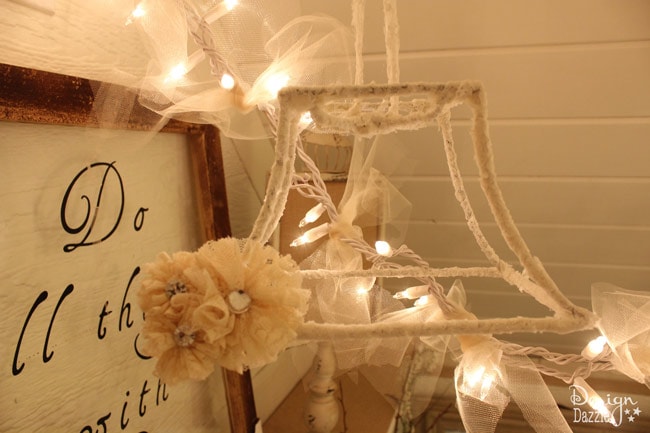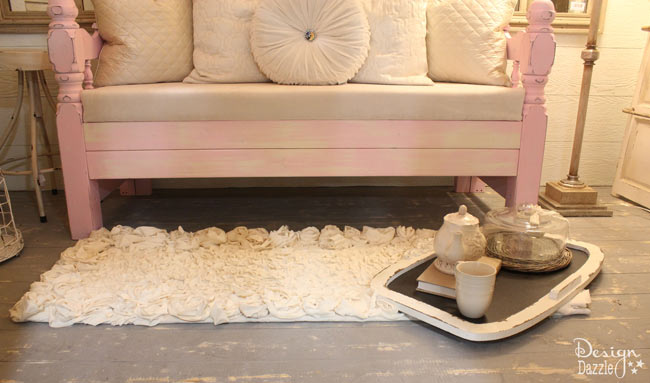 Another fun DIY project is this rosette fabric rug. So simple to make, and it looks gorgeous. I love the look!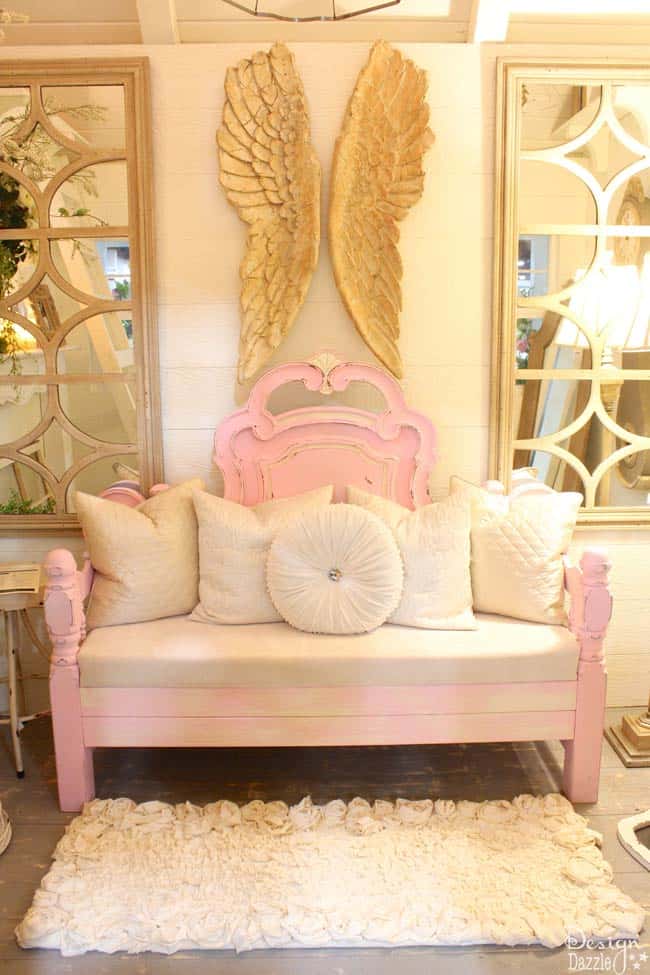 The beautiful shabby chic bench was made by Darcie of Re-D-Fined Furniture – check out her Facebook page. Darcie made this lovely pink bench from an old headboard. I absolutely LOVE how this turned out! Here's a similar tutorial if you would like a DIY project to achieve the look yourself.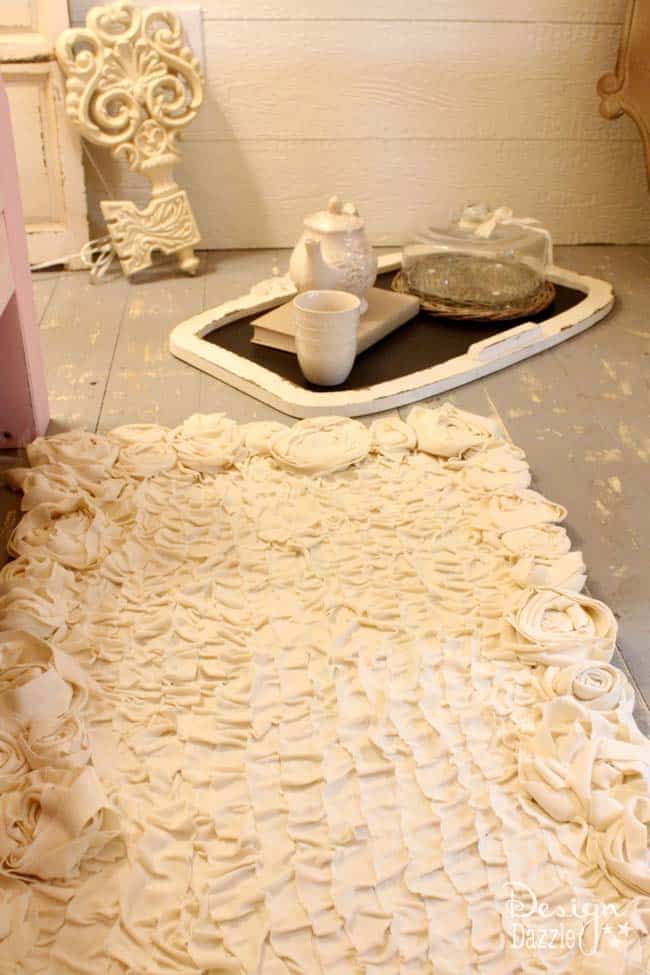 I requested white wood planks on wall and ceiling and grey washed floors to tie in my neutral palette. I love how they look! The high ceilings make this small shed feel so much larger!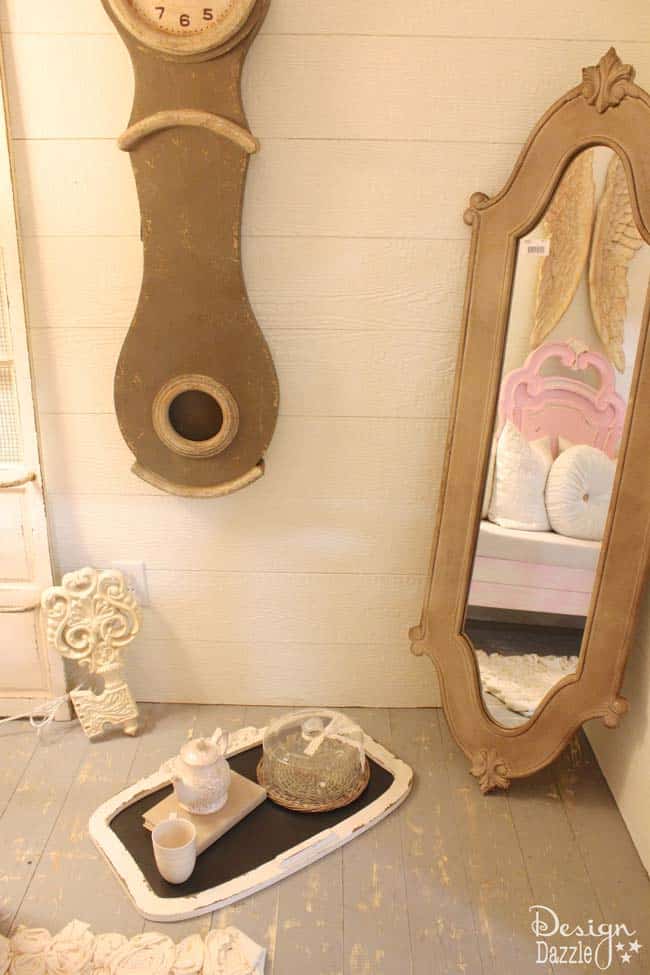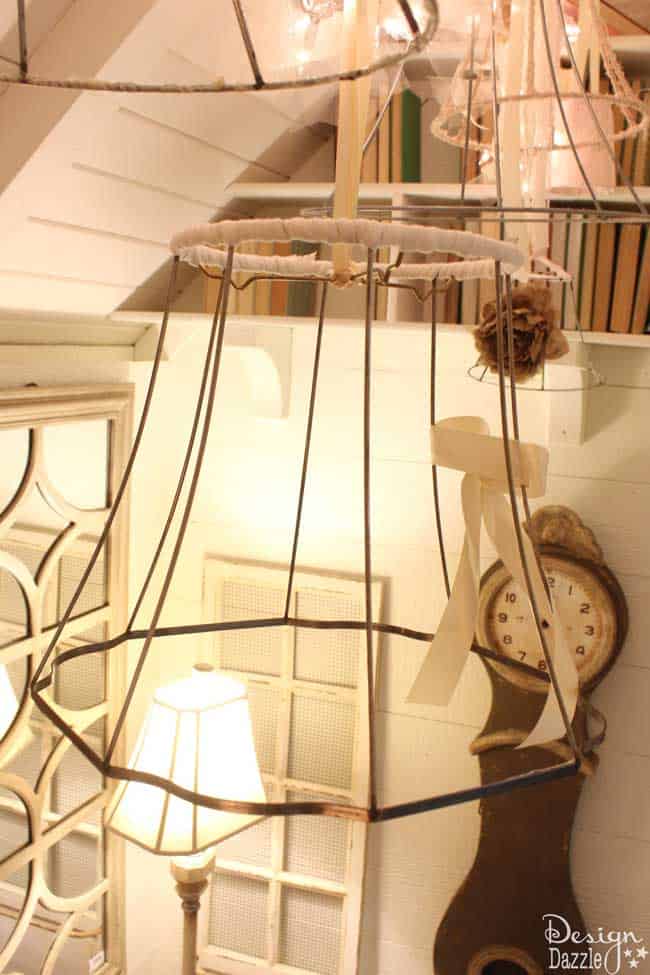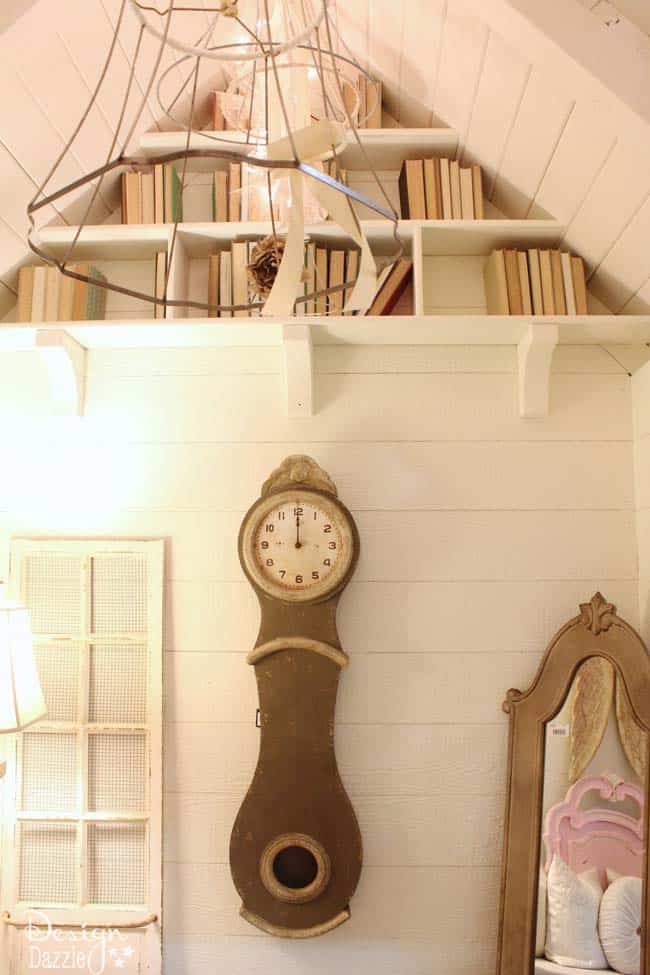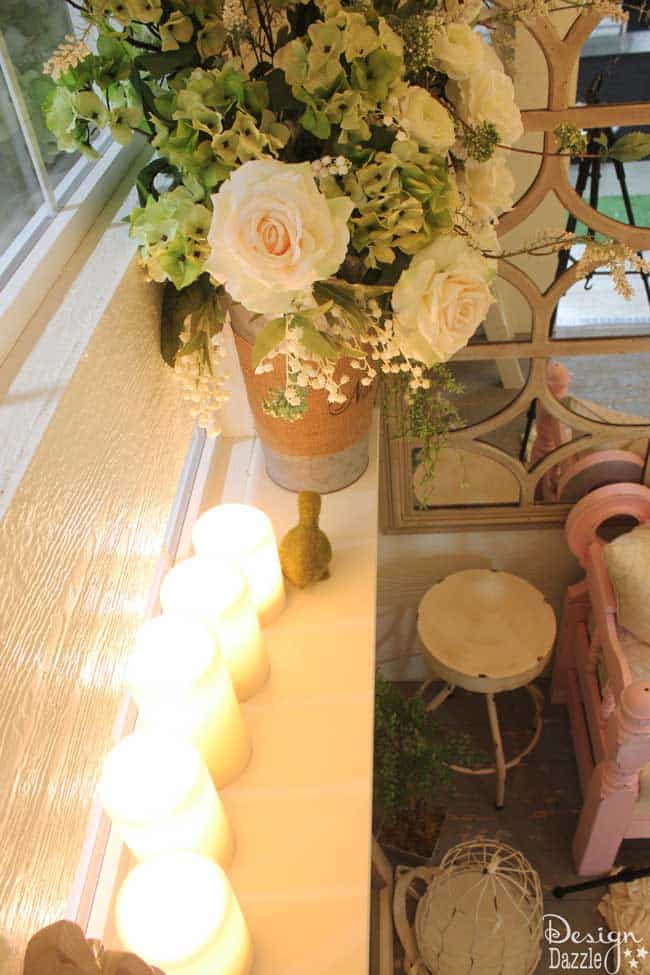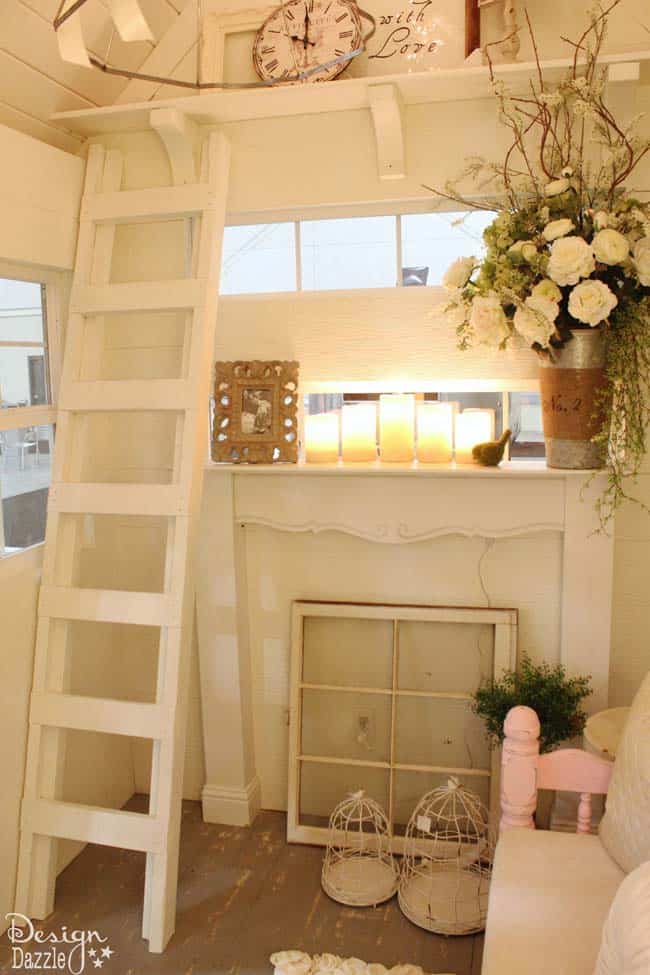 I asked for a ladder to be built to easily access the shelfs at the top of the ceiling. Doesn't it add the perfect touch?
I hope you enjoyed this virtual tour of my Shabby Chic Mom Cave! What is your favorite part or decor piece of the mom cave?

All opinions are my own. I was compensated with a gift card for designing this project.